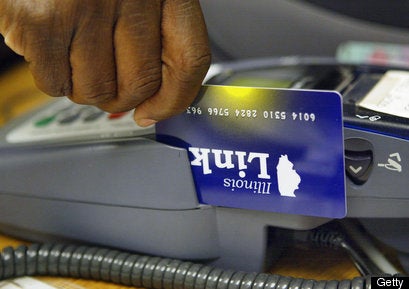 A bill considering the possibility of adding photo identification to Illinois food stamps caused uproar in the State House Tuesday, as Democrats accused Republicans of waging a war on the state's poor and attacks quickly got personal.
Representative Chapin Rose, a Republican from the suburbs of downstate Champaign, was the sponsor of the bill, HB 161. The legislation was originally a mandate that all LINK cards, the state-issued debit cards on which food stamp benefits are disbursed, have a photo ID of their owner.
After much amendment, it is now simply a measure requiring the Department of Human Services to consider the cost of such a mandate. But it still encountered uproar from Democratic legislators.
Rep. Ken Dunkin, a Democrat from Chicago, was Rose's primary interlocutor on the floor. "Why are you picking on welfare recipients?" Dunkin asks him in a particularly heated exchange.
Sara Feigenholz of Chicago, a progressive stalwart of the House's Democratic caucus, also had strong words for the bill, according to the Chicago Sun-Times. "This bill ... is the most wasteful spending of our time in state government," she said, to the applause of fellow Dems.
For his part, Rose claimed that the bill would save the state $750 million in fraudulent use of food stamp funds, though he provided few facts to back that claim. And he cited oft-quoted arguments about abuse of food stamps: "I don't see what the efficacy is in handing someone the ability on a weekly basis to trade a card easily for drugs, for cash to buy drugs," he said on the floor.
Aside from skepticism about the reasons behind the bill, the very notion of photo IDs on LINK cards is complicated. Food stamps are assigned to families, not individuals, and a photo ID would inhibit the ability of children or spouses to do the grocery shopping for the household. Plus, food stamps are a federal program, so the US Department of Agriculture would need to create a special exemption for Illinois to allow the state to make such a mandate, DHS spokeswoman Marielle Sainvilus explained to Illinois Statehouse News.
The federal government estimates that around one percent of food stamp money is lost to fraud, the SJ-R writes. Meanwhile, a DHS fiscal note on the bill said that implementing photo IDs would cost the state between $2 and $4 million.
REAL LIFE. REAL NEWS. REAL VOICES.
Help us tell more of the stories that matter from voices that too often remain unheard.