PITTSBURGH — Susan Friedberg Kalson stood near the synagogue where a day earlier a co-worker of hers was killed and a family friend was badly injured. Tears welled in her eyes and words caught in her throat as she recounted the horror of it all. Then she saw a familiar face. "This is a friend I need to hug for a second," she said, excusing herself.
Kalson, 59, and the friend, a woman about the same age, held each other. "Just call me when you want to talk," the woman told Kalson. "Just call me."
"That's the community," Kalson told HuffPost afterward. "You literally can't go a block without seeing someone, and in many cases someone you've known all your life." Kalson grew up here, in the Squirrel Hill neighborhood of Pittsburgh. She raised a family here. She runs a health center here. She goes to temple here.
On Saturday, a white supremacist came here. He walked into the Tree of Life synagogue with a gun and massacred 11 people, committing the deadliest anti-Semitic attack in U.S. history. The attack has thrust Squirrel Hill ― in a very real sense Mr. Rogers' neighborhood ― into national headlines. Progressive and tight-knit, picturesque and tree-lined, home to one of the largest and most iconic Jewish communities in the U.S., Squirrel Hill nevertheless wasn't immune to terror.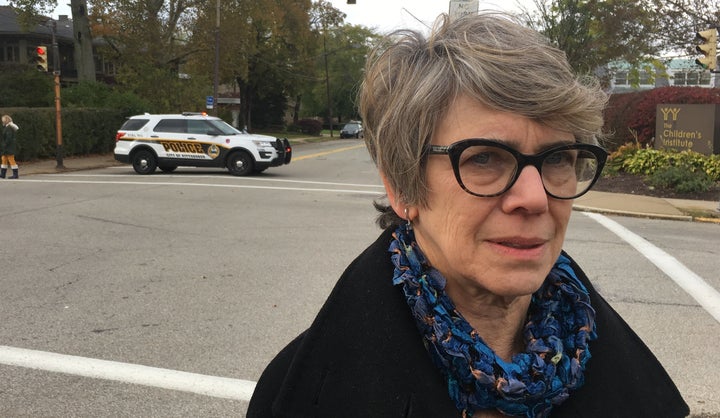 Kalson said a close family friend was injured in Saturday's shooting, but that she couldn't talk about it ― partly because she didn't have the family's blessing to do so, and partly because she just couldn't yet.
She could, however, talk about a man who had been killed: Dr. Richard Gottfried, whom Kalson described as "kind and gentle." When Gottfried, 65, wasn't running his private dental practice with his wife, he worked one day a week at the Squirrel Hill Health Center, where Kalson is CEO.
The center provides care regardless of one's insurance status or ability to pay. Part of its mission is to serve immigrants and refugees. "Rich was very devoted to his Judaism, and I know that he prayed not just weekly ― he just went to morning minyans also, and the work he did to help others grew out of that," Kalson said.
That Gottfried helped immigrants and refugees felt especially poignant for Kalson. The alleged shooter had been motivated, in part, by the baseless anti-Semitic conspiracy theory that Jews are funding the immigration of non-whites into the U.S.
Kalson noted that at Shabbat services Saturday at synagogues around the world, including at Tree of Life, the Torah reading told the story of Abraham and Sarah welcoming strangers into their tent. "That's what we live by," she said.
A walk around Squirrel Hill Sunday suggested that to be true. Yard signs declared in English, Spanish and Arabic that "no matter where you are from, we're glad you're our neighbor."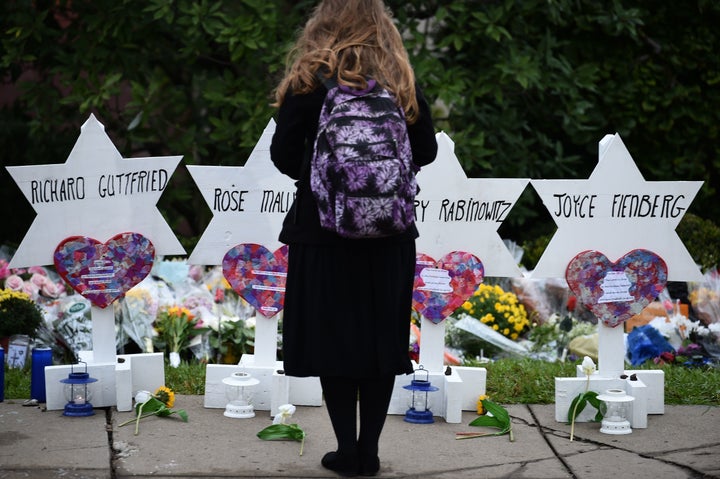 Outside the synagogue, police allowed mourners to lay flowers and notes on the lawn. "We won't forget how you spread kindness so we will do the same to the the world," one 7-year-old wrote.
It's become an all too familiar American ritual: the laying of flowers at the scene of a hate crime. Right now there are flowers outside a grocery store in Jeffersontown, Kentucky, where a white man last week killed two black Americans, Maurice Stallard and Vickie Lee Jones. There were flowers for Heather Heyer in in Charlottesville. Flowers for Ricky John Best and Taliesin Myrddin Namkai-Meche in Portland. For Timothy Caughman in New York. For Srinivas Kuchibhotla in Olathe, Kansas. For Khalid Jabara in Tulsa. For the nine black Christians killed in Charleston. For the six Sikhs in Oak Creek.
In response to the Pittsburgh shooting, interfaith activists came together and organized a vigil. On Sunday night, thousands of Pittsburghers of different faiths poured into the Soldiers and Sailors Memorial Hall in the Oakland section of the city. All the seats were taken. Parents sat on the floor with children in their laps. Those who couldn't fit in the hall stood outside in the cold and listened. Politicians in suits sat in the front row and on stage.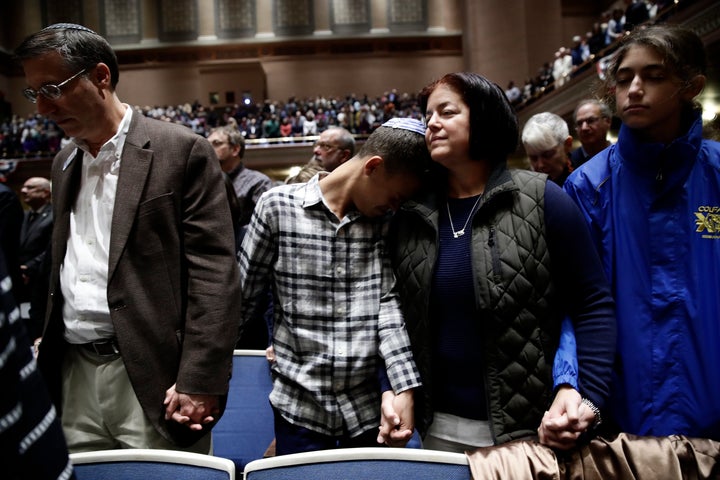 The Rodman Street Baptist Church Choir started things off, singing beneath a giant inscription of the Gettysburg Address on the auditorium wall.
The entire audience rose for the mourning kaddish — a prayer for the dead. Then the three rabbis from Tree of Life took turns at the podium, offering messages of defiance.
"What happened yesterday will not break us," Rabbi Jonathan Perlman told the crowd. "It will not ruin us."
"Hatred and anti-Semitism are not old thoughts, and they're not new thoughts. They just never seem to go away," Rabbi Cheryl Klein said. "Although we are broken, these acts of violence will not define our hopes and dreams for the future, and we will never let hatred be the victor. Never."
Tree of Life has lost 11 branches, Rabbi Jeffrey Meyers told the crowd. "But we've been here 154 years. We've got a lot more branches."
At one point, Wasi Mohamed, executive director of the Islamic Institute of Pittsburgh, took the stage. With tears in his eyes, he announced that the local Muslim community had raised over $70,000 for the victims and their families. The crowd responded with a standing ovation.
"When I look back at this day, I'm not going to remember one individual filled with darkness," Mohamed told the crowd. "I'm going to remember the light. I'm going to remember the thousands of people who showed up today or who are supporting us from all around the country. Thousands of people filled with love and hope."
Kalson was at the vigil. "That's our community," she said the next day in a text message.
"We will continue to open our doors and arms and our hearts as wide as we can," she wrote. "It's the only way through this."