Don't know where to go on your next family road trip? Let your computer decide for you! At least that's what two people did when they decided to plan the a road trip to see the entire United States.
Staedter picked out the list of stops for the trip and Olson mapped out everything in just a few minutes with the algorithm he created. The criteria for the trip were simple: stop in all 48 states in the contiguous U.S.; only make stops at nationally-recognized sites; only drive to said landmarks.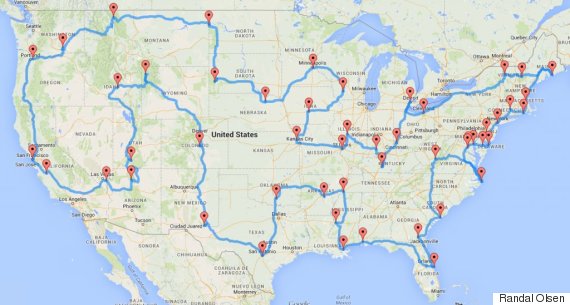 To see an interactive version of the map, click here.
Olson said there's no need for a background in computer programming to make your own homemade version of the map. "There are web services out there like [RouteXL] that do it for you," he wrote to The Huffington Post.
To break it down, let's say you wanted to plan a road trip along the East Coast. You would enter up to 20 destinations into RouteXL, and the site will route the trip for you. Even better, the website will find the shortest distance between the destinations, allowing you to get there faster. You could pay to pay to optimize more stops if you wanted to add more than 20 destinations.
To read more of Olson's post (or find out how to compute the ultimate European road trip), you can visit his blog here.