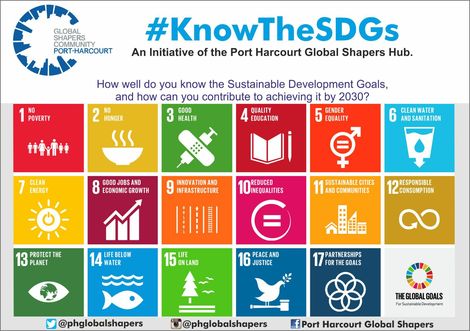 The Global Shapers Community is a Global Network of Hubs developed and led by young people between 20-29 years of age, who are exceptional in their potential, their achievement and their drive to make a contribution to their communities.
The Port Harcourt Global Shapers Hub is one of the 450+ Global Shapers Hubs around the world, and the Port Harcourt Hub commenced an awareness campaign tagged "#KnowtheSDGs" on the 10th of October 2015. The aim of the campaign is to educate Port Harcourt city, offline and online to amplify the importance of the Sustainable Development Goals. Furthermore to encourage discussions around the SDGs that will motivate various interest groups to participate in the implementation of the 17 SDGs (which include; ending poverty and hunger, improving health and education, making cities more sustainable, combating climate change, and protecting oceans and forests) on or before 2030.
Often times when we think about these global diplomatic targets like the MDGs or SDGs, we often forget that without local grassroots action, these targets will not be accomplished. Sir Ken Robinson in a recent interview with one of the members of the Port Harcourt Hub about the new development agenda said, "...We need action at all levels. Both at the policy and ground levels... All 7 billion of us will need to change the way we all do things for the SDGs to be achieved, and also encourage people in positions of power to do the right things."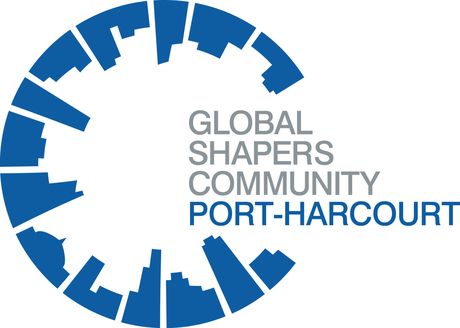 How do we make the SDGs easy and practical for the people at the grassroots to understand and contribute? How do we enable policy makers and those in position of authority take the right decisions that will ensure the execution of these 17 SDGs.
These are few questions the Port Harcourt Global Shapers Hub seeks to address in the course of this campaign. Every fortnight, for the next couple of months, the Hub will highlight one goal from the 17 SDGs via its social media channels, as well as promote the campaign offline. The target is to educate Port Harcourt city about the 17 SDGs so that the city is shaped to become SDGs-friendly.

For more information about this campaign and to join the Port Harcourt Global Shapers Hub educate the residents of Port Harcourt city, follow the Hub on Twitter, Instagram, and Facebook, @phglobalshapers. Join the conversation on #KnowTheSDGs.
Related