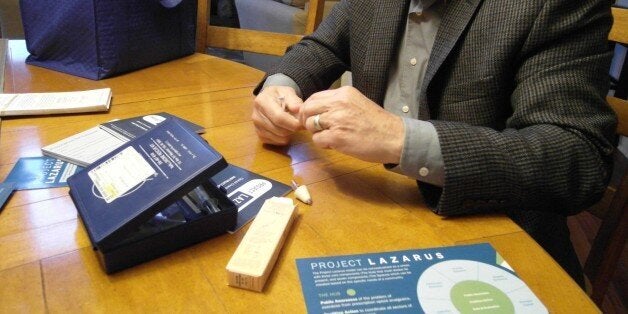 WILKES COUNTY, N.C. -- Prescription painkillers hit the stark, beautiful foothills of the Blue Ridge Mountains hard. Once known as the world's moonshine capital, by the mid-2000s Wilkes County had a drug overdose death rate four times the national average. Ambulances racing across its 700 square miles all too often arrived too late.
But as the toll from prescription opiates and their illicit cousin heroin rose nationally, Wilkes began bucking the trend. In three years it cut overdose deaths nearly in half from their 2009 peak, according to North Carolina Department of Health and Human Services data. At the heart of this implausible success seems to be a small nonprofit called Project Lazarus, whose founder Fred Wells Brason, a former hospice chaplain, now spreads the gospel of naloxone, a non-addictive prescription medication that can bring opioid overdose victims back to life.
White House drug czar Gil Kerlikowske visited to praise the county's efforts in August 2012. And in a first for the South, North Carolina's conservative state Legislature passed a law to ease naloxone distribution.
"We've never had an agenda," Brason says in an interview with The Huffington Post. "Alls we were trying to do was fix the problem in Wilkes."
As the prescription painkiller problem morphs into a heroin problem in places like Vermont -- where the illegal street drug is cheaper and more available -- the model Brason built in Wilkes seems likely to have relevance elsewhere. Advocates are looking to neighboring Georgia to follow suit and have their eyes on 17 other states as well. Their logic: In order to save someone from addiction, they must first be alive.
To achieve that, Project Lazarus combines naloxone availability, public and physician awareness, and other local efforts aimed at helping prevent opioid overdoses. The approach is working.
The explosion of prescription painkiller addiction in America started in the late 1990s, fueled by patient pain and pharmaceutical company marketing. The painkillers spread legally -- via doctors who were increasingly disposed to ease the pain of patients grappling with chronic conditions -- and illicitly.
As abuse rates shot up, so did break-ins and shoplifting.
"We had never seen anything like it," Wilkes County Sheriff Chris Shew says. A Republican elected in 2010, he has worked in the sheriff's department for 32 years.
"When I talked to law enforcement, they said we got a problem. The hospital emergency department said we got a problem," Brason says. "But nobody else was talking about it."
Brason has been in health care since the 1970s. But it was only in the 2000s when he started seeing regular, serious prescription drug abuse among his hospice clients -- a development that disturbed him. At first, asked to lead a task force on the problem. Then, with a Medicare grant, he left his hospice job to address the painkiller issue full-time.
First Brason and a task force of doctors, police, EMTs and addiction professionals took steps like encouraging doctors to only prescribe drugs to people who needed them, and deploying drop-off boxes for unneeded prescription pills so they would not present a temptation in the medicine cabinet. And then Brason got wind of naloxone.
"What do you mean there's an antidote?" he said he remembers marveling.
First developed in the 1960s, naloxone binds to the brain's opioid receptors, blocking the effect of oxycodone or heroin, and sends the body into immediate withdrawal. The experience is a jolting, painful break back into consciousness -- but it can also be lifesaving. The drug has no effect on those not in the midst of an opiate high.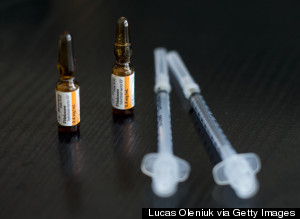 Naloxone and syringes are part of an overdose kit
that is being distributed in Toronto.
In Italy, naloxone is sold over the counter. In the U.S., however, it is available only with a prescription. So a patchwork of state and local organizations have dedicated themselves to spreading it among at-risk groups. The Centers for Disease Control now estimates that so-called "lay" administration, not delivered by medical professionals, reversed 10,000 overdoses between 1996 and 2010.
In Wilkes, Brason convinced doctors to co-prescribe the drug with painkillers in the first place. Project Lazarus has educated doctors about safe opioid prescription, resulting in not a single overdose death being linked to an opioid prescriber within the county in 2011 (down from 82 percent in 2008, according to Project Lazarus data). At the same time, Brason has spearheaded a community education campaign to tell painkiller users and family members about naloxone.
The physical icon of that effort is a blue plastic kit. Emblazoned with the Project Lazarus logo, it contains a simple instruction book and an atomizer so that the drug can be delivered nasally.
"Somebody has congestive heart failure, we have a (defibrillator) kit in their home," Brason says. "I don't see any difference."
Without even knowing the phrase "harm reduction" at first, Brason had adopted its approach to drug addiction. The goal is to keep addicts safe so that they can be treated when they are ready, rather than offering abstinence as the first and last step.
Another, sometimes controversial, element of this approach is replacement therapy. At thousands of clinics, addicts receive doses of suboxone or methadone. Both are used as part of opioid replacement therapy -- in effect, substituting milder drugs for the rush from some pills or heroin.
In 2011, Wilkes' first replacement therapy clinic opened. The strategy has gained acceptance in the community, said Joanna Eller, the director of the privately run Mountain Health Solutions. Eller says she sees grandmothers, mothers and adult children all coming to the clinic together.
In Wilkes County, the clinic offers its 400-plus daily clients an alternative to detox alone. When patients join the program, $27 of the $33 admission fee goes towards a naloxone kit, making it the primary focus of the up-front admission process.
And while the data is only anecdotal so far, Project Lazarus' success offers hope that offering naloxone will keep patients alive if they relapse. The clinic alone has recorded at least four naloxone reversals, though Eller says she thinks there are likely more that patients have not reported due to embarrassment or fear of law enforcement.
"By giving one naloxone kit to one family member, you can save anybody in that family," Eller says.
According to North Carolina DHHS data, from 2009 to 2012 the overdose death rate in Wilkes fell from its peak of 46.6 per 100,000 people to 24.5 per 100,000. Given Wilkes County's small population of about only 70,000 people, the data could be subject to flukes -- but it seems to be heading in the right direction. Painkiller prescription rates are still above state and national averages, according to Project Lazarus data, which suggests that many of those who need relief are still getting it.
Harm reduction is still controversial because many people view addiction through a solely moral lens, arguing for abstinence-only approaches. In Maine, Gov. Paul LePage (R) opposes a state bill that could expand access to naloxone, arguing that greater naloxone access could encourage drug users to abuse opioids more if they know they have a safety net.
But research has found that risk compensation behavior does not occur. Instead, some research suggests that naloxne both reduces overdose deaths and may actually reduce drug use by giving people a sense of empowerment.
North Carolina is showing that even a conservative legislature and governor like Pat McCrory can adopt a harm reduction approach. Inspired by the success of programs like Project Lazarus, last year the state became the first in the South to pass a law with naloxone access and "Good Samaritan" components. The latter offers immunity from prosecution for possession of non-felony amounts of drugs for overdose witnesses who call 911.
"I've got a lot of friends in both parties," explains state Sen. Stan Bingham, a Republican who co-sponsored the bill. "We cut through the BS."
The results from the law have been "amazing," says Tessie Swope Castillo of the North Carolina Harm Reduction Coalition, which focuses on urban areas. Operating under one of the new law's provisions allowing doctors to write general orders for nonprofit groups, the coalition has now handed out 700 kits. That's led to at least 45 overdose reversals, Castillo said.
In Wilkes, the law will let Sheriff Shew arm his deputies -- who now have immunity from legal liability -- with naloxone. He admits he has skeptical colleagues in law enforcement. But saving someone's life with naloxone, he says, is part of the same public safety mission as aiding a stranded motorist.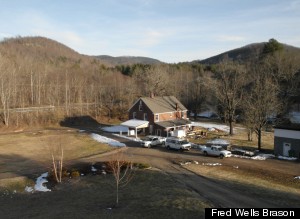 The view from Fred Wells Brason's front porch in Wilkes
County. The building pictured is under renovation to serve
as a group therapy center for patients and family members.
Brason is now expanding Project Lazarus statewide with grants from the Kate B. Reynolds Charitable Trust and the state Office of Rural Health and Community Care. In his front yard sits an old farmhouse he is having converted into a group therapy space. It lies at the bottom of one of the hills that make Wilkes so beautiful -- and so deadly when an overdose victim needs help immediately.
Looking out from his front porch, the new building fills Brason with pride. As does the fact that Wilkes, once notorious for drug abuse, is now at the vanguard in combating it.
"Everybody knows about Wilkes County, but it isn't the moonshine anymore," Brason says. "It isn't the marijuana or the meth. It's we did something, and to me Wilkes can be proud of that fact."
Before You Go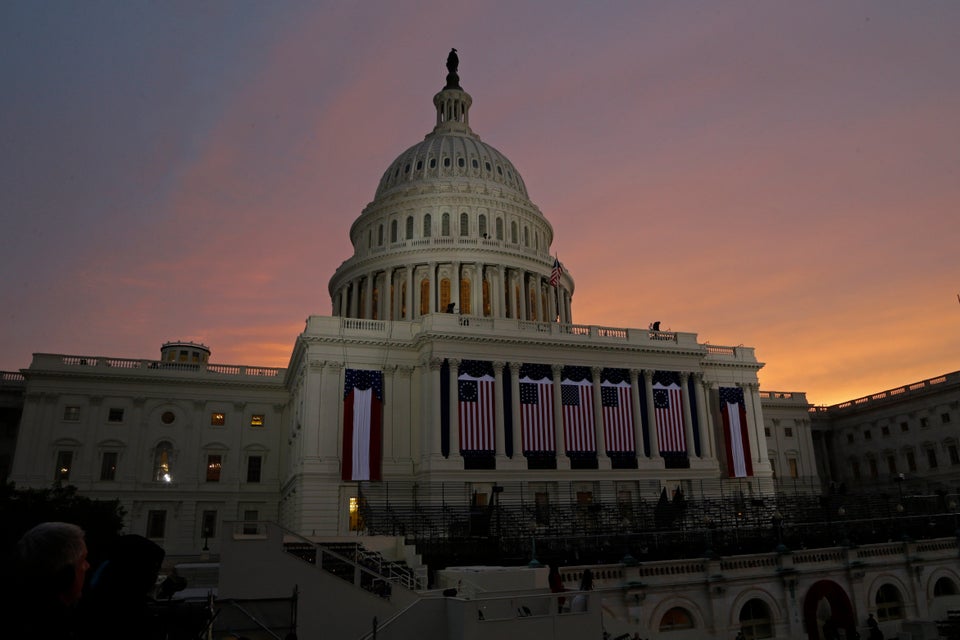 U.S. Capitol Photos
Popular in the Community