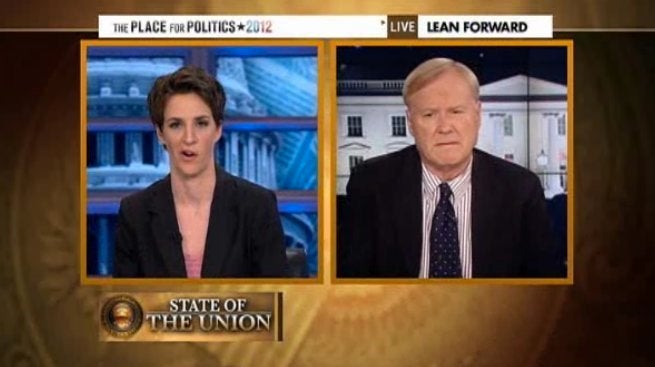 Speaking just after Daniels finished, Maddow asked Matthews how he felt about the speech. To her apparent surprise, Matthews raved about Daniels.
"I really liked that speech," he said, saying that Daniels displayed "Midwestern conservatism of the best kind" and "recognized that the rich can't plunder the poor anymore." While dismissing what he called the "bromides and idiomatic crap that he threw in there to make everybody happy," Matthews said that he now understood "why people like Mitch Daniels."
"I could not disagree with you more," Maddow replied. She started to go to a commercial break, but Matthews cut in. "Why?" he asked. "What's wrong?"
"I think that Mitch Daniels was there to say 'the world is on fire, be afraid, run to Republicans,'" Maddow said. She read a passage of Daniels' speech that described the country as "going over...a Niagara of debt" and said that he was attempting to convince people that Obama was "trying to murder the country."
"But he also had solutions," Matthews said. "No," Maddow murmured.
WATCH:
Support HuffPost
The Stakes Have Never Been Higher
Related
Popular in the Community