WASHINGTON ― Sen. Rand Paul (R-Ky.) said Wednesday he intends to oppose President Donald Trump's nominees to head the CIA and the State Department.
Trump on Tuesday announced the ouster of Secretary of State Rex Tillerson, and said he was replacing him with CIA Director Mike Pompeo. 
Paul, a libertarian-leaning critic of U.S. military intervention, said he was "perplexed" by both nominees, and called them "the wrong fit for America." He added that he feared Pompeo and Haspel both would push for military force in Iran because they supported nearly two decades of war in Iraq that followed the U.S. invasion.
Paul criticized Haspel for what he called her "gleeful enjoyment" torturing detainees. "I find it amazing that anyone would consider this woman as the head of the CIA," he said at a press conference.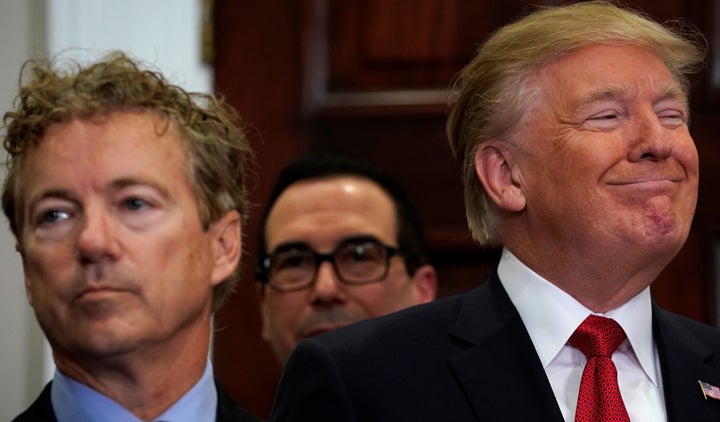 Paul's opposition could imperil both nominations in what is likely to be a heated confirmation process. Sen. John McCain (R-Ariz.) is still recovering in his home state after being diagnosed with cancer, leaving Pompeo and Haspel with as few as 49 GOP votes in the Senate.
Paul's position on the Foreign Relations Committee could threaten Pompeo's nomination early in the process. Republicans hold a one-seat majority on the panel, and Pompeo's nomination could stall if Democrats on the committee decide to oppose it.
Rep. Liz Cheney (R-Wyo.), the daughter of former Vice President Dick Cheney, one of the architects of the Iraq War, defended Haspel on Twitter and accused Paul of "defending and sympathizing" with terrorists.
It's unclear, however, how many Democrats will end up supporting either nomination. Pompeo was confirmed as the CIA director by a bipartisan 66-to-32 vote. 
Sen. Dianne Feinstein (D-Calif.), who blocked Haspel's promotion to acting head of the CIA's clandestine service in 2013 for her involvement in the torture program, offered some praise for the nominee on Tuesday, but did not say how she planned to vote.
"Well, I have spent some time with her, we've had dinner together, we have talked ... everything I know is, is that she has been a good deputy director of the CIA," Feinstein said. "I think hopefully the entire organization learned something from the so-called enhanced interrogation program. I think it's something that can't be forgotten. And I certainly can never forget it. And I won't let any director forget it."
Other Democrats, meanwhile, are calling on the administration to declassify information surrounding Haspel's management of the CIA torture program. 
"We should not be asked to confirm a nominee whose background cannot be publicly discussed and who cannot then be held accountable for her actions. The American public deserves to know who its leaders are," Sen. Martin Heinrich (D-N.M.) said in a statement.
This article has been updated with Cheney's comments.
Calling all HuffPost superfans!
Sign up for membership to become a founding member and help shape HuffPost's next chapter
BEFORE YOU GO