If you have pets and you've ever rented a home, it's likely that you have experienced some sort of discrimination against your furry friends during your search. If you have a pet who also finds him or herself on what is commonly referred to as a "restricted" or "aggressive" breed list, I am certain you have experienced discrimination against your four-legged family member.
It doesn't matter how impeccable your credit is or that you are a responsible pet parent with a very well-behaved furry family member. Invariably, when you speak with a home owner, property management company or apartment complex rental office when you answer pit bull (or Rottweiler or German Shepard or Chow Chow, or Akita or Doberman or Mastiff or Great Dane, or Alaskan Malamute or Siberian Husky or any mix of thereof) to the "What kind of dog do you have" question you can feel the rejection and hear a complete change in the conversation.
A conversation shifting from the possibility of a home to a quick thanks for your interest and a dial tone. For you there is no option to bring your pet to the shelter. Why? Because your pets are your family. You don't give up on family. If that's the kind of person and pet parent you are, then this little bit of advice is for you.
If you are a property owner or manager, there's something here for you too! My husband and I are reluctant landlords as a military family. We only rent to people who have dogs on the restricted breed list. They have to jump through a few hoops for their application to be accepted. If they are truly responsible pet parents, they will not have one problem complying with your requests.

Meet our new tenants! Two adorable pups and their human brother. How adorable. (Yes, there are parents living with them as well).
Preparation for meeting the landlord:
(1) Create pet resumes for your dogs. (google pet resumes, you can do this yourself for free or you can pay these fine folks $9 and they will write one for you!) Don't forget to write about how awesome you are too! Are you a professional, have an advanced degree/certificate, been at your position for a number of years, are receiving a promotion which prompted your move?
(2) Gather all up to date vetting -- proof of rabies and other recommended vaccines, proof of heartworm testing and monthly medication, microchip information and registration, Spay/Neuter certificates.
(3) Get a letter of reference from your veterinarian, dog sitters/boarding facilities, groomers, neighbors and you prior landlord (important).
(4) Have high-quality pictures of your pups preferably of them in fun clothing or with kids (showing that they are very much a part of your family).
(5) Include information about any classes your dog has completed (puppy classes, obedience, CGC, therapy).
(6) If you have any sweet videos of your pup, bring your iPad and be ready to show them! If the video is especially adorable, you might even start your presentation with that.
(7) Print all of these items and put them in a nice folder or binder. Make as many copies as you think you will need meetings to secure your new home.
Selecting a home to preview:
(1) Only select rental listings that say they will allow pets. Stay away from apartment complex rentals (notorious for breed restrictive policies and very few allow large dogs) and instead choose individual homeowners (military by owner, Craigslist and old-fashioned drive-by to find for rent by owner signs) and some rental agencies.
(2) Make an appointment to go see the home you are interested in. Do not discuss your pets in your call. Arrive on time and dressed nicely (this is an interview). Talk about the area and things you love about the house asking questions along the way. Once you have established a nice rapport only then should you bring up your furkids by name. Gush about them and the cute things they do. (Don't ever say "do you accept pitbulls?" This immediately puts a negative spin on your dogs being in need of acceptance. They are not different from any other dog.)
(3) Pull out the gorgeous folder you created with all the information about your dogs complete with photos of your dogs being a family member. The landlord may be hesitant but ask them to please take the folder and look over it later. Let the landlord know that you understand their home is an investment and you respect their desire to protect it.
(1) Your dogs are family members. They are doted on and loved. They are treated with the respect they deserve. Exercised. Vetted. i.e. They are not animals that you will leave in the yard to be a nuisance to the neighbors or chained to a fixed object which causes mental anguish.
(2) Do you own a home? (If so, I hope you rent to responsible pet owners!) You can relate to the landlord by sharing the fact that you understand a home is an investment (you can say this even if you don't own a home) and you respect that it needs to be taken care of. Show pictures of your home/prior place of residence to demonstrate that you are clean and neat. Your current landlord should be a great reference for you.
(4) Offer an additional $$ deposit (refundable) as a show of good faith and also to show that you will put your money where your mouth is when it comes to your fur-kids and your responsibility as an owner. (An aside: We all know that things happen and if your dog does destroy or damage something DO NOT wait for the landlord to find out about it. Hire someone to fix it immediately.)
(5) Offer to pay pet rent ($$ talks).
(6) You will secure a policy of renters insurance which covers your pets and has a liability policy which covers them of $300,000 (this will cost around $200 per year). You will add the landlord as an additional insured and provide proof of the same. (USAA, State Farm, Farmers, Liberty Mutual, Chubb, Amica--some of these will ask you to have your pet spayed/neutered, provide proof of obedience course, no business on the premises, ask if your dog has ever bitten a person. Get yourself a knowledgable insurance person who understands that your pet is family. They will be eager to help.)
Important: If you do get the "job" after you great interview you absolutely must take it upon yourself to be the best renter with dogs this homeowner has ever seen. Pick up after your dog and always keep your dog on a leash (both are laws).
Alternative: Buy a home so you don't have to beg someone else to accept your family:
(1) Many loan products are specifically geared towards first-time homebuyers (haven't owned a home within the last three years).
(2) Down Payments as low as 3% and many state programs offer down payment grant assistance which brings that number almost to zero. VA loans offer 0% down.
(3) Many banks offer closing cost credits and other lender credits.
(4) Credit score can be as low as 580 for some loan products.
(5) A committed loan officer will examine your credit and give you tips that will almost immediately improve your score (if followed and are possible with your scenario).
(6) An excellent Realtor will help you gather a team of professionals to help you towards your goal of homeownership. I am always happy to help.
Sidenote -- Do not try to hide your animals from a landlord. Lying will get you no where. Well, no where but evicted or worse darkening the shelter's door with your pet because you have no where else to go.
Landlords -- How you can protect yourself and your investment (you should be doing this for all potential tenants not just ones with dogs):
(1) Pull a credit check and a criminal background check. These two reports will help with your decision as to the likelihood that the prospective tenant will pay their rent on time, regularly and how they handle their obligations in general. Give them a chance to explain any possible discrepancies in advance.
(2) Require the tenant obtain a policy of renter's insurance which covers acts of dogs, has 300,000 liability component and be listed as an additional insured. Get proof of this. The tenant can add your information as the additional insured and the insurance company will send you a rider directly. If you don't receive it, ask.
(3) If your homeowners' policy discriminates against breed of dog, switch to a company that doesn't or, in the alternative, switch to a company that simply excludes for liability for dogs and you will be covered for that liability under the tenant's policy. (NOTE: I am not an insurance broker nor is this intended to be legal advice. This advice is based on my personal experiences.)
(4) Ask for proof of responsible pet ownership: veterinary records showing up-to-date vaccination, microchip, spay/neuter and the administration of regular heartworm preventive.
(5) Check references - this is really important. Have a conversation (no text or email) with personal references and their prior landlord.
(6) Charge Pet Rent and/or an add'l deposit to protect your investment. You can charge a non-refundable pet deposit per pet.
Pit bulls are cool. They are champion blueberry catchers.
As soon as we received our hard copy orders the search was on. I was in full momma bear mode. Discussions of my husband moving to Norfolk without us if we couldn't find a place to rent that would accept our entire family had me feeling sick to my stomach. We were prepared to offer a $10,000.00 deposit as a show of how serious we were about our family members.
My family was really concerned because I wasn't sleeping and was constantly pouring over Internet rental listings. I didn't have a good nights sleep until our application was accepted and new housing for our family was completely secured.
I bet this describes what happens with any responsible pet parent looking for a place to rent. We were very, very lucky and found housing on our first in-person visit to Norfolk. Since then, I have been asked by many people to share the steps I took to prepare to "sell" our family to potential landlords. I hope this helps you in your search.
For the second year, The Huffington Post is holding a week-long, community-driven effort to bust the myths and raise awareness about pit bulls, a maligned "breed" that often bears the brunt of dated, discriminatory legislation that can make it near impossible for these dogs to find a forever home. You can follow along with HuffPost Pit Bull Week here, or on social media where we'll be using the hashtag #PitBullWeek.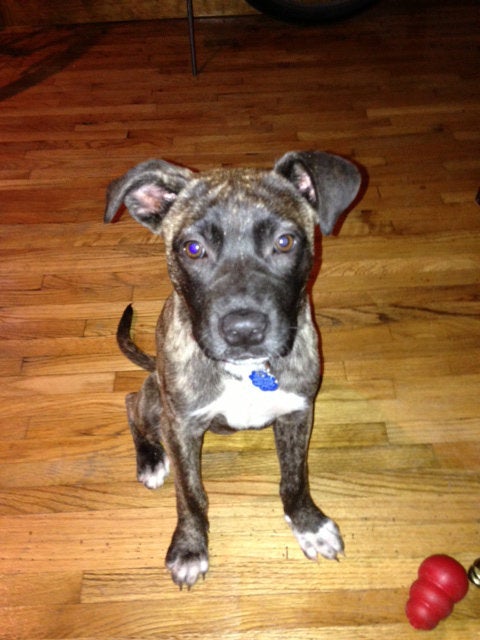 Your Pit Bulls
Popular in the Community