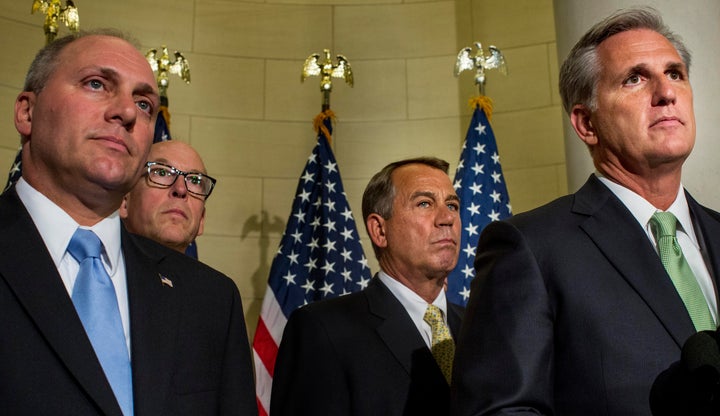 WASHINGTON -- House Republicans created a special committee on Wednesday to investigate abortions, fetal tissue procurement and the use of federal funds at Planned Parenthood.
Lawmakers voted 242-184 on a resolution establishing the committee, which will function as an Energy and Commerce subcommittee and will have the power to subpoena documents and testimony. Its stated mission, among other things, is to examine "medical procedures and business practices used by entities involved in fetal tissue procurement" and "federal funding and support for abortion providers."
The special committee comes a few months after anti-abortion activists released a series of heavily edited undercover videos that purported to show the family planning provider breaking the law by selling fetal tissue after abortions. Multiple state investigations and a federal investigation by the Energy and Commerce Committee have so far been unable to find any facts to support that claim.
Planned Parenthood, which legally accepts money to cover the costs of transporting donated fetal tissue to medical researchers, has slammed the videos as "deceptively edited" and denies any wrongdoing.
During Wednesday's debate, Republicans couldn't say that Planned Parenthood broke any laws. Instead, they railed against abortion in general and described how disgusting it was to see videos of fetal tissue being removed from aborted fetuses.
"It's one of the most repulsive things to watch," Rep. Mike Kelly (R-Pa.) said.
"Even if Planned Parenthood complied with the law, it's clear we need to learn more about their barbaric tactics so we can amend those laws and ensure these practices never happen again," Rep. Virginia Foxx (R-N.C.) said.
Democrats said the videos and the committee are all part of a coordinated GOP effort to chip away at reproductive rights, particularly those of low-income women.
"What a sham process this has been from the beginning," said Rep. Chris Van Hollen (D-Md.).
"We know that fetal tissue procurement ... provides life-saving research for diseases like Parkinson's, ALS and others," said Rep. Gwen Moore (D-Wis.). "No, Mr. Speaker, you are not trying to find the facts. This is just another pathway to deny a woman a right to a safe and legal abortion."
Republicans have been fixated on defunding Planned Parenthood for months. They grilled Cecile Richards, the organization's president, for five hours last week in a committee hearing. Last month, conservatives threatened to shut down the government if a budget bill included any funding for the family planning provider.
Planned Parenthood receives about $500 million a year in federal funds, but federal law prohibits any of it from being used for abortions. Instead, the money is used to subsidize a range of health care services for low-income patients, including birth control, cancer screenings and treatments for sexually transmitted diseases.
The new committee is the second special panel Republicans have created since they won the House majority in 2011. The other committee was created last year to investigate the 2012 attack of American diplomats in Benghazi, Libya. Democrats have accused Republicans of using that panel to hurt 2016 presidential contender Hillary Clinton, who was secretary of state when the attack took place. House Majority Leader Kevin McCarthy (R-Calif.) got in hot water last week for suggesting as much.
Popular in the Community