Imagine the perfect Caribbean beach in Mexico and chances are it features soft, white sands, swaying palms, and impossibly turquoise waters...
That description barely does justice to the Caribbean beaches of Mexico, along what's called the Riviera Maya (from Cancún to Tulúm) and the Costa Maya (from Tulúm south to the Belize border).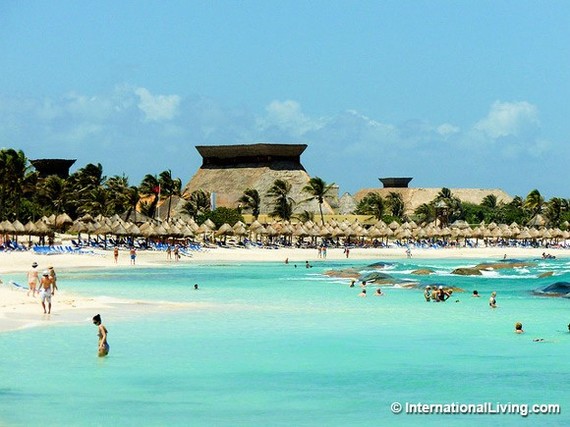 Tulum, Riviera Maya, Mexico
The beaches at Tulúm, in fact, are consistently ranked among the top 10 most beautiful beaches in the world, according to travel industry giants like the Travel Channel. (And if you've not heard of Tulúm, you soon will. It's a destination that's quickly growing in popularity, including with those looking to retire overseas.)
Surely, though, you know of Cancún. You've probably even been there. It's one of the most popular foreign resort destinations for Americans and Canadians, and a big draw for Europeans and other Latin Americans, too. It's also Mexico's #1 domestic tourist destination.
About half a million people live in Cancún, most in the tourism industry. It's the perfect place for a vacation: Stunning beaches to play on during the day and a variety of water sports to enjoy, such as snorkeling, diving, parasailing, jet-skiing, boating, fishing... You can golf, ride horses, go shopping, eat at all kinds of great restaurants, and there's plenty of nightlife during later hours.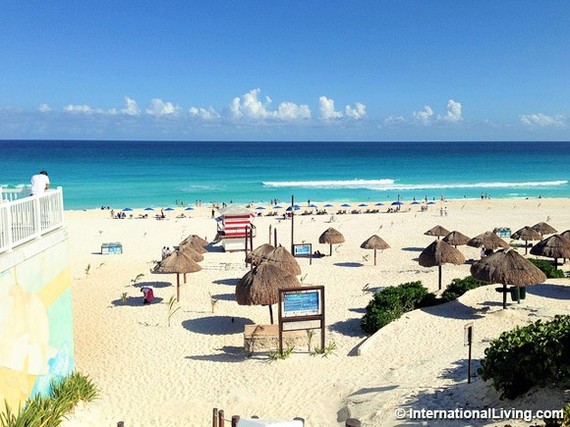 Cancun, Mexico
Along with Mexico's top retailers, you'll also find Walmart, Costco, Office Max and other US-branded retailers. While most expats who settle along the Riviera Maya prefer to be away from Cancún and its hordes of tourists, they come and go through Cancún's international airport, located just south of the tourist zone.
And they sometimes find themselves in Cancún to shop, or for medical care, although these days they can find many of the services they need in Playa del Carmen or even now in Tulúm, where more and more grocery stores and shopping centers are being built.
From Cancún's airport, you're less than a two-hour hop by plane from Miami ... a bit over two hours from Houston and just over four hours from New York or Los Angeles. Because it's such a popular tourist destination, you'll find airfares to Cancún extremely affordable.
The airport's location makes it convenient to get to the popular, growing communities farther south, such as Puerto Morelos, Playa del Carmen, Akumal, and on to Tulúm.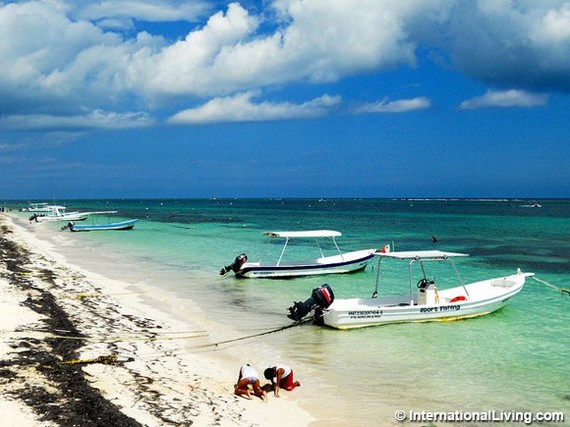 Boats Tied Up at Tulum Beach, Riviera Maya, Mexico
If you've always dreamed of Caribbean living, but you worry about the high costs and inconvenience of living on an island, the Riviera Maya may be exactly what you're looking for...
It's not rock-bottom inexpensive, of course, but the weakness of the peso right now means your dollar goes farther here than any time in the last decade. And don't worry about the infrastructure along this coast -- it's top-notch. You'll find excellent roads, reliable electricity, water, cell phone and high-speed Internet connections...
Still, if your heart is set on Caribbean island living, don't despair. Just off the Riviera Maya coast are the small islands of Cozumel and Isla Mujeres, either of which would make for a perfect island life.
But the Caribbean coast of mainland Mexico is where you'll find the biggest growth area right now. These days, Playa del Carmen gives Cancún a run for its money in competition for tourist numbers. The beachfront here is wall-to-wall hotels and restaurants. Just a block or so back, the pedestrian-only Fifth Avenue buzzes with sidewalk restaurants and small boutiques selling all kind of trinkets, jewelry, clothing, and more.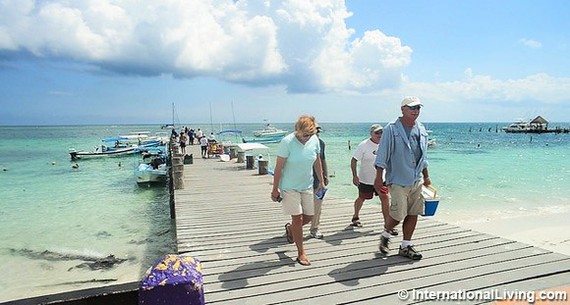 Quintana Roo, Puerto Morelos, Yucan, Mexico
All the amenities you could want are there, and a good range of cultural activities, too -- from live music to a Thursday-night art walk. A new Cirque du Soleil dinner theater has brought Las Vegas-style entertainment to the area.
As you'd expect, you'll also find great shopping and restaurants in all budget ranges. And top-notch medical care, too. Hospital Hospiten is considered the best of the many hospitals and clinics in Playa del Carmen. For about $60, you can get a same-day appointment with a specialist, who has all the latest state-of-the-art equipment at hand.
What about the cost of living? It all depends on your lifestyle, of course, but If you're frugal and don't have expensive restaurant habits, and you enjoy being outside rather than indoors running the air conditioning full time, a couple should be able to live comfortably anywhere along this coast for $2,500 to $3,000 a month, including your rent. (As anywhere else in the world, the farther back from the beachfront you live, the less you will pay for your rent.)
Another coastal town to check out is Puerto Morelos. Halfway between Cancún and Playa del Carmen, it's beneficially close to the services of those larger cities, but it still retains some of its small-town, fishing-village charm. And not nearly as many expats have settled here as they have elsewhere along this coast.
The biggest opportunities along this coastline right now, though, are in and around the small town of Tulúm, about 80 miles south from Cancún at the southern limit of the Riviera Maya.
Tulúm is also where you'll find the stunningly beautiful Mayan archeological site this area is best known for, on a 40-foot bluff above the beach. It's been a major tourist attraction for many years, but until recently the town of Tulúm itself had little more than a few gift shops and some small cabana hotels on the beach.
Progress has arrived, however. Recent roadwork has added access along the highway. And a series of highway overpasses from Cancún allows the drive from the airport to Tulúm to be made in just about 90 minutes.
Today, there are more than 10,000 residents in Tulúm, and the beach cabanas have multiplied into more than 40 hotels strung along the beachfront "hotel zone." Many are cabana-type, eco-style operations with low-profile, thatched-roof units. That doesn't mean, though, that they're for budget travelers. These eco-chic accommodations attract stylish urban professionals who make this area a place to "see and be seen."
Development can't expand south of Tulúm thanks to the Sian Ka'an Biosphere that borders it to the south. It's a 1.3 million-acre nature reserve that protects tropical forests, mangroves, savannas, coral reefs, and dozens of Mayan ruins. In the reserve you can enjoy some of the best fishing and bird watching in the hemisphere.
But between the hotel zone beaches and Highway 307, along which most of the pueblo currently sprawls, an entirely new, modern downtown -- called Aldea -- is underway, with space for high-end commercial outlets and all the infrastructure that tourists and residents alike expect. Condo complexes and more are being built within walking distance.
If there are any downsides to living in this part of Mexico, one of the biggest is that there can be hurricanes, although strict building codes reduce the chance of property damage.
And it can be very hot in the summer... But in the winter, the closest thing to "white stuff' you'll see is all that pretty white sand....
A big plus is that this is one of the safest places in Mexico ... and one of the most convenient ... and definitely one of the most beautiful in the world...
And the fact that you can live here affordably, and never have to shovel snow again ... well, it doesn't get much better.
PHOTO GALLERY
10 Great-Value Destinations Across the U.S.
Calling all HuffPost superfans!
Sign up for membership to become a founding member and help shape HuffPost's next chapter