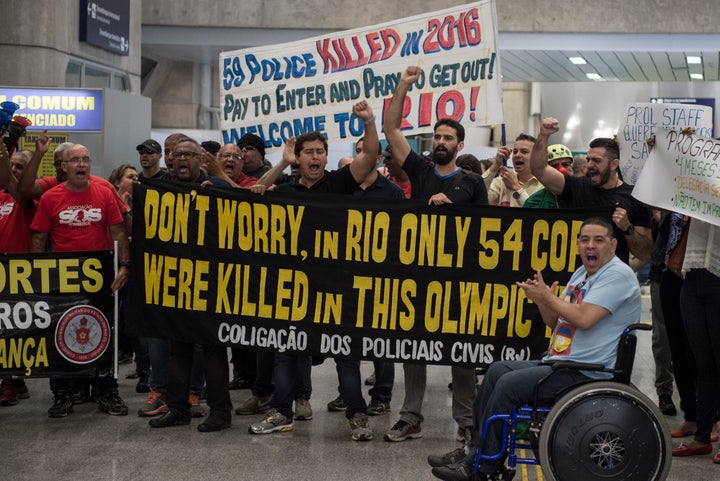 After reportedly not being paid for their work for several months, around 100 police officers protested the Brazilian government at Rio de Janeiro's international airport on Monday.
They chanted and covered the floor with dummies, complete with taped-on photographs of officers killed in action. They held up signs reading "Welcome to Hell" and "Pay to enter and pray to get out."
And amid a particularly violent and economically unsound period in the nation's history, they ― the police ― also claimed they wouldn't be able to adequately protect visitors when the 2016 Olympics kick off on Aug. 5.
Crime, especially in the favelas, or lower-income areas, continues to climb, even as the opening ceremony gets closer and closer. Street violence is surging, and police-related deaths have spiked, reaching 645 in 2015 alone. The month of May saw 9,968 incidents of street mugging in the host city ― a 43 percent uptick as compared to May 2015. And just last week, $445,000 of Olympic broadcasting equipment was hijacked from an in-transit truck, drawing headlines all over the world.
The government has been unable to pay police largely due to the nationwide recession, leading to both the airport protests and an $895 million emergency loan extended to Rio in the hope of assuaging some of the security fears -- and appeasing the officers who've threatened to strike.
Even Rio Mayor Eduardo Paes told CNN last week that the national government was doing a "terrible, horrible job" as the calendar inches closer to the opening ceremony, admitting that "[the state is] completely failing at its work of policing and taking care of people."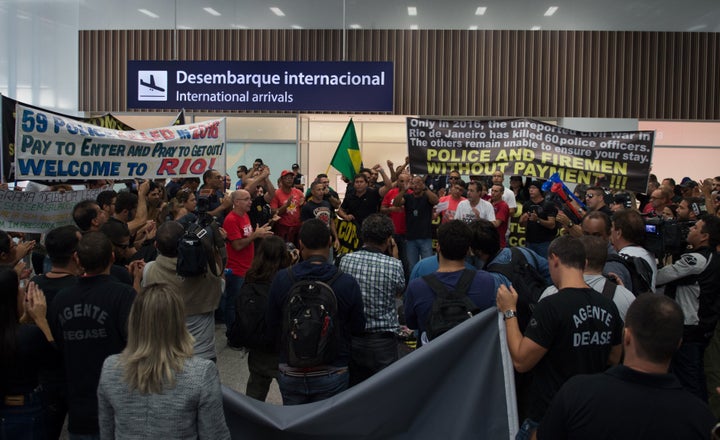 And even while Rio expends energy and resources trying to quell its crime problem and security issues, the host city must also worry about biological factors threatening the health of athletes, tourists and locals alike.
The athletes themselves are all too aware of the potentially perilous pollution. German Paralympic sailor Heiko Kroger told CNN that he attributes a teammate's recent "severe skin infection" to this newly detected bacteria -- and that he keeps his nose and his lips sealed as much as possible when near the contaminated water.
"It's a nice sailing area but every time you get some water in your face, it feels like there's some alien enemy entering your face," he said.
As of now, the sailing competitions will go on as planned, despite the fact that Picao admits that no one fully knows the "risks" of getting infected by this bacteria -- and despite the fact that Picao refuses to take her own children to the beaches in question.
Before You Go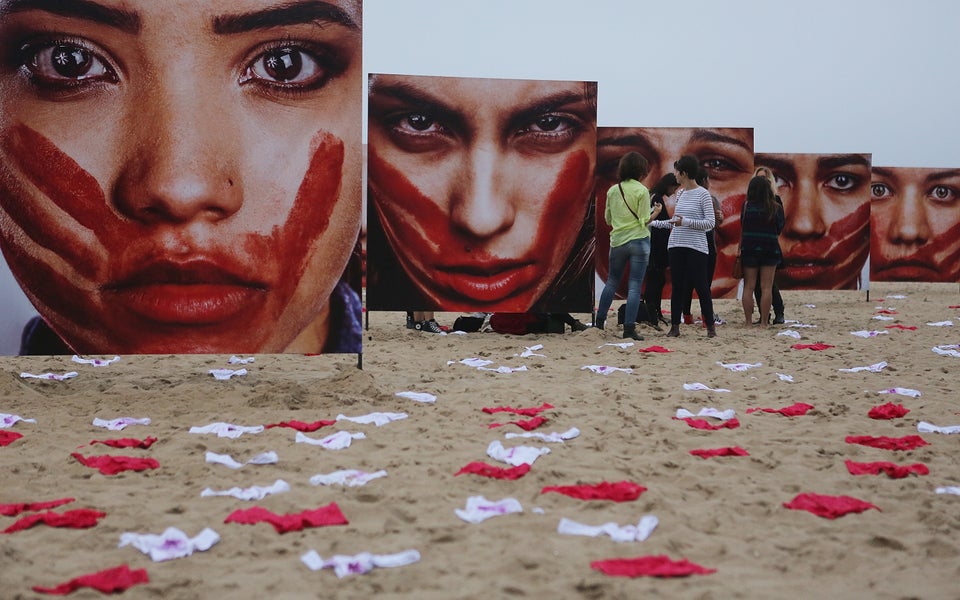 Brazil's Copacabana Beach Dotted With Underwear In Protest Of Violence Against Women
Popular in the Community