There are still a lot of unanswered questions about Rob Porter's departure from the White House amid allegations of abuse made by his two ex-wives.
White House principal deputy press secretary Raj Shah failed to offer much clarity during a press briefing Thursday. Here are some questions still worth asking about President Donald Trump's former staff secretary.
How much did White House chief of staff John Kelly know? When did he know it?
Shah didn't offer many details when asked if Kelly knew about the allegations of abuse made by Porter's ex-wives.
"This is part of an ongoing investigation," Shah said. "We trust the background check process, and the chief of staff does not get detailed updates about what may or may not have been alleged."
Politico reported Wednesday that Kelly did know about the allegations, saying he was aware of a protective order against Porter that prevented him from getting full security clearance. CNN also reported that Kelly ― who on Wednesday praised Porter as "a man of true integrity" ― and other White House officials knew about the allegations months before Porter resigned.
Shah would not "get into specifics" of who knew what and when, but said Kelly "had not seen images" released by Colbie Holderness, Porter's first wife, until they were published Wednesday. The images show Holderness with a black eye, which she said was a result of Porter punching her in the face during a vacation in Florence, Italy, in 2005. 
Did Porter resign or was he terminated?
Shah said Porter "offered his resignation," signaling he voluntarily left the White House, but also that he "was terminated," signaling he was fired. White House press secretary Sarah Huckabee Sanders said Wednesday that Porter resigned, but Shah indicated Porter may have been asked to leave.
This kind of confusion has surrounded other departures from Trump's White House, including that of former aide Omarosa Manigault Newman.
How close was Porter's background check to being completed?
Shah repeatedly said allegations against Porter were part of an "ongoing investigation." But he didn't offer much clarity about the status of the background check clearance process that was still taking place more than a year into Porter's White House tenure. He did confirm that Porter was operating on an interim security clearance before he resigned. 
How much has Hope Hicks been involved?
Shah said Hicks, the White House communications director who has been romantically linked with Porter, "did recuse herself from some matters" concerning the White House's response to Porter's exit. He did not deny that Hicks was involved in drafting the White House's initial statement on Porter, which CNN reported Wednesday.
Hicks did not get Trump's approval on the White House's initial statement, in which Kelly called him "a friend, a confidante and a trusted professional," Vanity Fair reported Thursday.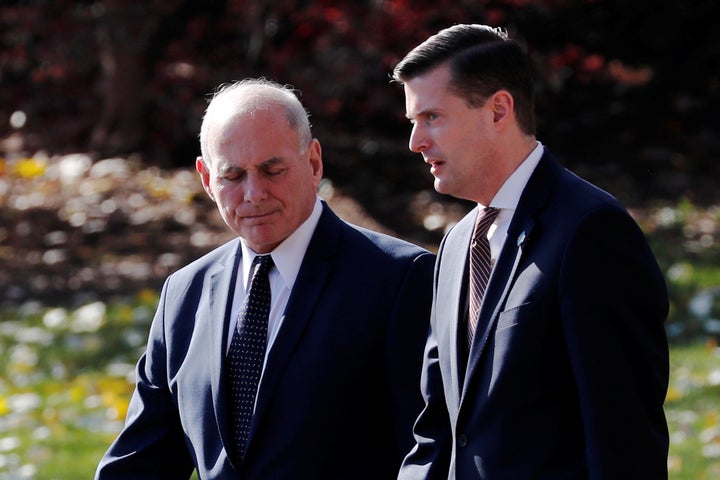 Calling all HuffPost superfans!
Sign up for membership to become a founding member and help shape HuffPost's next chapter