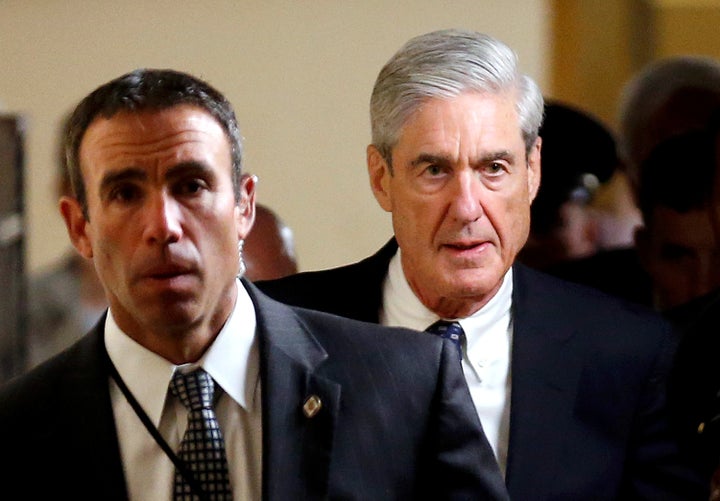 WASHINGTON ― Republicans say they see no need to pass legislation to protect Robert Mueller, the head of the investigation into Russian interference in the 2016 presidential election, despite fresh attacks from President Donald Trump against him over the weekend.
Trump took on the special counsel by name for the first time on Saturday, writing the next day on Twitter that his probe was not "fair" and stating falsely that it was staffed by all Democrats and no Republicans. The president's attorney, John Dowd, later urged the Justice Department to immediately end the special counsel probe. Despite ensuing White House denials, Dowd's statement and Trump's pointed attacks earlier in the day led many to speculate that Mueller's job could be in peril.
On Monday, Trump again criticized the Russia investigation, alleging it had "massive conflicts of interest."
Republicans over the weekend offered a mostly muted response to Trump's attacks against Mueller. A few, like Sen. Lindsey Graham (R-S.C.) and Sen. Jeff Flake (R-Ariz.), warned that moving to terminate the special counsel would represent a "red line" and could even represent the "end" of Trump's presidency.
No Republican, however, called for a vote on long-stalled legislation meant to shield Mueller from firing. Sen. Thom Tillis (R-N.C.), a co-author of one such bill, tweeted Monday that the special counsel ought to be able to "continue his investigation unimpeded."
Republican leaders, meanwhile, said they had no plans to intervene because they did not believe Trump would act against Mueller despite a slew of recent personnel shake-ups among government agencies and the firing of Andrew McCabe, who served as the Deputy Director of the Federal Bureau of Investigation, Friday.
"I have urged the White House in public and private to allow Mueller to continue his investigation uninterrupted," Sen. Orrin Hatch (R-Utah), the Senate president pro tempore, said in a statement on Monday. "I know Mueller well and believe him to be a straight shooter, and I continue to believe that giving Mueller the time and support necessary to get to the bottom of things is in the best interest of all parties involved."
"My conversations with the White House have led me to believe legislation is not necessary at this point because I do not believe the president would take such a foolish action," Hatch added in the statement.
Senate Majority Whip John Cornyn (R-Texas) was similarly dismissive of the possibility that Trump could fire Mueller, telling reporters on Monday he did not think the president would do so because "the consequences would be so overwhelming."
"I don't see the necessity of picking that fight right now," Cornyn added.
The views of Sen. Dianne Feinstein (D-Calif.) lined up with those of Republicans on Monday. She told reporters that she didn't think special protections were necessary since firing Mueller was so obviously a bad move, according to The Washington Post's Karoun Demirjian.
Feinstein clarified later that she believes Mueller is already protected under current regulations because Deputy Attorney General Rod Rosenstein has said there is no cause to fire him. The senator added, however, that she also supports legislation to codify those regulations.
It's not hard to envision Trump taking his attacks against Mueller to another level, however. The president has a reputation for impulsiveness, and on Monday the White House added a lawyer to its team who has pushed the theory on television that the FBI and Justice Department framed Trump.
Trump also surprised many members of his party earlier this month by announcing tariffs on steel and aluminum imports ― policies that have historically been opposed by free-trade conservatives. Many Republicans on Capitol Hill were unaware of the details surrounding the policy until after it was announced by Trump at the White House.
New York Times reporter Maggie Haberman wrote over the weekend on Twitter that the president was "testing" lawmakers with his attacks on Mueller.
Popular in the Community