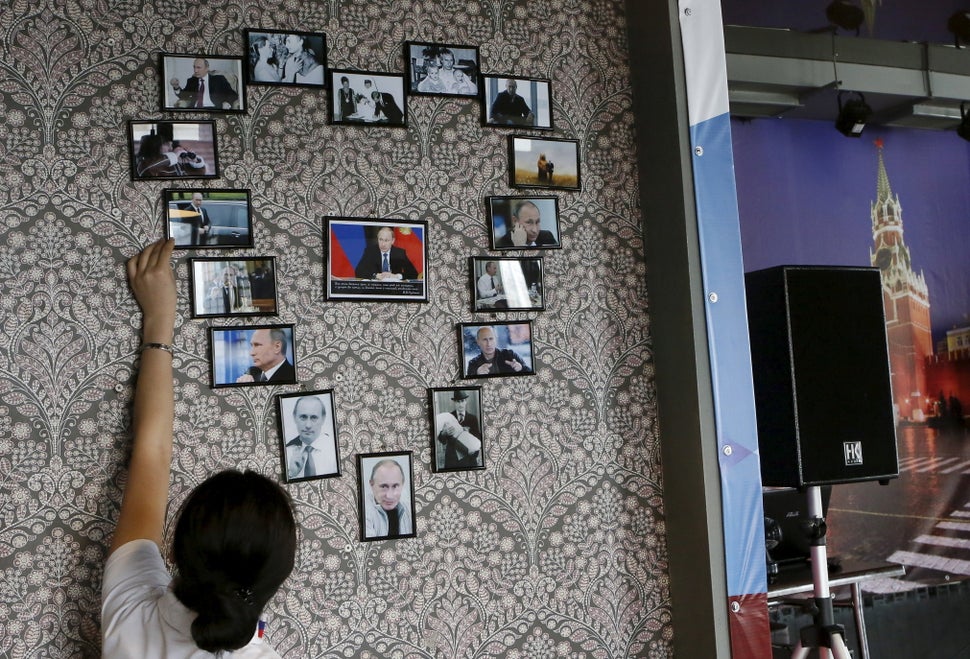 If you've ever wanted to enjoy a leisurely meal with Russian President Vladimir Putin staring at you, here's your chance. All you need to do is travel to Siberia.
Welcome to President Cafe, an eatery dedicated to honoring the glory of Putin and Russia. The cafe, which is located in the eastern Siberian city of Krasnoyarsk, opened last month.
Dozens of photos of Putin, from his youth all the way up to his prime ministership, line the cafe's walls. The menu, a photo of which was published in Russian tabloid Komsomolskaya Pravda, features a sketch of Putin riding a bear shirtless. There is even a life-size cutout of the president with which people can take photos.
If and when the restaurant receives its liquor license, it plans to serve a cocktail with vodka, grenadine and blue curaçao, which will resemble the colors of the Russian flag, cafe co-owner Svetlana Lautman told the publication. It will cost just 120 rubles, or under $2.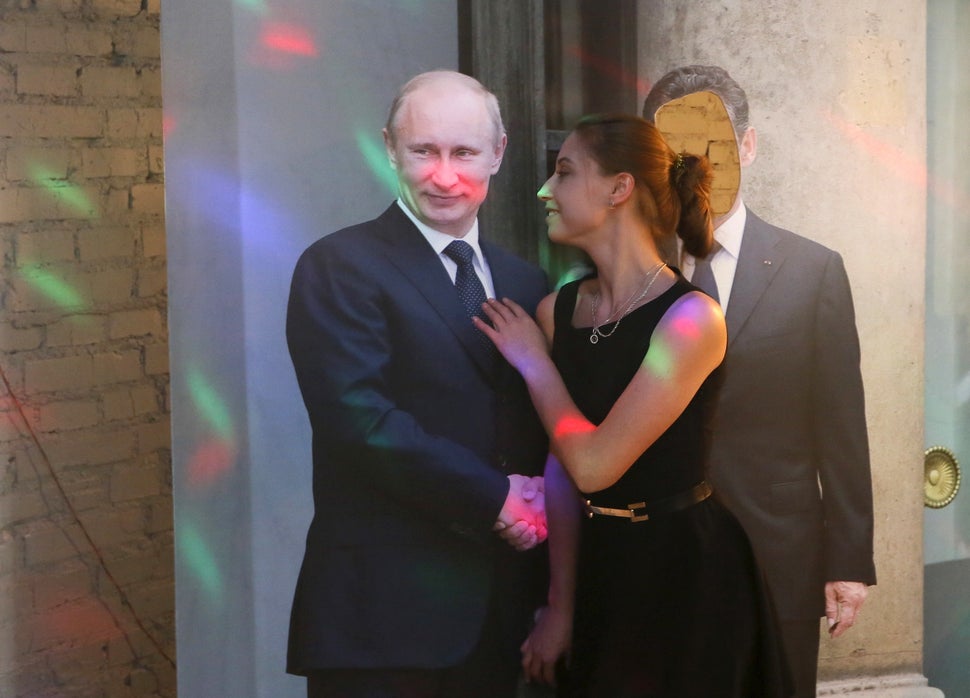 President Cafe is the first cafe in Russia that is fully dedicated to Putin, Dmitry Zhdanov, the cafe's other owner, told Reuters.
"I myself am a patriot, but I can see that not everyone is satisfied with their lives in the country," Zhadnov told Siberian online journal Sib.fm. "So we decided to provide people with a place where they can eat well and inexpensively, but also recall Russian achievements in a pleasant, patriotic atmosphere."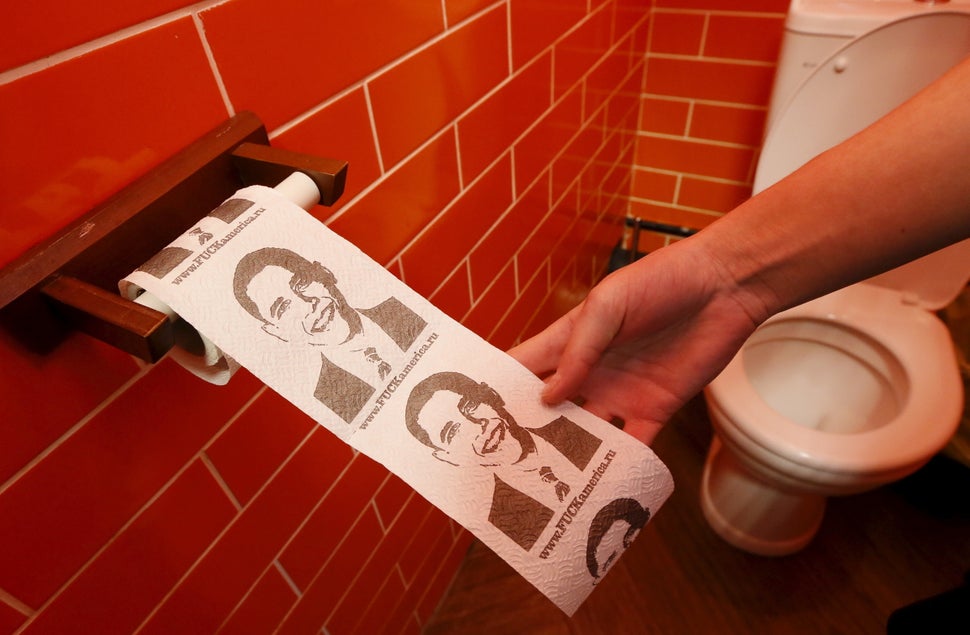 Some of the cafe's decorations may come across as a little offensive to some visitors, however. Step inside the bathroom and you'll see floor mats depicting the U.S. flag, on which patrons step when they wash their hands. Toilet paper has U.S. President Barack Obama's face printed on it. Pictures of U.K. Prime Minister David Cameron and German Chancellor Angela Merkel are also mounted on the bathroom walls.
The door to a bathroom is labeled "NATO," the consortium of Western countries that was the Soviet Union's Cold War adversary. While Russia and NATO established diplomatic relations in 1991, their alliance remains tense. NATO countries are currently building their largest military presence in eastern Europe since the Cold War in an effort to counter an increasingly aggressive Russia.
But all of these gimmicks are "just business," and "nothing personal" toward the politicians, Zhdanov told Reuters. "I am neutral toward Western politicians," he added.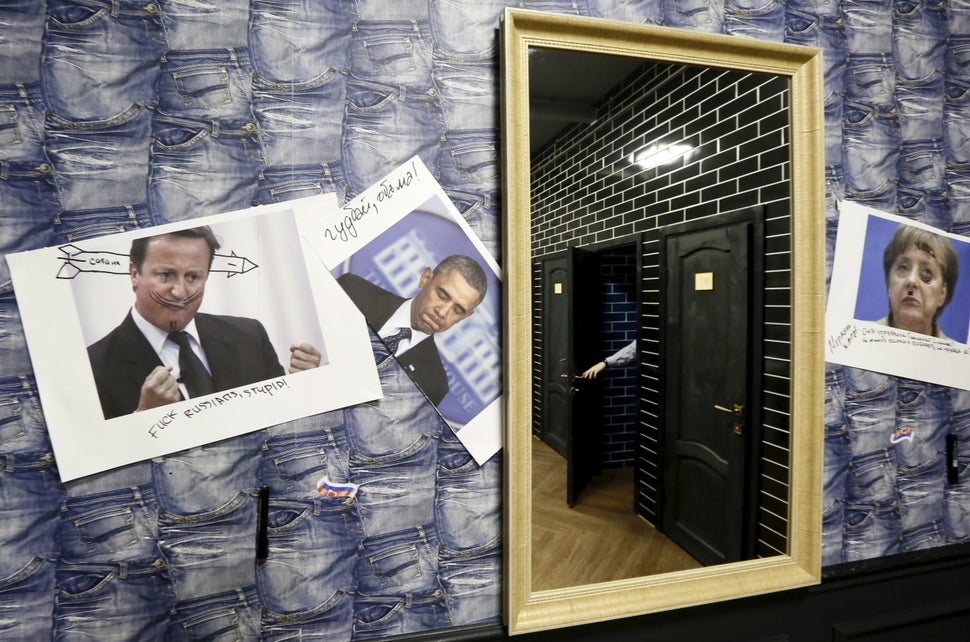 Everything in the restaurant seems to have a political tinge to it -- even the food.
"Someone asked us for chicken Kiev," a popular dish named after the Ukrainian capital, Lautman told Komsomolskaya Pravda. "At the President Cafe! We can make it, but we'll have to call it something different."
Russia and Ukraine currently have a strained relationship: Russian troops stormed into the Ukrainian peninsula of Crimea two years ago, and annexed the area shortly thereafter. Subsequently, pro-Russian separatists and Ukrainian troops began fighting, which the United Nations says has killed over 9,100 people. 
Seventy-three percent of Russians trust Putin, according to recent opinion polls. While this figure is 10 percent lower than it was last year, it remains "stratospheric by Western standards," according to Reuters. Just 51 percent of Americans approve of Obama, according to Gallup's most recent weekly poll average. His highest weekly average was 67 percent in 2009, shortly after his inauguration.
Take a look at more of these photos, taken by Reuters photographer Ilya Naymushin last week, below.
Irina Ivanova contributed reporting. 
Read more:
Calling all HuffPost superfans!
Sign up for membership to become a founding member and help shape HuffPost's next chapter
BEFORE YOU GO
PHOTO GALLERY
Birthday Cupcakes For Vladimir Putin, From HuffPost