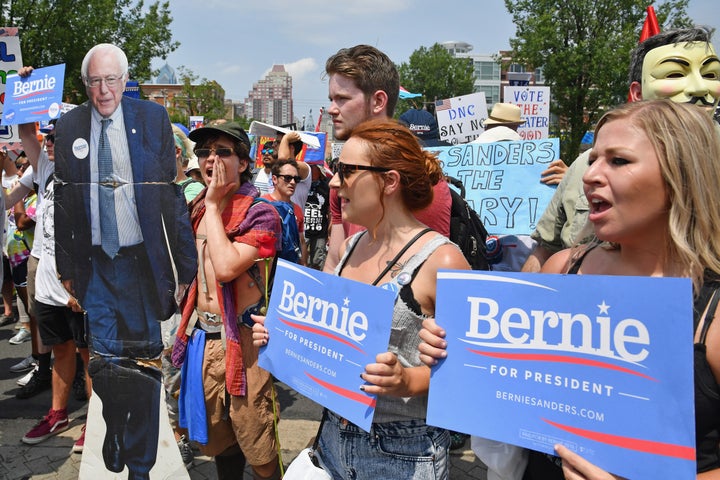 An overwhelming majority of Bernie Sanders supporters are willing to support Hillary Clinton in the general election. Clinton needs Sanders supporters and Hispanic voters to turn out in November, while Donald Trump needs white men without a college degree. And most Republicans expressed more interest in this year's convention than previous ones. This is HuffPollster for Tuesday, July 26, 2016.
90 PERCENT OF CONSISTENT SANDERS SUPPORTERS PLAN TO VOTE FOR CLINTON - Pew Research: "Hillary Clinton led Bernie Sanders for the Democratic nomination in every Pew Research Center survey conducted throughout the party's primaries. But many Democratic voters vacillated in their candidate support throughout this period. Today, however, overwhelming shares of all Democratic and Democratic-leaning registered voters – including 90% who consistently supported Sanders for the nomination – back Clinton in the general election against Donald Trump…. Despite a sometimes contentious primary process, support for Clinton in the general election is high among even the 20% of Democratic voters who consistently backed Sanders through the primary and caucus season: Among this group, just 8% prefer Trump in the general election, while 90% favor Clinton. (The survey was mostly completed before Sanders announced that he would support Clinton on June 24.) Those who switched their support at least once from December to April also overwhelmingly back Clinton in a matchup against Trump (88% vs. 9%)." [Pew]
But getting Sanders supporters out to vote might actually be the problem - Harry Enten: "Hillary Clinton is coming into her convention with a real problem….New data and analysis shared with FiveThirtyEight from Catalist and SurveyMonkey shows that, before the 2016 primaries, Sanders's supporters voted less frequently than other 2016 voters, and they were less reliably Democratic than Clinton supporters….In the 2012 general election, for instance, 88 percent of Clinton's 2016 primary supporters cast a ballot. Same with Trump supporters. And 87 percent of Cruz supporters voted in 2012. But just 79 percent of Sanders's voters did….Moreover, a higher percentage of Sanders voters had to re-register (7 percent) than Clinton voters (4 percent) for the primary, indicating that Sanders may have been bringing in more people who had let their registration lapse. All of this means that Sanders brought irregular voters into the process, as well as young voters, to an extent the other candidates did not. Will these people still vote without Sanders on the ballot? It's far from guaranteed." [538]
The Clinton campaign might also struggle with Hispanic voter turnout  - Grace Sparks: "Hispanic voters are registered in record numbers, and they generally support presumptive Democratic presidential nominee Hillary Clinton. But despite the focus on immigration in this year's election rhetoric, Hispanic voters are still less likely to vote than some other groups. A July Washington Post poll showed that 39 percent of Hispanic voters said there's a less than 50/50 chance they will vote in the presidential election in November. This number is very high compared with other groups such as whites (11 percent) and African-Americans (13 percent)....At the same time, Hispanic voter registration reached a record high this past spring….There are some indications Hispanics might vote in higher numbers this year. Some experts have projected that as many as 13.1 million Hispanics will vote in 2016, compared to 11.2 million in 2012 and 9.7 million in 2008. Among Hispanics registered to vote in Colorado and Nevada, 80 percent reported they were less likely to vote Republican due to nominee Donald Trump's views on immigration….However, according to a Gallup poll, only 38 percent of Hispanic voters strongly agreed that they were afraid of the election outcome, compared with 51 percent of national adults and 64 percent of African-Americans." [HuffPost]
DONALD TRUMP IS FAILING AMONG COLLEGE-EDUCATED WHITE VOTERS - Samantha Neal: "Although new polling indicates Trump is enjoying a modest spike in support after the Republican National Convention, he experiences the opposite effect among white college-educated voters. A CNN/ORC poll released Monday shows a significant divide among this traditionally Republican voting bloc. Among college-educated white voters, Clinton actually improves her standing: initially split with Trump 40-40 before the convention, she now pulls ahead with a 44 to 39 percent lead after the RNC. The opposite happened among white voters who lack college degrees. Trump's 20 percent advantage in this demographic before the convention has grown to 39 percentage points after the RNC. Post-RNC polling by Morning Consult likewise echoes the Clinton-Trump education disparity among voters of all races. Pre-convention, Trump barely edged past Clinton by three percentage points among the non-college educated. Post-convention, he surges past her by ten percentage points." [HuffPost]
Trump's success among the less-educated helps explain the close race - Nate Cohn: "The list of voting groups generally alienated by Donald J. Trump is long: Hispanics, women, the young, the college educated and more. How is it that he's in such a close race with Hillary Clinton? The answer lies with a group that still represented nearly half of all voters in 2012: white voters without a college degree, and particularly white men without a degree….In six polls conducted this month, Mr. Trump leads among white registered voters without a degree by a margin of 58 percent to 30 percent. This has been true, to varying degrees, for the entire year. It's a significant improvement over Mr. Romney in 2012, who led in pre-election polls by a 55-to-37 margin among this group." [NYT]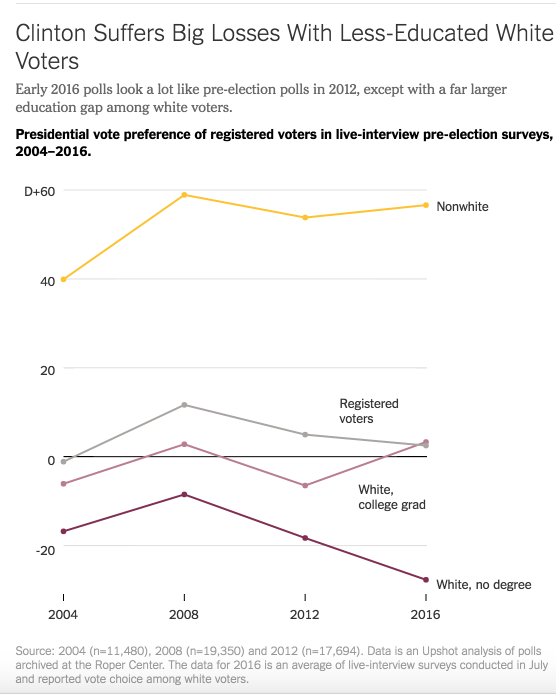 REPUBLICANS WERE MUCH MORE INTERESTED IN THE CONVENTION THIS YEAR - John Lapinski and Stephanie Psyllos: "Overall, Trump's unprecedented candidacy and convention buzz meant that voters from both sides of the aisle were more focused on this year's Republican convention than in prior years. Overall, 41 percent of voters said that compared to past Republican conventions, this year's convention was of more interest to them. Nearly six in 10 Republicans and Republican-leaners were more interested in this year's convention than previous conventions, and even three in 10 Democrats were more interested as well."  [NBC]
And they weren't thrilled with Ted Cruz's speech - Elise Foley: "Many pundits and politicians, including GOP nominee Donald Trump himself, predicted that Sen. Ted Cruz (R-Texas) had hurt his own reputation by declining to endorse the businessman at the Republican National Convention last week. They appear to have been right in the short term: Cruz's favorability with Republican and Republican-leaning voters plummeted after his speech, according to a CNN/ORC poll released Monday. The poll, conducted in the two days following the convention, found only 33 percent of voters have a favorable view of Cruz. Prior to the convention, a survey put Cruz's favorability at 60 percent among Republican and Republican-leaning voters, according to CNN." [HuffPost]
HUFFPOLLSTER VIA EMAIL! - You can receive this daily update every weekday morning via email! Just click here, enter your email address, and click "sign up." That's all there is to it (and you can unsubscribe anytime).
TUESDAY'S 'OUTLIERS' - Links to the best of news at the intersection of polling, politics and political data:
-The FiveThirtyEight polls-plus model gives Donald Trump a 42 percent chance of winning. [538]
-Erin Cassese and Tiffany Barnes explain why Ivanka Trump will probably not help her father win over women voters. [WashPost]
-A significant portion of independent women are still undecided. [Morning Consult]
-Voters are just as unfamiliar with Tim Kaine as they were with Mike Pence. [Gallup]
-Almost half of voters think Kaine is a good VP choice. [CNN]
-Hillary Clinton's image falls to its lowest point in two decades. [Gallup]
Calling all HuffPost superfans!
Sign up for membership to become a founding member and help shape HuffPost's next chapter