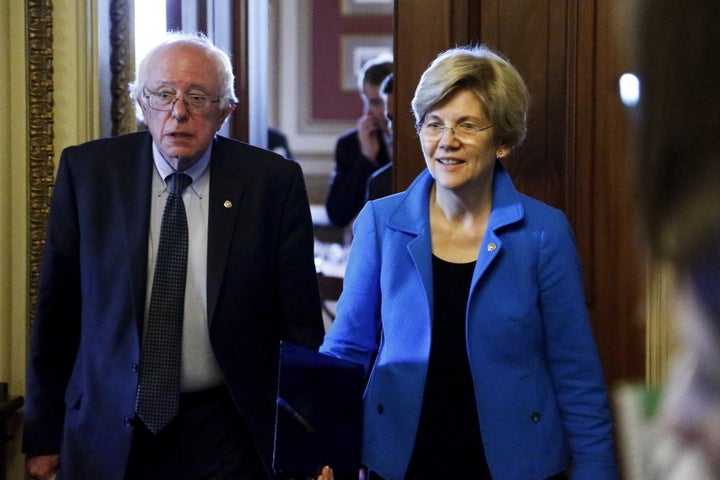 WASHINGTON ― Five progressive senators are pressing Aetna to account for its decision to scale back its participation in Obamacare and questioning the company's assertion that a Department of Justice review of a pending merger is reason enough to bail on the nascent marketplace.
Independent Sen. Bernie Sanders (Vt.) joined Democratic Sens. Elizabeth Warren (Mass.), Ed Markey (Mass.), Sherrod Brown (Ohio) and Bill Nelson (Fla.) in penning a letter to Aetna CEO Mark Bertolini on Thursday.
The lawmakers demand an explanation for the insurer's sudden shift in strategy about competing in the health insurance exchange marketplaces created by the Affordable Care Act after the Justice Department announced it opposed the company's merger with Humana.
Aetna's decision to exit 11 of the 15 states where it had sold policies on the exchanges happened abruptly, after the company had publicly committed to remaining in those states ― and even floated plans to expand its presence in this segment of the health insurance market.
And the company's declaration that it would abandon those exchanges came after it warned the Justice Department that if President Barack Obama's administration took an unfavorable position on the merger, Aetna would reconsider its commitment to Obamacare.
You now must answer both to your shareholders and to the thousands of Americans who trusted Aetna with their health coverage.

Sens. Elizabeth Warren, Bernie Sanders, Ed Markey, Sherrod Brown and Bill Nelson
The senators zero in on Aetna's assertions by expressing doubt that Aetna would have communicated bullishness about the exchanges' future and a positive outlook on its deal with Humana if the company really thought its financial position was so precarious.
"We are particularly troubled that Aetna's decision to leave the ACA exchanges appears to have been motivated by the Justice Department's decision to challenge Aetna's proposed $37 billion merger with Humana — a deal that the Justice Department and many experts predicted would harm competition in the health insurance market and negatively impact the cost and quality of health care. Aetna could not have been surprised at the concerns raised by regulators about this merger," the senators wrote.
Most health insurance companies have lost money during the first three years of the exchanges' existence, as too many sick patients and not enough healthy consumers enrolled into coverage, making the economics unworkable in the short term for companies unwilling to risk that the markets would mature over time.
These facts are demonstrably true, but the senators nevertheless highlight how Aetna's position on the Affordable Care Act exchanges was linked in ways not previously publicly disclosed until after the Justice Department decided to sue to block the merger with Humana.
On July 5, Bertolini made plain that the government's disposition on the Humana deal would directly affect how Aetna would approach the exchanges, which are one of the most prominent artifacts of Obama's presidency.
[I]f the deal were challenged and/or blocked we would need to take immediate actions to mitigate public exchange and ACA small group losses. Specifically, if the DOJ sues to enjoin the transaction, we will immediately take action to reduce our 2017 exchange footprint .... [I]nstead of expanding to 20 states next year, we would reduce our presence to no more than 10 states .… [I]t is very likely that we would need to leave the public exchange business entirely and plan for additional business efficiencies should our deal ultimately be blocked. By contrast, if the deal proceeds without the diverted time and energy associated with litigation, we would explore how to devote a portion of the additional synergies ... to supporting even more public exchange coverage over the next few years.
Citing that letter, the senators assert it amounted to a threat, and that if the financial impact of the merger was so costly and uncertain it could undermine Aetna's financial health, none of the company's arguments about the merger or the sustainability of its exchange business pass muster.
"Because the risks of the merger were obvious from the beginning, these actions are both inexplicable and irresponsible. You now must answer both to your shareholders and to the thousands of Americans who trusted Aetna with their health coverage," the senators wrote.
The lawmakers' letter concludes with a list of questions they demand Bertolini answer by Sept. 15:
What exact costs will Aetna incur now that the Justice Department has challenged the merger? What costs will Aetna incur if the merger is ultimately blocked?

Why did Aetna agree to a deal that included a $1 billion break-up fee? When the company agreed to this condition, did Aetna conduct an internal assessment of the risk of a DOJ challenge? When Aetna agreed to pay this fee, was Aetna aware that it would endanger participation in the ACA exchanges?

What steps did Aetna take, prior to July 2016, to mitigate the risk that the Justice Department would challenge or successfully block its proposed acquisition of Humana?

When did Aetna first determine that its participation in the public exchanges would be contingent upon federal government approval of its proposed acquisition of Humana?

When did Aetna first inform investors that its participation in the public exchanges would be contingent upon federal government approval of its proposed acquisition of Humana? What other risks did the company disclose to investors?

What criteria did Aetna use in determining the states from which to withdraw in 2016?

During Aetna's April 29, 2016, Q1 2016 earnings call, Aetna said that it had a "very good cost structure" in states in which it had experienced growth in its ACA exchange population, including Florida, Georgia, and North Carolina. Why is Aetna withdrawing from states in which it had a "very good cost structure" or where Aetna has performed well in the past?

How many enrollees have contacted Aetna over its decision to withdraw from the ACA exchanges? What materials and resources is Aetna making available to assist consumers in selecting new health insurance coverage? 
The Huffington Post reviewed the senators' letter under an embargo and agreed not to share its contents, and so didn't seek comment from Aetna until after publication.
"We are one of many insurers, large and small, that has been forced to reduce its public exchange participation due to an increasingly unstable marketplace. This isn't a recent development, as more than 40 companies exited certain geographies for the 2016 plan year," Aetna spokesman T.J. Crawfrod wrote in an email to HuffPost. "Singling Aetna out may be politically convenient during election season, but this letter ignores realities and takes the focus away from needed reforms. The ACA is not sustainable without bipartisan action that improves access, affordability and quality of care for consumers."
This article has been updated to include a response from Aetna.
Calling all HuffPost superfans!
Sign up for membership to become a founding member and help shape HuffPost's next chapter
BEFORE YOU GO