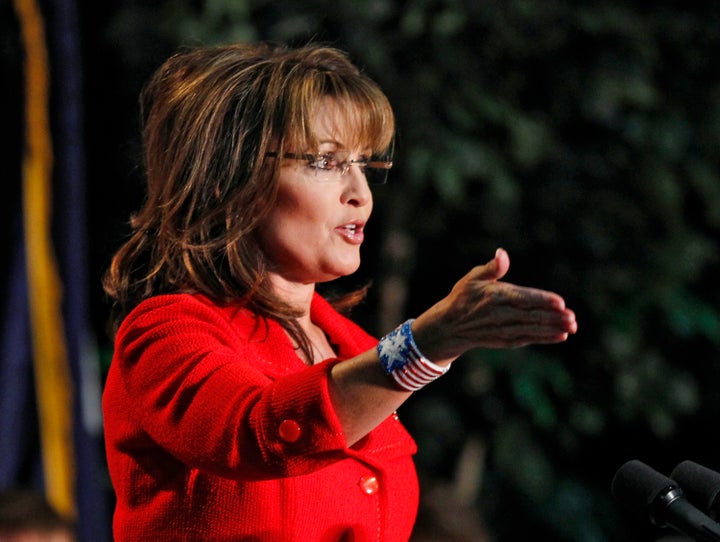 In delivering a speech in Colorado on Monday night, Sarah Palin reacted to the death of Osama bin Laden and the path taken by the country to achieve the accomplishment.
According to multiple reports, Palin acknowledged President Barack Obama in her remarks, though not by name. She did, however, offer her thanks and appreciation to his predecessor George W. Bush.
"Yesterday was a testament to the military's dedication in relentlessly hunting down the enemy during many years of war," Palin said. "And we thank our president. We thank president Bush."
About 1,000 people gathered to hear Palin's previously scheduled tribute to the armed forces applauded several times through Palin's remarks. Many nodded along when she talked about Pakistan and cheered when she said, "We should demand answers to our questions."
Palin said that the mission targeting bin Laden raises "many serious questions."
"How was the most wanted man in the world able to live in relative comfort out in the open?" she asked. "Perhaps some of the Pakistani leaders were helping him."
Proceeds from the event, attended by about 1,000 people, benefited the Tragedy Assistance Program for Survivors, a nonprofit group that provides grief counseling and other support services to the families of fallen American troops.

Tickets were $25 apiece. Also, a silent auction raised another $24,000.
Americans tonight are united in celebration and gratitude. God bless all the brave men and women in our military and our intelligence services who contributed to carrying out the successful mission to bring Bin Laden to justice and who laid the groundwork over the years to make this victory possible. It's a testament to the hard work and dedication of these brave Americans who relentlessly hunted down our enemy.

This is a victory for the American people, for the victims who were heartlessly murdered on September 11 and in Al Qaeda's other numerous attacks, and for all the peace-loving people of the world.

May God bless our troops and our intelligence services, and God bless America!
Via the Denver Post comes a video clip of Palin's remarks on Monday night.
Popular in the Community