With a bastion-studded castle, Art Nouveau details and eastern-influenced architecture, Budapest perfectly shows off her signature sights. No wonder any trip to the Hungarian capital usually includes the tried and true: a visit to the Parliament Building displaying the royal crown jewels, a cruise on the Danube, a stroll along the jam-packed pedestrian shopping street known as Vaci utca, a trip to the Central Market Hall where paprika in all its many forms is sold, and maybe a show at the marble-laden 19th century Opera House. But, just like in Manhattan where New Yorkers rarely visit the Empire State Building, Rockefeller Center or Times Square, the Budapest citizenry often prefer less well trod paths or at least venues that are not as front and center. These are just a very few of my favorite finds:
1. Sculpture Garden at the Koller Gallery - In the Castle District, this privately owned gallery is the oldest in Hungary, dating from 1953. Originally the atelier of sculptor Amerigo Tot, this Baroque building is hung with contemporary and modern art of Hungarian artists. But the most surprising finds are the bucolic sculpture garden in the rear displaying the works of Imre Varga and others artists, and the top floor gallery space where you can relax in one of the comfortable armchairs as you take in the panoramic views of the city.
2. Cafe Miro - With its indigo blue and pumpkin hued walls and ceiling, vases decorated with curly lemon yellow branches, and chairs with curvy spindly legs and spiral accented backs, a stop here to linger over a cappuccino is like stepping into one of the artist's surrealist paintings. An added bonus: the location lets you gaze down the street at the graceful 15th century Church of St. Matthias.
3. Castle District Pedestrian Path - Instead of simply wandering about the myriad streets that lead off from the old castle gate, past stately townhouses, well-preserved castle walls, and houses dating back centuries, stroll Toth Arpad Setany. This is a lovely pedestrian promenade lined with chestnut trees that runs down from the one-some-mile craggy plateau where the Castle District perches. This is a favorite venue among locals (and some tourists, too) who sit on the benches or stroll and take in the views of Buda Hills.
4. Alexandra Bookshop and Cafe - This is no ordinary bookstore. Head to the back and take the stairs up to the second floor where you'll be greeted by the Lotz Room, a Neo-Renaissance space that had a former life as a grand 19th century ballroom. While you nibble on their signature cake that's layered with marzipan and chocolate, don't miss noticing the ceiling frescoes by Charles Lotz, one of Hungary's most renowned painters. This elegant room with its grand piano, hand blown glass windows, and gilded chandeliers and mirrors offers a window into another era.
5. Sunday Farmer's Market - One of Budapest's ruin bars - so named because they're housed in and among condemned or abandoned buildings - transforms into a lively farmer's market every Sunday. Szimpla Kert, the original ruin bar with curiosities covering every surface, including an old car frame and a claw foot bathtub, both of which you can sit in, sells eco and sustainable food products. It attracts locals who shop here rather than pay a visit to the nearby supermarket. Even if you're not in the mood to purchase armfuls of produce, you can eat your way through this market, thanks to the samples available at many of the tables. Cheeses with green pepper bits or almond slivers, pickled melons and plums, and pumpkin seeds roasted with garlic are just a few of the more unusual specialty items.
6. Marvelosa Cafe - Grab one of a handful of seats on the sidewalk outside this cafe that faces the Danube River across the street. But the best seat in the house is on the second floor balcony. A stop at Marvelosa Cafe makes you feel like you've been invited into your grandma's house. Teddy bears snuggle on arm chairs, lace doilies are positioned on tables, and an old china cabinet stands in one corner. The iced latte is heaped with foam, and the homemade lemon jam that's spreadable on the just baked challah bread is pleasantly tart.
7. Millenaris Park - If you've got kids - and even if you don't - take a trip to the Buda side of the city and stop at this former industrial ironworks area. In 2000, it became a cultural venue with a playground that's centered on a Hungarian folk theme. There's plenty of activities here for the whole family. Lawns beckon those who prefer to lounge. Cafes surround a large pond where trees rise from the placid waters. You'll also notice a micro sized vineyard as well as a community garden with plenty of tomatoes and other produce growing. The Palace of Miracles, an interactive science museum, let's kids learn about the qualities of sound, discover the principles of flight, and experience how electromagnets work.
8. Margaret Island - Barely two miles long and less than half-a-mile wide, Margaret Island is where Budapest's joggers flock. No wonder, considering the track that's lined with a cushioning surface makes a grand loop around this car-free isle. Bicycles are available for rent so you can explore the verdant landscape that's dotted with old ruins, including the lone wall of a 13th century Franciscan Priory, a Dominican convent and a stone chapel, and St. Michael's, a restored 12th century church. When the temperature climbs in the summer, the locals hang out at one of the swimming pools or lounge on one of the expansive lawns trimmed with blooming flowers. Others meditate on the soothing sounds of running water in the tiered Japanese garden.
9. Cserpes Tejivo - A Milk Bar - Who could get excited about a dairy cafe? This sun-filled space - the name loosely translated means milk drinker - is attracts a young crowd, particularly for breakfast. Run by a dairy company named Cserpes, this trendy shop sells, among the salads and sandwiches and other offerings, some tart yogurts with flavors, such as sour cherry and gooseberry, as well as smoked cheeses, and pastries packed with cottage cheese. The decor radiates a playfulness, with cartoon sketches of happy cows, and cats drinking milk from straws emblazoned on the windows and walls. Even dairy-related factoids are relayed in a fun manner: colorful wall graphics display dairy statistics, while another wall is illustrated with a dairy food crossword puzzle.
10. Instant - With six bars, 23 rooms and two courtyards, this maze of a ruin bar has an alternative vibe that's defined by street art displays and kitsch galore. A team of rabbits, resembling Santa's reindeer, look to be racing above your head in one courtyard. Near the ceiling swoops a pristine white owl with outstretched wings and, as unlikely as this may seem, boobs. On a nearby wall is a painting of a woman with the head of a boar and a boy looking like a cauliflower floret. With this fanciful plant- and animal-themed decor, as well as rooms that reflect the lives of their former occupants, it's no wonder tourists as well as locals flock here day, and especially, at night.
11. Tranzit Art Cafe - It's nice to see that an old bus terminal can have a new life as an art space-cum-cafe with hammocks and chez lounge chairs in the original bus lanes. Torn up tires become works of art that dangle from the ceiling. Foliage trims the property, providing some sense of privacy. The bus theme is pervasive. Even the menu comes with images of old buses and tickets. Inside is a regularly changing series of art exhibits as well as a colorful play area bedecked with a sea theme for the kids, and art and design magazines and books for the adults. When I had breakfast here, the exhibition included black and white photos of noted Hungarian writer Istvan Orkeny who penned, among his works, some very clever flash fiction. If you want to indulge in a typical Hungarian breakfast - breakfasts are themed by country - you can dine on a high-fat selection of fried goose lard, a pimento-laden cottage cheese spread, and salami. (I opted for a low-calorie bowl of low-calorie cream of wheat.)
12. Huspatika - With a name that means meat pharmacy, Huspatika is more upscale than a butcher and much homier than a deli. Outside stands a small picket fence beside rugged wood tables. Inside, it's all about images and taxidermy of the curly haired mangalica pig whose meat they sell here. Shelves are lined with specialty food items, including chocolate bars made of, what else but, mangalica lard. Glass cases are stocked with cheeses and mangalica sausages. Order sandwich fixings from the butcher and eat in (or outside) or select one of the pre-made sandwiches from the menu, such as a grilled pork chop with lettuce and Caesar dressing.
13. Kopaszi Dyke - Hop on a half-hour commuter ferry where you can bring along your bicycle to this weekend retreat. The dyke provides access to a lagoon where you can rent kayaks. Another active option is to walk or bike the stone paved path lined with trees and wooden cafes. The decks strung with canvas canopies are perfect for lounging. At one of these, Ponyvaregeny aka Pulp Fiction, you'll find notebooks on the tables to jot down creative ideas and plenty of book stocked shelves. A huge coffee menu includes Cafe Epilogue with espresso, foam, almond syrup and cocoa. Pair it with Somloi galuska, a chocolate and vanilla sponge cake with nuts and a touch of rum and topped with chocolate syrup, whipped cream.

13. Citadel - Hike up Gellert Hill to the Citadel, a former stronghold that was built after the Revolution of 1848/49. Paved paths and steps thread up to the top where the Hungarian Statue of Liberty, the 45-foot-high statue of a woman holding a palm leaf, commemorates the country's liberation from Fascist rule. The path is steep but if you want an aerobic workout, it's a very brisk 20-minute walk to the summit. On the way are benches, including one set in an alcove that's a retreat for lovers. The views from the top are some of the city's best - you'll see all 10 bridges that span the Danube, as well as the Basilica, Margaret Island, Kopaski Dyke and St. Matthias Church. When you've taken this all in, walk down through the dense park itself where there are plenty of picnic options.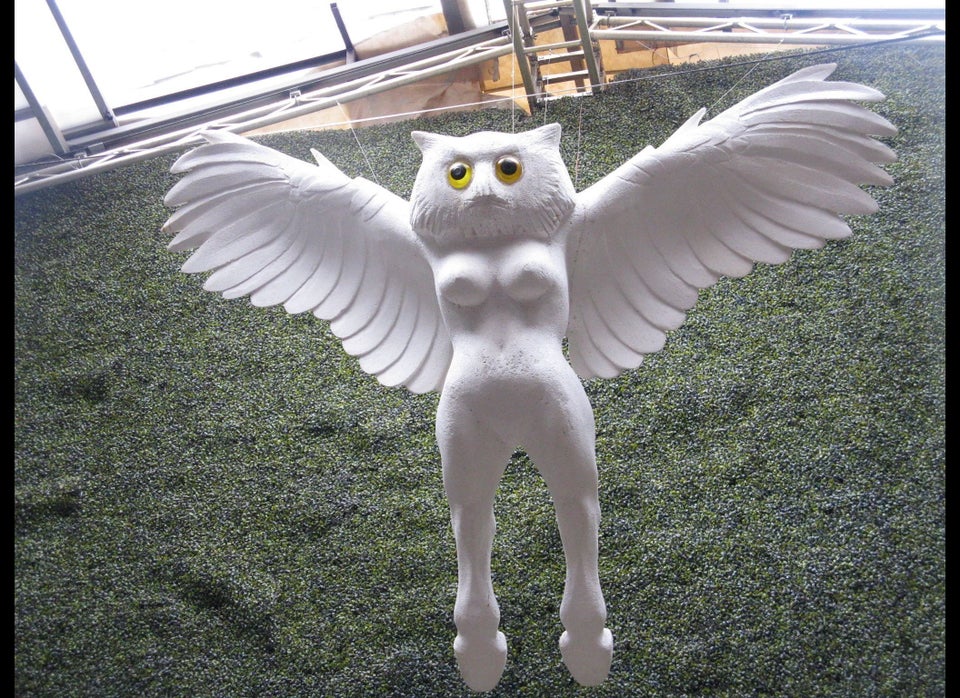 See Budapest Like A Local