Pop star Selena Gomez was forced to cancel two concerts in Russia today after government officials denied her visa, reportedly related to stricter transit laws for foreign artists linked to the country's controversial anti-gay legislation.
The singer had been slated to perform at St. Petersburg's Ice Palace on Sept. 23 and Moscow's Olimpiisky Stadium on Sept. 25.
Prior to the cancellation of these two shows, Gomez was facing pressure to take a stand on LGBT rights in the former Soviet Union as the subject of a Change.org petition. The petition called on Gomez to speak out and "let LGBT folks in Russia know that we stand with them, and that they are not alone." It reached over 1,000 signatures before the news of Gomez's denied visa became public.
John Becker, petition author and LGBT blogger at Bilerico, said in a statement to The Huffington Post:
This shows that the Russian government is on edge, it's nervous, and it's aware of the bruising its reputation has taken in the wake of their anti-gay crackdown. For the first time since the end of the Yeltsin administration, more Americans have a negative perception of Russia, and it's clear that the country's crackdown on LGBT rights has made a difference here.

This cancellation of Selena Gomez's visa shows that the Russian government is sensitive and on the defense, and shows that the pressure from people all around the world and the backlash against these laws is strong. They're afraid to have someone like Selena Gomez come in and potentially use her platform to advance LGBT rights.
According to a story on German site Spiegel(translated by The Huffington Post): "The concert organizer Jewgeni Finkelschtejn warned that the new rules would harm the country tremendously. There is a risk that prominent artists could renounce performances in Russia in the future, he said to the state agency Ria Novosti."
Russia has been the subject of international critique and scrutiny for its series of anti-LGBT legislation, including a "gay propaganda" law and a proposed bill that would remove children from the homes of their LGBT parents. Not only have vigilantes allegedly interpreted the law as personal agency to publicly attack and openly despise their LGBT neighbors, but internationally-known entertainers with ties to the gay community have become targets for Russian officials and their homophobic campaign.
Lady Gaga later tweeted about the legal accusations, saying: "Sending bravery to LGBTs in Russia. The rise in government abuse is archaic. Hosing teenagers with pepper spray? Beatings? Mother Russia?... The Russian government is criminal. Oppression will be met with revolution. Russian LGBTs you are not alone. We will fight for your freedom."
As a result, other prominent Western entertainers and LGBT allies have been forced to take a stand on whether or not to perform in Russia in the wake of the controversy. Gay icon Cher recently announced that she turned down an invitation to perform at the 2014 Sochi Winter Olympics this upcoming February. Conversely, Elton John stated in a recent interview that he planned to travel to Russia in December to hold a concert despite the country's anti-LGBT crackdown, stating:
I've got to go. And I've got to think about what I'm going to say very carefully. There's two avenues of thought: do you stop everyone going, ban all the artists coming in from Russia? But then you're really leaving the men and women who are gay and suffering under the anti-gay laws in an isolated situation.As a gay man, I can't leave those people on their own without going over there and supporting them. I don't know what's going to happen, but I've got to go.
John did not discuss whether he had been granted a visa for entry into Russia at the time.
Before You Go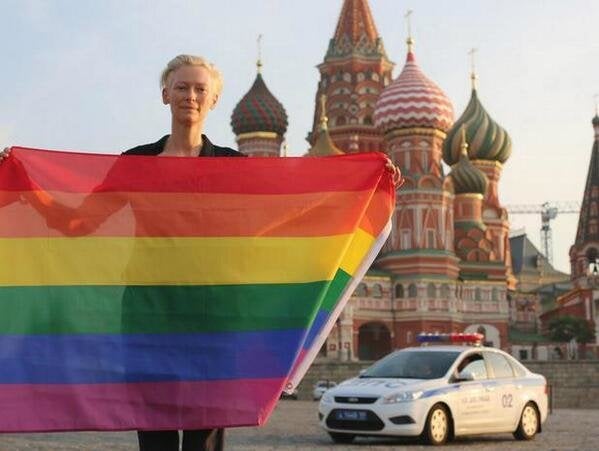 Stars Sound Off On Russia's Anti-Gay Law
Popular in the Community