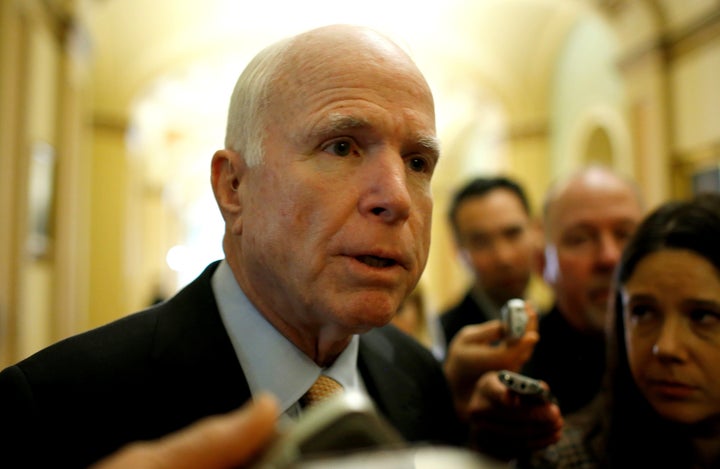 WASHINGTON ― A week out from Supreme Court nominee Neil Gorsuch's confirmation vote, there are some moody senators wandering the halls of Congress.
Democrats, under pressure from their progressive base, are waging war on Gorsuch, vowing to block his confirmation by denying Republicans the 60 votes they need to advance his nomination. They're demanding that President Donald Trump put forward a new nominee. Republicans, eager to fill a court seat they held open for Trump for a year, are signaling they may retaliate by changing the rules so it only takes 51 votes to advance a Supreme Court nominee, which would shut Democrats out of the process entirely.
This doesn't sound like the chamber of Congress that traditionally prides itself on collegiality and bipartisanship.
As senators gird for this fight, they don't feel very good about what they're doing to the Senate. Even the prospect of getting rid of the filibuster rule for Supreme Court nominees has them on edge. The whole point of the rule is to force both parties to reach a consensus on important matters. It's how the Senate proudly differentiates itself from the House, where a simple majority rules. Democrats nixed the filibuster rule for lower-court nominees in 2013 (to the ire of Republicans), but it still takes 60 votes to advance a Supreme Court nominee and to pass bills.
If Democrats hold their ground on Gorsuch, and Republicans get rid of the filibuster rule to confirm him, lawmakers in both parties worry it's a slippery slope toward eliminating the filibuster rule altogether.
"Lets face it: We're one hair away from doing the same thing on legislation," said Sen. Bob Corker (R-Tenn.). "Both parties have helped take us on this downward spiral."
"We can turn the Senate into the House of Representatives with six-year terms. Does that really benefit anybody?" grumbled Sen. Patrick Leahy (D-Vt.).
Gorsuch's confirmation vote is set for April 7, and his fate is coming down to eight votes. There are 52 Republicans and 48 Democrats (including two independent senators who caucus with them), meaning Senate Majority Leader Mitch McConnell (R-Ky.) needs to find eight Democrats willing to vote with Republicans. For the moment, McConnell doesn't appear to have those votes. 
It makes me very sad.

Sen. John McCain (R-Ariz.) on the prospect of the Senate weakening filibuster rules.
That's where the "nuclear option" comes in. Republicans can go around the 60-vote requirement by using a rarely invoked procedural maneuver to change the rules, so it would only take 51 votes for move forward. They could confirm Gorsuch by doing this, but down the road, it means whichever party is in the majority can confirm a Supreme Court nominee without needing any votes from the minority.
That's a "seismic" change, warned Sen. Richard Blumenthal (D-Conn.), and it would affect "future generations of Senate colleagues."
"Dangerous," added Sen. Claire McCaskill (D-Mo.).
Sen. John McCain (R-Ariz.), who's been a part of previous "gangs" of bipartisan senators who cut deals to avoid changing filibuster rules, said he's been reaching out to Democrats again, like Sen. Chris Coons (D-Del.). He's trying to see if there's a way Democrats will provide eight votes in exchange for a deal to keep the filibuster rule in place for, say, the next Supreme Court nominee. 
"At this point, there's been little or no progress," McCain said. "It makes me very sad. I've been involved in past efforts. I've failed."
It's still unclear how this will play out. McConnell may be able to find eight Democrats to vote with Republicans by Friday. He's already got two: Sens. Joe Manchin (W.Va.) and Heidi Heitkamp (N.D.) announced Thursday that they will vote for Gorsuch. But Democrats seem determined to stick together in opposition, which would put the onus on Republicans to decide if they're willing to get rid of a rule most of them want to keep.
Either way, senators are heading into Friday's vote uneasy about how this fight may affect their ability to work together down the road.
"You see what happens to Obamacare when one party pushes repeal without the aid of the other party. It's never a good situation," said Sen. Jeff Flake (R-Ariz.). "The same goes for repeal and replacement. If we don't work with the other side, then we probably won't even do either."
Igor Bobic contributed reporting.
Calling all HuffPost superfans!
Sign up for membership to become a founding member and help shape HuffPost's next chapter
BEFORE YOU GO