 WASHINGTON -- Casino billionaire Sheldon Adelson, whose net worth makes him one of the world's richest men, is on a check-writing spree that will soon bring his total political contributions in this election cycle to at least $71 million, according to sources familiar with his spending. That money is spread across the spectrum of GOP super PACs, which are required to disclose donors, and nonprofits, which are not.
Adelson and his wife, Miriam, along with other family donations, have already reached $36 million, including $10 million to the Romney-backing super PAC Restore Our Future that was reported this week. But two GOP fundraisers familiar with his plans say that Adelson has given or pledged at least $35 million more to three conservative nonprofit groups: the Karl Rove-linked Crossroads GPS, another with ties to billionaires Charles and David Koch and a third with links to House Majority Leader Eric Cantor (R-Va.).
Adelson, 78, is a staunch supporter of the Israeli right and a strong foe of American unions. In recent years, Adelson has been a major financier of GOP-allied groups, but has emerged this year as the consummate super donor in the wake of 2010 court rulings that permitted corporations, unions and individuals to supply unlimited amounts of money, sometimes anonymously, to independent groups that can advocate directly for candidates.
Adelson has told friends that he might give as much as $100 million in donations this year in support of GOP candidates and conservative issues. That target now seems easily within reach and could be surpassed, say the two GOP fundraisers with ties to the casino magnate.
Crossroads GPS -- founded by GOP consultants Rove and Ed Gillespie in 2010 alongside the super PAC American Crossroads -- could wind up as the major recipient of the casino titan's largess, due to Adelson's longstanding and close ties to Rove. Crossroads GPS has already received one $10 million cash infusion this cycle from Adelson, who, according to the two GOP fundraisers, recently committed to another donation of the same amount.
The fundraisers said that Adelson also recently committed to sending $10 million to a nonprofit with links to the billionaires Charles and David Koch. In January, Adelson for the first time attended one of the semi-annual conferences that the billionaire brothers host for wealthy conservatives to tout their favorite political projects. It's not known which of several Koch-affiliated nonprofits Adelson is expected to support, but the two biggest this year are expected to be the Koch-founded group Americans for Prosperity and the Arizona-based Center to Protect Patient Rights, which in 2010 was used as a conduit to send tens of millions to other conservative bastions, according to tax records filed with the IRS.
Additionally, Adelson has committed $5 million to the Young Guns Network, a nonprofit group set up by former aides to Cantor, with whom Adelson is close and who, like the casino magnate, is a high-profile player in conservative Jewish circles. Adelson gave another $5 million earlier this spring to super PAC the Congressional Leadership Fund, which has ties to House Speaker John Boehner and whose intent is to ensure that the GOP keeps control of the House.
The two fundraisers who spoke with The Huffington Post requested anonymity because they're not authorized to discuss publicly the donations of Adelson, whose net worth is just shy of $25 billion according to Forbes, placing him at number eight on the list of the richest Americans and 14th richest in the world.
Adelson is chairman of the Las Vegas Sands, a sprawling casino empire with a hugely lucrative gambling operation on the Chinese island of Macau, the only legal hub for gambling in that country.
The Sands reported in a filing with the Securities and Exchange Commission early last year that it was under investigation by both the agency and the Department of Justice for possible violations of the Foreign Corrupt Practices Act, which bars bribery to win business overseas.

A spokesman for the Las Vegas Sands and Adelson did not return several calls seeking comment about Adelson's political contributions. A Sands spokesman told this reporter for articles written for the Center for Public Integrity that it was cooperating with federal officials and that the company did nothing improper or illegal.
According to an interview with Forbes several months ago, Adelson's huge political investment this year has been driven heavily by his dislike for President Barack Obama's policies, both economic and foreign, especially those pertaining to the Middle East.

After weeks of speculation about when Adelson would help Romney-affiliated super PAC Restore Our Future, Adelson and his wife came through this week with a $10 million cash infusion, making the casino mogul the largest backer of the independent committee, which prior to his contribution had raised over $50 million.
In late May, Romney met with Adelson privately when the candidate was in Las Vegas to attend a fundraiser hosted by real estate mogul Donald Trump.
Adelson's support for Romney comes after he and his family spent some $21.5 million on the super PAC Winning Our Future in support of his favored GOP presidential candidate, Newt Gingrich, who withdrew from the race in early May. Adelson had initially backed Gingrich, an old friend who shared his hawkish views on the Middle East and other issues, and the casino baron early on suggested that Romney was not as decisive in his views as the Georgian. But as the odds of a Gingrich nomination dimmed, Adelson sent strong signals that he would back Romney with major funding for his super PAC.
Although the latest big donation to the Romney super PAC is public information (the group is required to report its funding to the Federal Election Commission), Adelson has indicated to GOP colleagues that he plans to give the lion's share of his contributions to nonprofits like Crossroads GPS, which can legally keep donations secret because they're classified by the IRS as social welfare organizations.
Adelson is well known for his deliberative, hands-on style in making big donations, a trait that has sometimes frustrated would-be suitors. The recent $10 million donation to the Romney super PAC came after a lengthy courtship by the candidate, who by law is not allowed to solicit unlimited funds, but only up to $5,000, as campaigns and outside groups are barred from coordinating their activities.
GOP fundraisers say that pilgrimages and conference calls to Las Vegas by prominent politicos and groups seeking large donations from Adelson have been frequent this year. Recently the U.S. Chamber of Commerce has been talking with Adelson about a sizable cash infusion as part of an effort to raise at least $50 million for ads in support of GOP congressional candidates.
Other groups are also banking on Adelson for major contributions, such as the nonprofit Republican Jewish Coalition, which has in recent years received millions of dollars from Adelson, say GOP fundraisers. Matt Brooks, the executive director of the RJC, told this reporter in late 2011 for an article for the Center for Public Integrity that the group expects to spend about $5 million this year on ads and other efforts in state races, such as the Ohio Senate race in which State Treasurer Josh Mandel, who is also Jewish, is vying to unseat incumbent Democratic Sen. Sherrod Brown.
Meanwhile, Adelson has dropped big checks on others of this year's major state-level battles. Adelson donated $250,000 to help Wisconsin Gov. Scott Walker (R) defeat a recall vote that was seen as a testing ground for GOP efforts in the fall. And Adelson also kicked in $250,000 to a political committee tied to Florida Gov. Rick Scott (R), who is fighting Washington over his state's efforts to purge non-citizens from its voting rolls.
In his Forbes interview, Adelson gave a glimpse into his conservative political views, declaring that "what scares me is the continuation of the socialist-style economy we've been experiencing for almost four years."
"I'm against very wealthy people attempting to or influencing elections," he said. "But as long as it's doable, I'm going to do it."
See a gallery of the biggest Super PAC donors of 2012: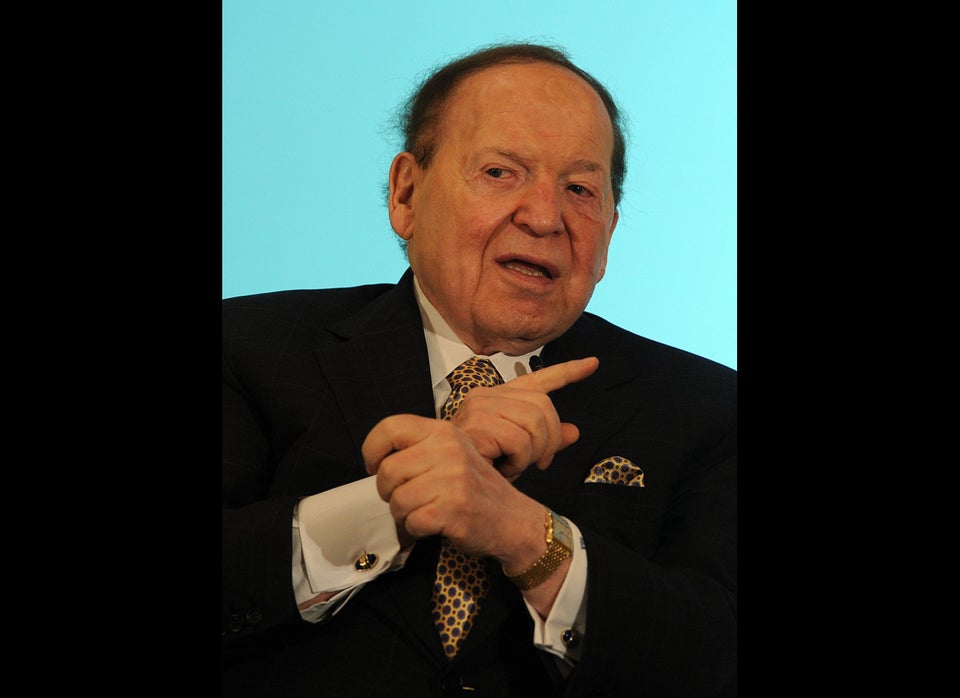 Donors Giving $500,000-Plus To Super PACs
CORRECTION: An earlier version of this article incorrectly referred to Gov. Scott Walker as governor of Minnesota. He is of course the governor of Wisconsin.
Support HuffPost
The Stakes Have Never Been Higher
Popular in the Community