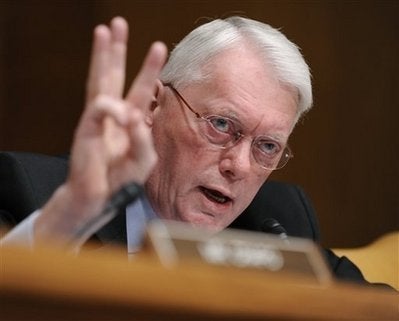 A couple of very interesting developments in the ongoing saga of the most vulnerable Senate incumbent in 2010 -- Sen. Jim Bunning (R-KY).
As you probably know, with all independent polling showing Bunning getting routed in next year's general election, Republican leaders -- led by Senate Minority Leader Mitch McConnell (R-KY) -- have been working  especially hard to dry-up Bunning's fundraising as well as looking for some primary opposition in hopes of pushing Bunning out of the race. So far, it isn't working as Bunning only seems to be digging in his heels.
Complicating the GOP's problem is the fact that they want rising star Secretary of State Trey Grayson (R) to run for Bunning's seat. But Grayson -- a long-time Bunning ally -- has made clear that he would not run against Bunning in a primary, but would consider a bid if Bunning were to withdraw. Despite amazingly anemic fundraising, Bunning has made clear he's not going anywhere and has even threatened to retaliate (and here) against the GOP if they try to force him out. Meanwhile, the Kentucky electorate continues to flee the Republican Party in droves.
Given this drama, the developments of the past 48 hours is quite noteworthy, offering some hints that the GOP has effectively given-up any hopes of forcing Bunning out of the race, will likely continue to encourage donors to avoid helping Bunning, and even appear to be giving-up entirely, at this stage, of even holding on to this seat altogether.
First, the ever-brutally honest Bunning now believes that he'll have no serious primary opponent after all, quite a reversal from just a month ago:
Sen. Jim Bunning said yesterday that he does not expect to face a significant Republican challenger in his re-election campaign next year.

"I don't expect a David Williams or an Ed Whitfield or any substantial Republican to file in a primary," Bunning said in a telephone conference call with reporters.
Mitch McConnell's most recent campaign finance reports show him pumping money into the coffers of almost every Republican incumbent running for reelection in 2010, including some who don't exactly need the cash.

But one senator who could use the help didn't get it: Jim Bunning, McConnell's home-state colleague from Kentucky.

In the first quarter of 2009, McConnell's Bluegrass political action committee gave $105,000 to 10 incumbent Republican senators and one new Senate GOP candidate and donated another $5,000 to James Tedisco, the unsuccessful Republican candidate for the special election in New York's 20th Congressional District. The Senate minority leader also shelled out another $5,000 to help Republican Norm Coleman in his legal fight with Al Franken, and he sent $15,000 to the National Republican Senatorial Committee and $5,000 to the Republican Party of Kentucky.

He gave $10,000 to Sen. Richard Shelby (R-Ala.), who already has more than $13.5 million in cash on hand, and $10,000 to Sen. John McCain (R-Ariz.), who's sitting on $3.6 million in cash on hand.

Bunning has less than $400,000 in cash on hand, and none of it came from McConnell this quarter.

Al Cross, director of the Institute for Rural Journalism and Community Issues at the University of Kentucky, calls the shutout "the clearest sign yet ... that Mitch McConnell doesn't want [Bunning] to be a candidate."
Finally, according to the latest Wall Street Journal op-ed by the right-wing Fred Barnes, GOP sources are telling him that Bunning is "a certain loser" next year:
In Kentucky, two-term Sen. Jim Bunning is a certain loser in 2010, according to GOP leaders in Washington. They want him to defer to Secretary of State Trey Grayson, a rising star in Kentucky politics. But Mr. Bunning told me he is running. Mr. Grayson has said he won't run unless Mr. Bunning retires. This is not a happy circumstance for Republicans, who can't afford to lose Kentucky.
Given that the GOP will, for the third straight election cycle, find itself on the defensive in desperately trying to hold on to numerous seats in 2010 (KY, MO, NH, OH, FL, NC, and LA), there's some reason to believe that their electoral triage has convinced them to effectively concede Bunning's seat now and instead focus their money and energies in other races where they have a chance to keep Senate Democrats from holding as many as 64 or 65 seats next year.
Amazingly, prospects continue to deteriorate for the GOP. It's hard to believe that things can get any worse for them. But it is.
Calling all HuffPost superfans!
Sign up for membership to become a founding member and help shape HuffPost's next chapter