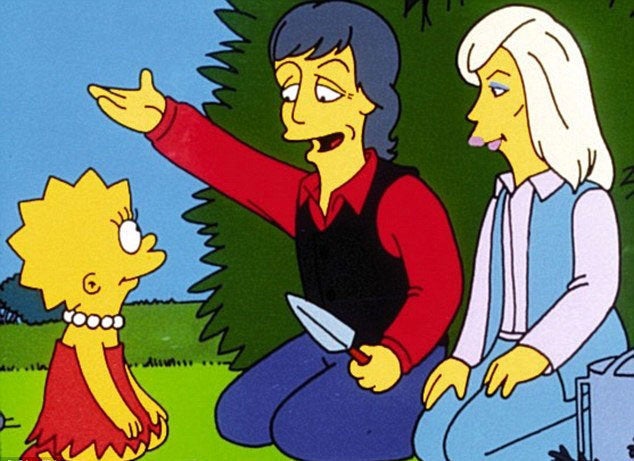 When the McCartneys made a cameo on "The Simpsons," it was a marriage between two of the most popular cultural entities in contemporary history.
To get Sir Paul McCartney on the show, the team behind the animated series had to make the musician a premise-altering promise ― that the young Lisa Simpson character would become a vegetarian like the McCartneys and never be considered a meat eater ever again.
The cameo occurred in the aptly titled episode "Lisa the Vegetarian," which aired in the fall of 1995 during Season 7. Paul appeared on the show with his then-wife, Linda, and taught Lisa about the values of a plant-based diet. He even revealed to Lisa that "if you play 'Maybe I'm Amazed' backwards, you'll hear a recipe for a really ripping lentil soup."
In a recent interview with Hank Azaria about his Emmy nomination for "Ray Donovan," The Huffington Post had the chance to ask the longtime "Simpsons" voice actor and other star of "Lisa the Vegetarian" about what it was like to have McCartney on the show.
Apparently, the writers have debated breaking their famous deal with McCartney.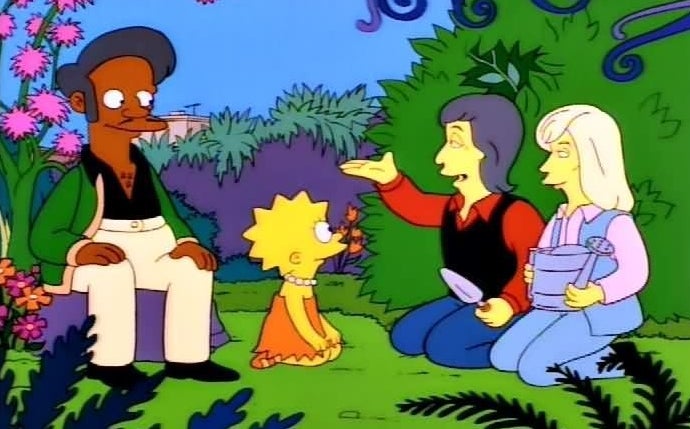 In "Lisa the Vegetarian," Azaria got to be in the McCartney scenes as Apu, who also helps convince Lisa to transition away from meat. Azaria was sad that he didn't actually get to meet the McCartneys in person, but thought the deal the show made with him was "great."
"I thought it was really cool that he stuck that [in]," Azaria said, before veering into a new thought, revealing, "I can tell you, over the years, they were tempted a bunch of times to have Lisa break her vegetarian vow."
As a vegetarian, I consider this unlikely deal one of the small wins for this diet tiptoeing into the mainstream. The possibility that Lisa could start eating meat again made me a bit disappointed.
That said, Azaria added a reassuring and convincing reason for why he thought the show hasn't and won't give into such a terrible temptation. "[The writers] probably have not because they made that vow to Sir Paul."
The voice actor continued, "No, you don't break a knight's vow. As we've learned from 'Game of Thrones,' you do that at your own risk."

Hit Backspace for a regular dose of pop culture nostalgia.
Before You Go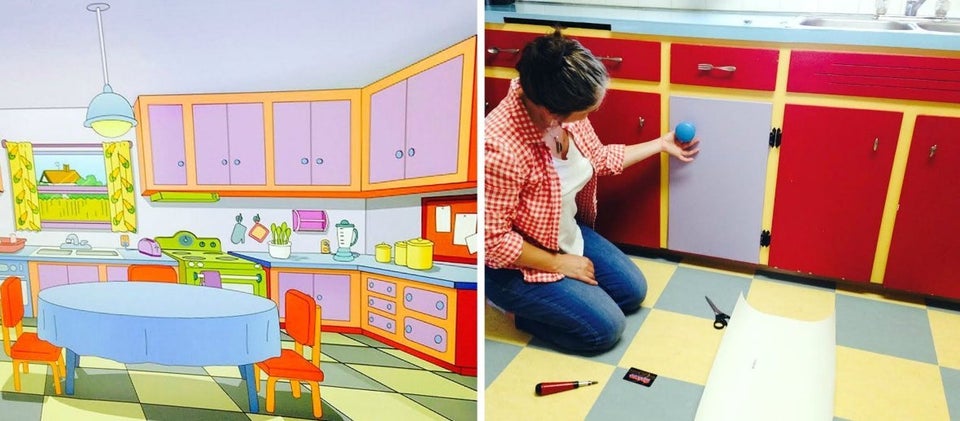 Simpsons Kitchen Revamp
Popular in the Community