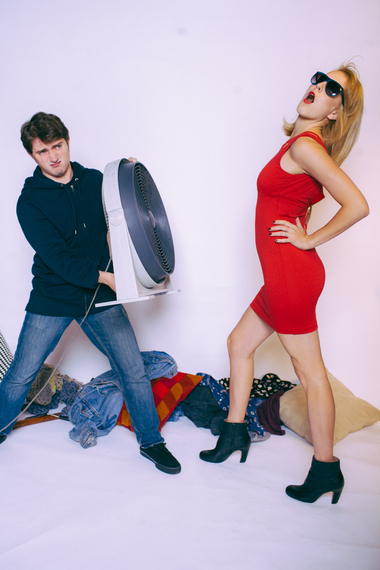 "As soon as we tell them, they're like; 'oh, that's perfect! That describes the show so well'. It's kind of fun".
Chloe Sanders is pretty happy with her decision to name her new web series 'SNAFU', and she tells me that while some viewers may not know the military acronym right away, it's apt for the quirky comedy once it's explained: Situation Normal: All Fucked Up. It follows Florence, a quirky twenty-something who lives in Brooklyn, and is on an almost-eternal voyage of self-discovery, much to the confusion and bemusement of Eli, her roommate.
"She's constantly rediscovering her purpose in life and the reason she was put on Planet Earth!" Chloe jokes, but still aware that Florence is something of a charicature of many twenty-somethings who move to any city, not just New York. "I think that's something we can all relate to, because we're all trying to figure out what we're supposed to be doing."
"We've been given such a less-than-perfect economic situation and a few other factors that have made it [that way] ... I think that it's funny, almost, at this point, because it's just not the world we thought we were going to inherit."
Chloe's words echo the sentiments felt by many in her generation, yet it's a more challenging situation for those in the creative industries, and the rise of indie productions, such as SNAFU, is a cultural reaction to that.
"I wrote [the series] in New York, and had lived in New York about a year and a half when I wrote it. There are a lot of jokes that really, only New York people would totally get. I mean, [...] it has a wide comedy base, but it's definitely a Brooklyn show. It's about young people living in New York, and it has a lot of jokes about what that's like, and how troubling it can be."
It undoubtedly helped that co-producer and actress, Haley Rawson, and Chloe had already been close friends for almost ten years, which meant that one was able to understand what the other was getting at pretty quickly. Alongside co-producer Jonathan Cabrera, the three started work in April 2013, putting the show together from start to finish (the last webisode was only premiered in Los Angeles at the end of April) in just over a year, which is frantically hectic in terms of film production.
"It was a huge undertaking," Haley explains, "that was a lot of hard work, but because we had such a great team, it became a reality very quickly."
"The next four or five months that followed were assembling our team of directors, production people and our cast, and then primarily figuring out how we were gonna raise any money to do this thing!"
The girls managed to find a way fairly promptly, and thanks to their successful Kickstarter campaign, managed to raise just over $16,000 for the series. "We were shooting the episodes and doing the fundraising simultaneously," Haley explains, "so we could keep the momentum going. We were asking people for money while we were gonna be on-set that weekend; sharing pictures and videos and updates from the set."
The mammoth-sized task was undoubtedly a challenge for Chloe, Haley and the rest of the SNAFU team, but it has become a rite of passage for many groups who come together to develop something of such high-quality - both visually and in terms of writing - for the internet. It is this very ritual that has become part of a cultural zeitgeist that webseries represent; a desire to choose what to watch, what to create, and also what to support. At the same time, the global downturn has hit the creative industries hard worldwide, which has spurred on these indie projects even more; partially to develop their own portfolios, and also to keep themselves going financially, if at all possible.
"There are so many talented people," Chloe adds, "that are just not getting the opportunities to showcase their work, and it's getting bleaker and bleaker."
"I think that we all got a little bit tired of all the "No's", me especially. ... Thankfully, it was possible thanks to so many hardworking people who were underemployed and have a lot of creative energy and time to give to something they believe in, and not just some silly commercial, which is a soul-sucker!"
Despite any challenges they have faced, the positivity and enthusiasm shown by Chloe and Haley during our chat is nothing short of inspiring, and reminds us that we're all in a very similar situation. Thankfully, the fruits of their labour mean that we can all take some downtime, and laugh at our own lives as SNAFU.
REAL LIFE. REAL NEWS. REAL VOICES.
Help us tell more of the stories that matter from voices that too often remain unheard.