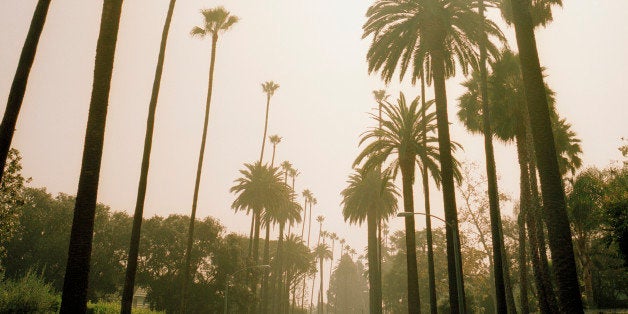 Tisha Morrison, 46, of Pacoima found herself taking refuge in the Los Angeles area after her Louisiana home was destroyed by Hurricane Ike in 2008.
Today, the single mother of eight, who lost her part-time job at a shelter in May after it closed, struggles to stretch her roughly $1,225 in welfare and food stamps that she receives each month to care for her and her five young children who live at home.
"We barely make it," Morrison said Wednesday, noting that three of her children have developmental disabilities. "I have a retired veteran boyfriend and he helps me with my loose ends."
While economists say the national recession officially ended in 2009, new U.S. Census data indicate that Southern Californians became increasingly impoverished at least through last year.
The state's poverty rate climbed 3.6 percentage points from 2008 to 2012 with significant increases also in Los Angeles and San Bernardino counties in the same period, according to estimates from a U.S. Census Bureau survey released Thursday.
In Los Angeles County, the poverty rate also climbed 3.6 percentage points from 15.5 percent in 2008 to 19.1 percent in 2012. It rose 0.8 percentage points from 2011 to 2012, according to the Census Bureau's American Communities Survey.
"Even through 2012, the L.A. County economy was struggling to recover and ... more Los Angeles County households fell below the poverty line as a result of the lingering effects of the Great Recession," said Robert Kleinhenz, chief economist of the Los Angeles County Economic Development Corp.
"You've got people who fundamentally are going to have a more difficult time putting food on their table for their family members, who are not going to be able to get the health care they should have otherwise gotten."
San Bernardino County, which was particularly hard-hit by the recession, fared worse as the poverty rate rose 6 percentage points from 14.4 percent in 2008 to 20.4 percent in 2012. The rate rose 1.1 percentage point from 2011 to 2012.
Among the largest 25 metropolitan areas in the nation, the Riverside-San Bernardino metro area had the highest rates of poverty from 2011 to 2012, beating out other economically challenged areas such as Detroit, Los Angeles and Philadelphia.
Many major local cities, including Los Angeles, Long Beach and Torrance, had no or little change in the poverty rate from 2011 to 2012.
Wilson Herrera, the welcome center coordinator for the Pacoima-based MEND, which helps low-income families with food, clothing and other services, said he's noticed a dramatic increase in the number of people turning to their agency in recent years.
"The numbers have increased so much in the last four or five years," Herrera said. "They're approaching us because of the need, the need to put food on the table. Even if one member of the family is working, it's not enough for them."
Many of their clients are unemployed or earn less income than they did in the past. Five or 10 years ago, for example, a construction worker could make $35 an hour but today he's expected to do the same job for $10 or $12, Herrera said.
Meanwhile, the median household income adjusted for inflation has also fallen significantly from 2008 to 2012 in these counties.
It declined from $59,196 to $53,001 in L.A. County -- a 10 percent drop -- and from $58,209 to $50,770 in San Bernardino county, a nearly 13 percent decline.
The unemployment rate climbed in L.A. County by 5.3 points to hit 12.2 percent in 2011, before dipping slightly to 11.6 percent in 2012.
But that dip may just have been because some people gave up looking for work, Kleinhenz said.
"There are really two consequences of the slow recovery," he said. "People stopped looking for work -- that causes the unemployment rate to improve. Even as they start looking for work, there's a greater chance they will fall below the poverty line as a result of not being able to find work for so long."
In San Bernardino County, unemployment fell from 16.2 percent in 2011 to 13.7 percent in 2012, but it still was up 3.7 points from 2008 to 2012.
During the recession, those with the highest unemployment rates were young adults and those with the least amount of education. This same set of people, Kleinhenz said, is more likely to be living in poverty.
But Kleinhenz noted that more recently the local economy did "pretty well" from July 2012 to June 2013 when the unemployment was 9.9 percent in L.A. County in July, down from 11 percent a year earlier, which is not reflected in the census data.
"We're seeing improvements take place; it just continues to be very slow, too slow for comfort," Kleinhenz said. ___
(c)2013 the Daily News (Los Angeles)
Distributed by MCT Information Services
Related
Before You Go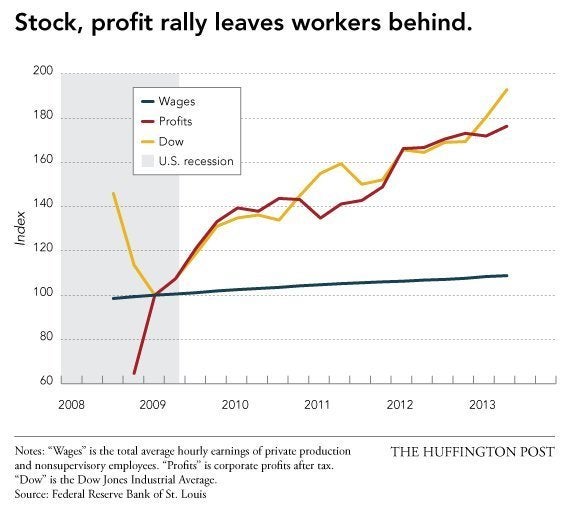 The Totally Unfair And Bitterly Uneven 'Recovery'
Popular in the Community