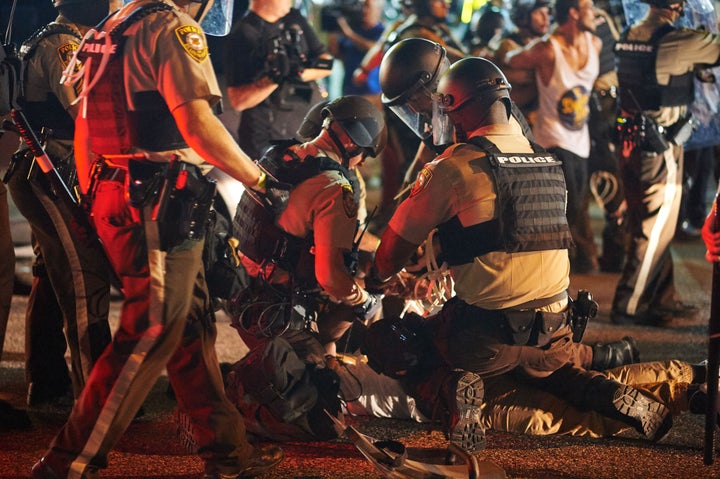 ST. LOUIS ― Officers in the St. Louis Metropolitan Police Department will undergo training on First Amendment rights under a mid-October settlement with four journalists who were arrested during the Ferguson, Missouri, protests two years ago.
The settlement, which HuffPost obtained through a public records request, requires those officers on the SWAT team and in the Civil Disobedience Unit to be trained in particular on how to deal with individuals who are recording police activity. The class will emphasize the rights of members of the press and public to observe, photograph and otherwise document the actions of police officers.
The training has to be completed within 90 days of the settlement's effective date of Oct. 10.
Under the settlement, current and future recruits at the St. Louis police academy must also take the First Amendment class. The agreement runs until Oct. 7, 2019.
For their part, journalists Ryan Devereaux, Lukas Hermsmeier, Ansgar Graw and Frank Herrmann will receive a total of $12,500 from the city of St. Louis ― a figure that includes attorney fees and costs.
The four reporters filed their lawsuit against the city of St. Louis and St. Louis County, as well as several police officers, in March 2015. The suit argued that the chiefs of both the city and county police departments had "ignored, condoned and/or permitted a pattern of excessive force [and] false arrest" and had "failed to train, investigate and supervise their officers."
The county settled with the journalists in May, agreeing that all its police officers would receive training on media access and the people's right to record police activity. St. Louis County agreed to pay the journalists $75,000. And they, in turn, promised not to talk about the terms of the settlement.
In both settlements, which also cover the individual officers sued, the defendants did not admit to any liability.
In a similar case settled last year, St. Louis County agreed to pay $8,500 to journalist Trey Yingst, who was also arrested while covering the Ferguson protests. At the time of his arrest, Yingst was standing on a sidewalk and wearing media credentials.
Last year, the nonprofit Police Foundation released a 182-page review of the St. Louis County Police Department that found the agency was too focused on militarized tactics over community-oriented policing. The review was conducted on behalf of the U.S. Department of Justice's Office of Community Oriented Policing Services. Another federal report by policing experts last year concluded that provocative, intimidating and unconstitutional tactics used by law enforcement against peaceful protesters in Ferguson, even during daytime demonstrations in August 2014, served to inflame tensions.
Before You Go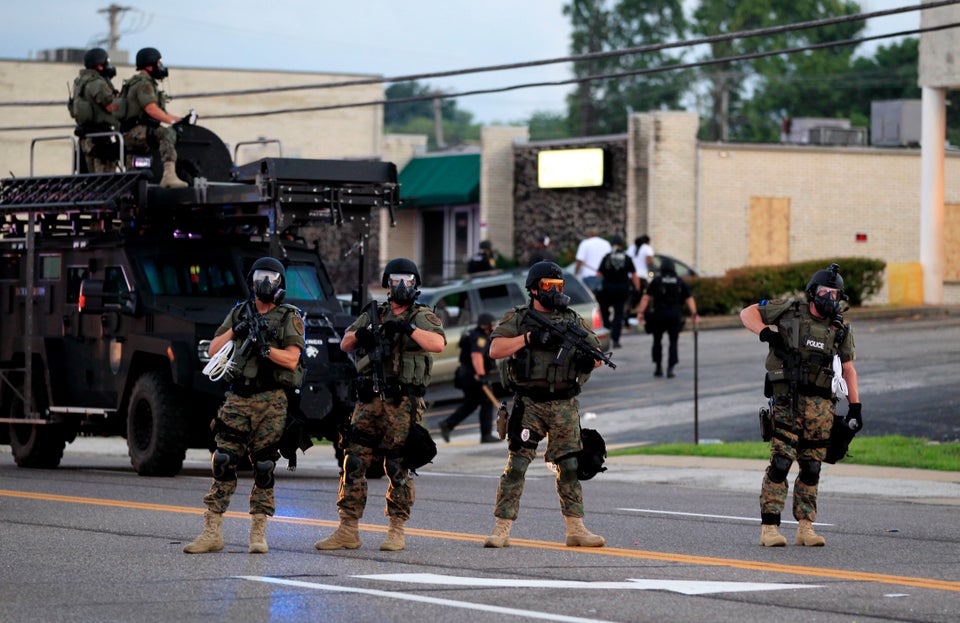 9 Powerful Photos That Show Ferguson Was Pretty Much Treated Like A War Zone
Popular in the Community