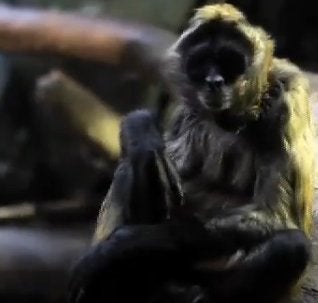 Former News Of The World editor Colin Myler wasn't the only big hire this week at The New York Daily News. The tabloid has also enlisted the help of a furry Staten Island resident to predict the outcome of the upcoming GOP primary in New Hampshire.
Grandpa, a 40-year-old Black handed spider monkey at the Staten Island zoo who apparently has clarivoyant abilities (he correctly "predicted" the Packers would win the Super Bowl last year), will choose from 5 bananas on Monday, the day before the Granite State picks its Republican candidate.
The primate's presidential primary premonitions will be determined by which banana he picks--each labeled with either Mitt Romney, Rick Santorum, Ron Paul, Newt Gingrich or Rick Perry.
This is, of course, not the first time we humans have leaned on the psychic capabilities of animals. During the 2010 World Cup, Paul The Octopus accurately "predicted" the winner of every Germany match. And just this week, Stephen Colbert introduced his own slimy little Iowa Caucus prognosticator-- but that didn't go so well.
Support HuffPost
The Stakes Have Never Been Higher
Related
Popular in the Community