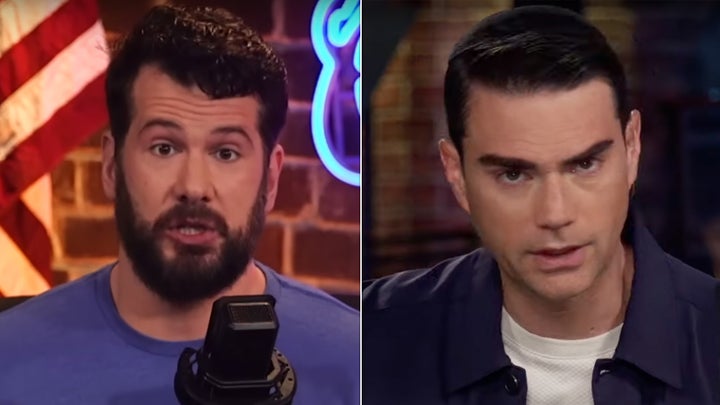 Every now and then, the figureheads of right-wing media pull back the curtain and tell the truth: They're rich babies.
That's what Steven Crowder, the far-right YouTuber known for that "change my mind" meme, and for getting beat up by pro-labor demonstrators in Lansing, did this week, when he loudly complained that a $50 million offer was actually a form of slavery, and that he was bravely speaking out in the name of human rights.
As The Daily Beast's Will Sommer noted, the dust-up began when Crowder posted a video Tuesday calling out an unnamed right-wing media company for what he said was an "immoral" offer to host Crowder's show and produce other content for him. Among other things, Crowder griped that the unnamed company wanted control of his official social media accounts, and that they wanted to be able to penalize him for missing shows, and for being demonetized on social media platforms, should that occur, as it already has on YouTube.
"There's no need to be enslaved like this!" Crowder said of the offer, while repeatedly telling viewers to join his mailing list, which he said was akin to "letting people know at Big Con that you want something different, that you require better." (Big Con, to Crowder, is the conservative-industrial complex.)
The offending company didn't stay unnamed for long. The next day, Jeremy Boreing, the CEO of The Daily Wire — the right-wing web media company he co-founded with Ben Shapiro — confirmed in his own video that Crowder was talking about an offer from The Daily Wire.
Boreing laid into Crowder, who he said is "not exactly a self-made man," pointing out that Crowder has worked for years for companies founded or backed by billionaires, including The Blaze and CRTV.
"Steven, the whole time I've known him, has worked for someone else," Boreing said, adding later: "Steven's philosophy seems to be 'I deserve to be paid millions and millions and millions of dollars whether my show drives the revenue or not.' He's not looking for a business relationship, he's looking for a benefactor."
Shapiro himself briefly responded to Crowder's video as well, noting that the offer was "negotiable," and that "there is something rather nasty about attacking people who have been friends — colleagues, defenders — for over a decade on the basis of your own misinterpretation of a document that offers you $50 million over the course of four years."
In his video, Boreing laid out the numbers: Under the initial offer, which he said he expected Crowder would negotiate, the right-wing YouTube star would make $50 million over a four-year initial term, with an additional $25 million for an optional two-year extension. The offer, Boreing said, was based on what Crowder's agent had said would be the minimum necessary to get him interested. Other parts of the offer included additional pay for longer content, as well as $15,000 per day for additional video shoots, Boreing said.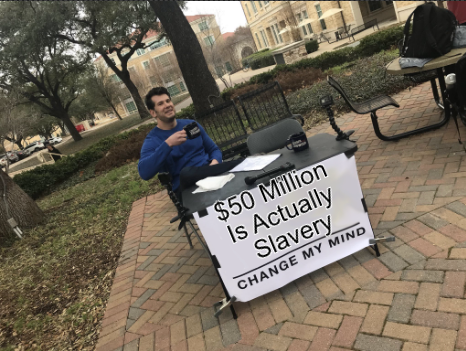 Those are astounding figures for mere mortals, but this is conservative media, where the best-kept secret is that plenty of personalities positioning themselves as workaday populists are actually swimming in cash — just ask multimillionaire Sean Hannity.
Crowder notably hadn't mentioned the topline number in his own video, though he did criticize "multimillion-dollar penalties" that he said were part of the terms. Crowder didn't immediately respond to a request for comment from HuffPost about Boreing's video.
Crowder is feeding from the same trough as generations of right-wing media figures. It's not a hard recipe to figure out: Be "edgy," transphobic, homophobic, sexist, and super racist, and profit sometimes follows. Crowder has millions of YouTube subscribers, but the slap fight over his Daily Wire offer shows just how profitable the insult-slinging game can be.
In the end, the squabble is a fascinating window into the economics of the right-wing outrage machine, particularly the focus on social media content moderation policies and their importance to the bottom line. More fundamentally, it's a fun little diversion from the burdens of this cruel world. There are really no losers, except for Crowder and Boreing, both of whom, performatively or not, appeared saddened by the ordeal.
This likely isn't over, either. Crowder said at the start of Tuesday's video that he'd tried to "avoid" discussing the topic, but Boreing told a different story, saying that Crowder's rejection of the Daily Wire deal had actually happened months ago, and that Crowder had called out of the blue a week ago, just before posting his video, to pick at the scab.
"We got off the phone, and then I wake up yesterday and he puts out this video laying into us the way that he did," Boreing said.
Popular in the Community