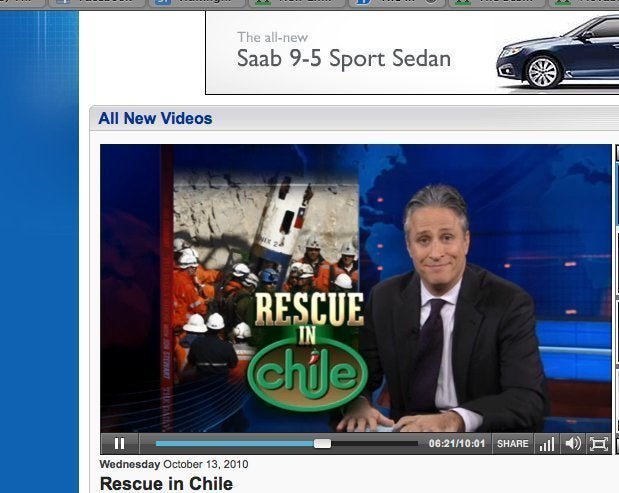 Last night's "Daily Show" took a step away from midterm election coverage and focused on the rescue of the miners in Chile. As Jon Stewart noted, so did CNN - who called the breaking news "their brand" and whose intense focus on the coverage provided some hilarious moments.
CNN went all out, even having their reporters take turns standing in a life-size replica of the capsule in which the miners were brought to the surface. But the funniest moment during their coverage was when one anchor was studying footage of a young boy appearing to clutch a helmet and made a heartwarming speculation on air that perhaps it was a signed memento of the crew above for saving his father.
"Wait, you made the whole damn thing up?" Stewart said in disbelief. "That was a really good story! Can you do that?"
Stewart also mocked the media's coverage of the world to which the miners were returning, focusing on what type of book deals they'll get, whether or not they have PR people and lawyers, and even how one miner's wife was going to welcome him when he got home.
"He's going to get laid." Stewart said blankly. "The miners, when they get home, will probably have a big bowl of soup... And then they're all going to get laid."
For more Stewart turned to Olivia Munn, who had her own "unique story of survival" to tell from the mine site.
REAL LIFE. REAL NEWS. REAL VOICES.
Help us tell more of the stories that matter from voices that too often remain unheard.