Each week, the HuffPost Code team meets to discuss tech news and interview special, technically-skilled guests for the Floating Points Podcast.
Season 1: Episode 26: "Building a (Snack) Platform"
In this episode, host Andrew Fader upstages everyone by debuting a clean-shaven look. His makeover causes the hosts to ponder what happens to beards when it's hot outside and the percentage of beards that convert to mustaches during the summer.
The News:
Is Skybox Imaging, which Google acquired for $500 million, worth half a Nest or Instagram? The hosts decide that Skybox is ultimately more valuable than Nest, Instagram and WhatsApp and give props to Google for scoring 'eye in the sky' status at a bargain bin price.
On the subject of acquisitions and collaborations, the hosts also discuss Intel's WiTricity's technology licensing agreement with Intel. WiTricity is a wireless power transfer pioneer that will provide wireless charging solution for Intel products.
The news segment concluded with a discussion about the alleged Turing Test breakthrough. The University of Reading falsely announced that their chat bot, "Eugene Goostman" fooled 10 out of 30 human judges into believing that Goostman was a human. The hosts agree that the University's real low point was excusing the bot's poor English by explaining that Goostman is a boy from the Ukraine.
Special Guest:
Fresh off a plane from San Francisco, indie game developer and WhatsApplebees creator, Mike Lazerwalker tells all about WWDC.
"They announced more in that two hour [keynote] than the last six WWDCs," Lazerwalker said. He does an excellent job of describing the WWDC vibe and explaining which new products and features he's most excited about. Hint: Swift is not in the top three.
Closing Remarks: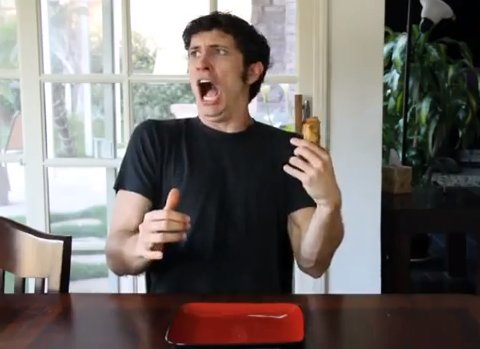 Inspired by the innovations announced at WWDC, the hosts discuss some innovations of their own, namely, Guacamol.io and HotPocket.io. Listeners may remember the idea for PizzaClothes.io, a recent product pitch for the on-demand laundry app, Wash.io. The hosts decide that HotPocket.io is the most promising product pitch to date as it is a platform for snacks that are delivered via laundry. If you know how to patent this product, please leave a comment.
Laundry snacks leads to a discussion about the Erdős–Bacon number. One's Erdős number is the collaborative distance in authoring mathematical papers between that person and mathematician Paul Erdős. One's Bacon number is the number of links through film roles that separate that person and actor Kevin Bacon. One's Erdős–Bacon number is the sum of the two numbers, the lower the number, the closer the person is to Erdős and Bacon. Fact: Carl Sagan's Bacon number is lower than his Erdős number.
The Hosts:
Brandon Diamond is the Director and Co-Founder of HuffPost Labs, The Huffington Post's research and development division. Additionally, Brandon sits on the Board of the NY Tech Meetup and serves as Founder and Director of the Hacker Union, an international coalition of technologists and builders. Brandon holds a Master's degree in Computer Science from Brown University and regularly contributes to the HuffPost Code blog.
Katelyn Boguckiis the Editor of HuffPost Code, The Huffington Post's source for information about development and design. Prior to HuffPost, she worked at Uber. Katelyn loves reading and writing about computer engineering and is especially interested in cyber security, functional programming and all of the JavaScript frameworks.
Tom Biegeleisen has been a software engineer at the Huffington Post for the last two years. Prior to Huff Post, he worked in the start-up space as both a front- and back-end engineer. He holds a bachelor's degree from Columbia University.
Andrew Fader was born in New York's historic Hudson Valley, 30 miles north of Manhattan and not "upstate" New York as some have claimed. Andrew learned BASIC in 1996 and created some of his first autobiographical web pages. Discovering IRC, BSD, and GCC, among other three-letter acronyms, he attended Carnegie Mellon. He has worked at school and wealth management software startups, and with clients from social networks to government databases. He now enjoys applying the sublime combination of Ruby, Rails and JavaScript, like dipping a ripe strawberry in molten chocolate.
Dulio Denis, born and bred in Manhattan, is an iOS Developer at Dog on a Horse where he spends his days deep in Cocoa ensuring the Topps Apps like BUNT, KICK, and Huddle are the best iOS Apps in the AppStore. After coding on his Commodore-64 in High School Dulio attended Columbia where he earned a Computer Science degree from the Engineering School and interned at Apple. These days Dulio works on his own apps under the ddApps label and hacks on his Raspberry Pi running Ubuntu where he tinkers in his Open Source Software oasis.
REAL LIFE. REAL NEWS. REAL VOICES.
Help us tell more of the stories that matter from voices that too often remain unheard.