Last year, I attended a "Surfers for Autism" event at Ponce Inlet, Florida with my son. We did not register in time but went anyway so that my son could have a fun day at the beach with his friends. The event was huge. Back then, I knew very little about such an organization. This year, I know a little more. Next year, I hope more of you know more.
Last weekend, my son was registered for the "Surfers for Autism" event in Cocoa Beach, Florida. We spent two nights at a resort close by with other families and friends of ours that have also been affected by autism. "Surfers for Autism" organizes events from their inaugural destination of Deerfield Beach, Fl up to Georgia.
The concept is not a new one; just somewhat new to me. "Surfers Healing" was founded by Israel and Danielle Paskowitz in California, is well-documented and has grown to cover both coasts of the U.S. including Hawaii. There are similar organizations around the world and I would like to thank everyone who has ever volunteered for any part of these events as well as give a shout out to all those who (individuals and corporate sponsors) donate money and products. Without you, these events would not be possible.
Other than my son's usual "Dr. Jekyll and Mr. Hyde" mental instabilities, we had an amazing and enlightening weekend. He hesitated at first. He is 19-year-old. After his first attempt, he was hooked and by the end of the day was standing on the board which is a huge feat.
It didn't matter whether they stood, sat, lay on the board or surfed on their knees. The only obvious goal was to ensure that the one surfing was having a blast! I'm pretty sure that goal was accomplished.
The younger kids seemed to adapt more quickly physically, buy not necessarily emotionally. For many of the parents living with children on the autism spectrum, it was a very emotional day. Our children laughed, were fully included and accepted for exactly who they are. A few tears of joy may have been shed as well.
The event began at 8:00 a.m. and ended at 5:00 p.m. After a few hours lunch was served. It included hot dogs, pizza, chicken fingers (a staple for many with autism), veggie wraps, tacos, burritos and Chinese food. Those are a lot of choices. Raffles were held and water was given out throughout the day.
These events fill up within minutes of online accessibility which, from what I understand, is a normal occurrence. There is a reason for that. It's fun and it's FREE. The free part is pretty important as the financial burden many families face living with autism makes participation in organized pay-for events and camps prohibitive.
My son's first instructor is on the spectrum. He's very high functioning (formerly called an Aspie), but started out just like my son, as a participant. To see him as a teacher gives me hope. We met volunteers who travel from event to event who don't have children, siblings or any relatives with autism. That is so amazing to me. With all of the negativity we as parents, as well as those on the spectrum who have been endlessly tormented or bullied, it's wonderful to see people with such devotion and love.
Here is a sign of that devotion: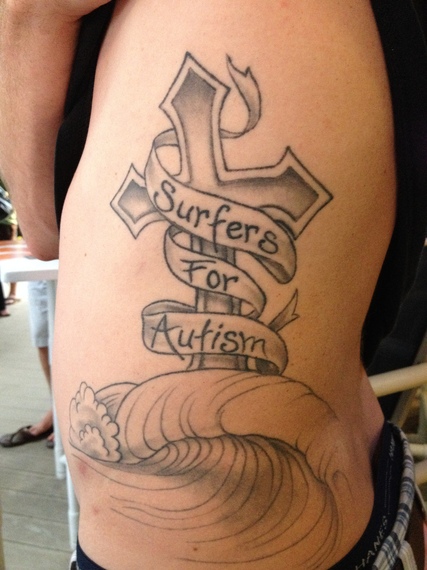 This is Patrick Fields from Savannah, GA. He and his family have been volunteering for as many of these events as they can for the last four years. Who does that? They are just a few of the many who are not affected by autism on a daily basis who see the need and the importance of incorporating our children into a society which is not very accepting on a whole. They make a difference in our lives and I am truly grateful.
I would also ask you to donate to these and similar projects if you can.
For those of you who cannot get to a coast, perhaps there are other free events in your communities that foster acceptance for those with autism. Seek them out... or start your own!
Involvement and participation help spread awareness and tolerance.
For my family, no... the weekend was not perfect, but we will be back next year because surfing has impacted my son (and his friends)!
For more information about Lisa Masters, visit: http://www.build-a-boob.com/
Facebook page, Build a Boob after the cure!
REAL LIFE. REAL NEWS. REAL VOICES.
Help us tell more of the stories that matter from voices that too often remain unheard.