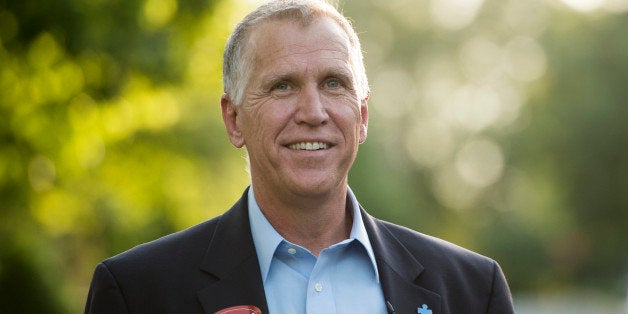 WASHINGTON -- The national anti-abortion group Susan B. Anthony List announced Wednesday that it will spend more than $3 million through its super PAC on three Senate races in 2014 to help elect Republicans.
Women Speak Out PAC, the group's super PAC, will target Senate seats occupied by vulnerable Democrats in Arkansas, Louisiana and North Carolina, according to Breitbart. All three of these states voted for anti-abortion GOP presidential candidate Mitt Romney in 2012.
In the 2012 cycle, Women Speak Out PAC spent less than $1 million on elections, less than a third of what the group says it will spend in the coming months. The group's ambitious multimillion-dollar electoral effort signifies that a broad coalition of conservative organizations is focusing its money to stimulate varying constituencies with targeted messaging. Many other independent conservative groups are already focusing on these Senate races with large television advertising campaigns.
Despite a requirement that super PACs disclose their donors, Women Speak Out PAC reveals only a partial list of human donors. The largest donor to the group this cycle is Susan B. Anthony List. As a nonprofit, Susan B. Anthony List does not have to disclose its donors, leaving a dead end for voters who want to know who is trying to influence their decision in November.
The one revealed individual donor on Women Speak Out PAC's election report filed Tuesday was New Jersey-based investor Virginia James. A major conservative donor to groups such as the Club for Growth, James gave $200,000 to the super PAC in April. James has a history of supporting Susan B. Anthony List through her Hickory Foundation, which has given tens of thousands of dollars to the SBA List Legal Defense Fund in recent years.
Sen. Kay Hagan (D-N.C.), Tillis' opponent and the biggest target of money from independent groups so far this election, is already hitting back.
"It's no surprise that Tillis is getting a boost from another outside group that promotes his fringe agenda and wrong priorities for women," Hagan spokeswoman Sadie Weiner said in a statement.
Tillis notoriously attached language to limit abortion access on legislation regarding motorcycle safety, in a maneuver to bypass legislative opposition. He also backs a "personhood" amendment that would grant legal protections to fertilized eggs, a move that could limit access to some forms of birth control.
Hagan's campaign also hit Susan B. Anthony List for its past ties to the network funded by the billionaire Koch brothers. In 2010, the Center to Protect Patient Rights, a key hub in the Kochs' intricate political network, provided $1 million to Susan B. Anthony List. The group reported spending a little more than $2 million in the 2010 midterm elections.
The GOP Senate candidates in the other states the group is targeting are also anti-abortion. In Arkansas, Rep. Tom Cotton (R), who's challenging Sen. Mark Pryor (D) for his seat, is a co-sponsor of legislation to enact a "personhood" amendment. In Louisiana, Rep. Bill Cassidy (R), who opposes abortion even in cases of rape or incest, is challenging Sen. Mary Landrieu (D).
Calling all HuffPost superfans!
Sign up for membership to become a founding member and help shape HuffPost's next chapter
BEFORE YOU GO
PHOTO GALLERY
Senate Seats Up For Grabs In 2014