Game changers for journalists in this year of the tablet and mobile are dizzying, but certain basics are constant, so one has to re-tool, and fast, to stay afloat, media experts proclaimed this week.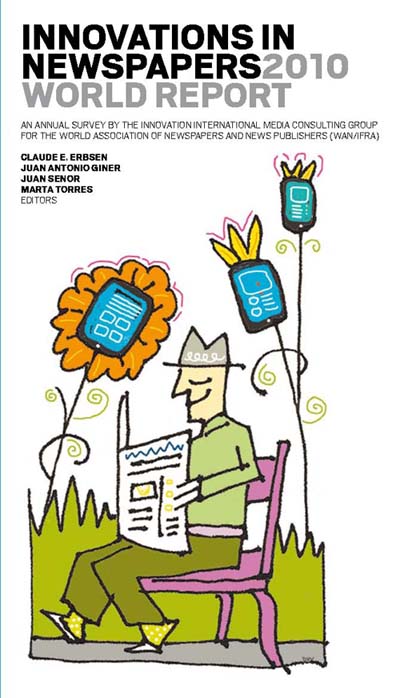 Senor, who launched the "Innovations in Newspapers 2010 World Report," said newsrooms should be in a permanent state of beta in the next five years and that all mobile devices would morph in one year, so editors should divide content creation from content elaboration.
"The editorial functions of newspapers will be with us for a long time, but the distribution system as we know it is short-lived, at least in our part of the world," said Roger Gafke, professor emeritus at the Missouri School of Journalism and director of development at its Donald W. Reynolds Journalism Institute.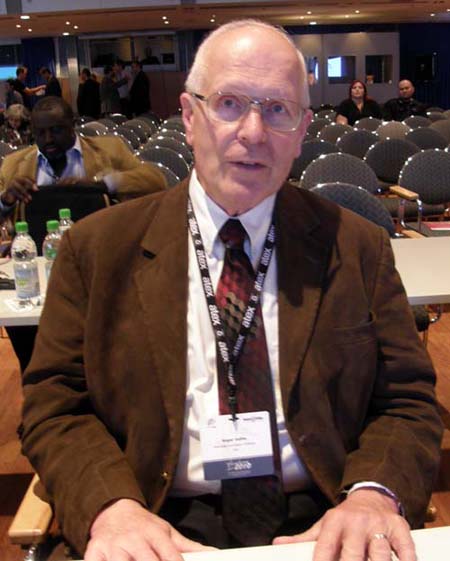 Roger Gafke (Abu-Fadil)
Gafke's views were echoed by many of the more than 600 editors-in-chief attending the WEF conference in Hamburg, Germany, dubbed "The Tablet Year: Why Mobile Distribution Will Change the News Business."
Participants agreed that good management of newspapers required flexibility, a willingness to change, a reallocation of resources to meet fast-paced technological innovations, and, constant training to keep up with the times.
It's been a hard pill to swallow for print media, what with dropping circulations, staff layoffs, consolidated operations, rising paper costs, transformative technology, citizen journalism, blogging and uncertain economic times.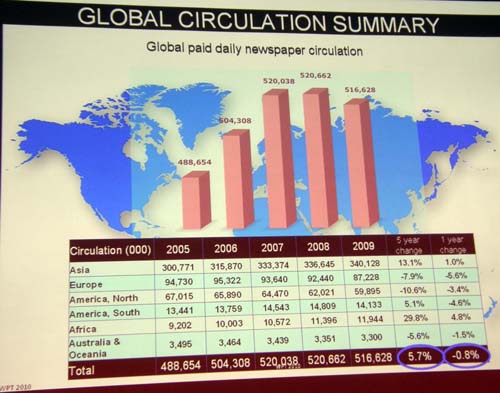 World newspaper publishing trends (Abu-Fadil)
"We're underestimating the impact of the mobile trends," cautioned Philipp Schindler, Google's VP for Northern & Central Europe. "This will be bigger than you've ever imagined."
For Chris Ahearn, Thomson Reuters' president of media, the explosion of tablets and mobile devices is an incentive to become creative as news providers.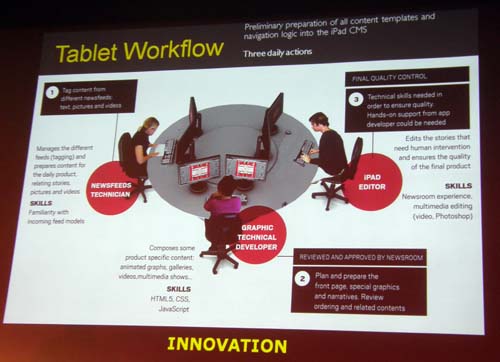 Tablet workflow (Abu-Fadil)
"We live in a publishing world that's so dramatically different. The old business model is dead, it's kaput. We have to move faster, we have to move more boldly," he said, adding that original news reporting would emerge as a result.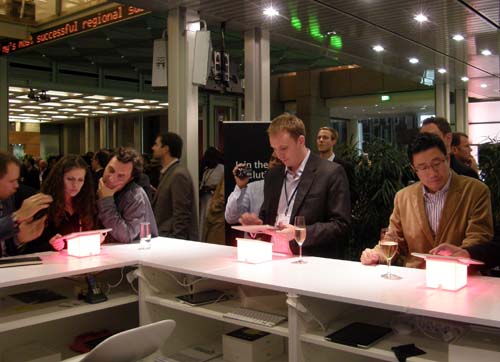 WEF guests admire German daily Hamburger Abendblatt's adoption of iPad (Abu-Fadil)
"The media arts, and journalism, are fundamentally about storytelling," Janet Robinson, the New York Times' president and CEO said in a keynote speech. "It's about creating an essential human connection."
Robinson said her paper was placing greater emphasis on the readers' identity, adding that Facebook worked well because it's rooted in identity and that the Times had assigned a very experienced journalist to be editor of social media.
"No one can predict the future with precision but we can examine trends. People will always need and want to be told a story," she said.
But telling a story can also result in jail, or worse, as in the case with Ahmad Zeid-Abadi, recipient of the 2010 WAN_IFRA Golden Pen of Freedom.
WAN_IFRA is the World Association of Newspapers and News Publishers, WEF's umbrella organization.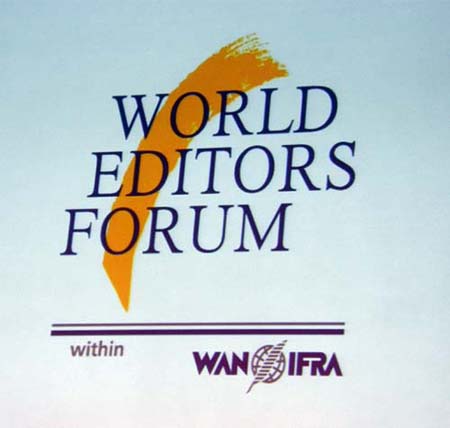 WEF president Xavier Vidal-Folch presented the award to Zeid-Abadi, an Iranian journalist sentenced in 2009 to six years in prison and banned for life from practicing his profession.
The award was received on his behalf by dissident Iranian journalist Akbar Ganji, a leading investigative journalist and 2006 Golden Pen Laureate.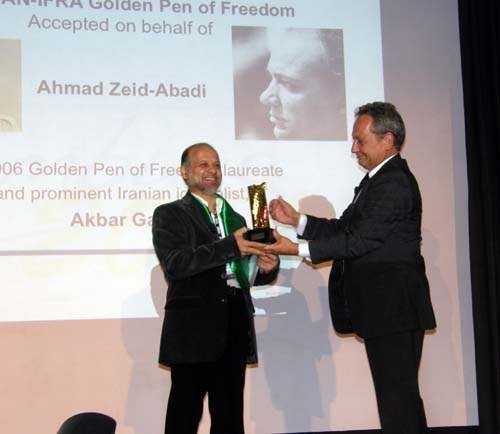 Akbar Ganji receives Golden Pen award from Xavier Vidal-Folch on behalf
of jailed Iranian journalist Ahmad Zeid-Abadi (Abu-Fadil)
"Currently, we don't have any independent media in Iran," Ganji told conferees, noting that the media don't express realities of Iranian society.
To survive, journalists must toe the government line, or else face dire consequences, he said.
But cheerleading for officials can also result in major embarrassments, as when Egypt's government-run paper Al Ahram photoshopped a picture of President Hosni Mubarak to show him walking ahead of President Barack Obama at the White House.
"What happened happens in all newspapers," Al Ahram CEO Abdel Moneim Said said lamely in defense of the doctored photo that he labeled an artistic illustration of a story on Middle East peace talks entitled "The Road to Sharm El Skeikh."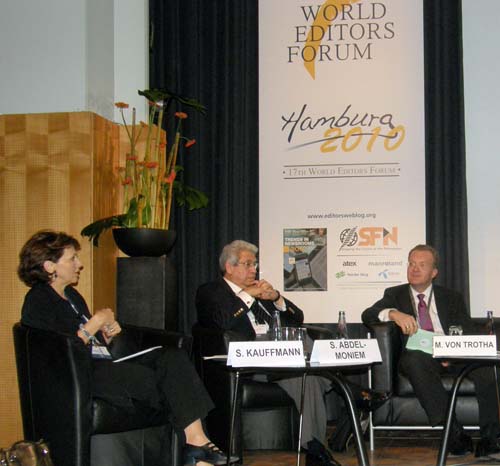 Abdel Moneim Said, center, tries to justify doctored picture in Al Ahram (Abu-Fadil)
Said, who was pressed by Vidal-Kolch on quality journalism and the ethics of publishing a misleading photo, tried to justify his paper's "montage" by saying it was part of a special report, but conference participants were unconvinced.
Not to be overlooked is the need for constant training, insisted the Poynter Institute's Howard Finberg.

"It's absolutely essential that training be part of the equation. How do we achieve our goals if we do not train the people?" he asked.
Finberg said Poynter wanted to encourage a culture of individual learning and raise the standards and awareness of journalism. "If you don't have a (training) program in your organization, I'm going to advocate that you do something."
So how is the new information ecosystem shaping up?
WEF has been active in promoting greater awareness of changes affecting news organizations.
Its "Trends in Newsroom 2010: Innovative Ideas for Newspapers in the Digital Age" is an invaluable resource for editors and publishers.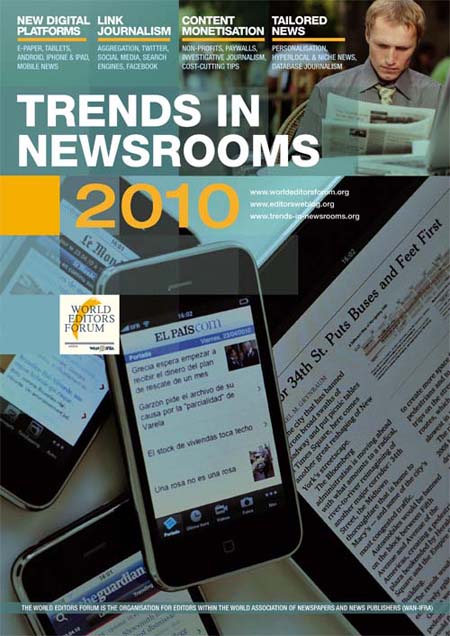 The 160-page guide examines newspapers in crisis, mobile devices and their impact, how to manage integrated newsrooms, niche, hyperlocal and customized news, entrepreneurial journalism and top mobile apps.
WAN-IFRA's "2010 World Press Trends" provides global summaries of circulations and detailed statistical country reports.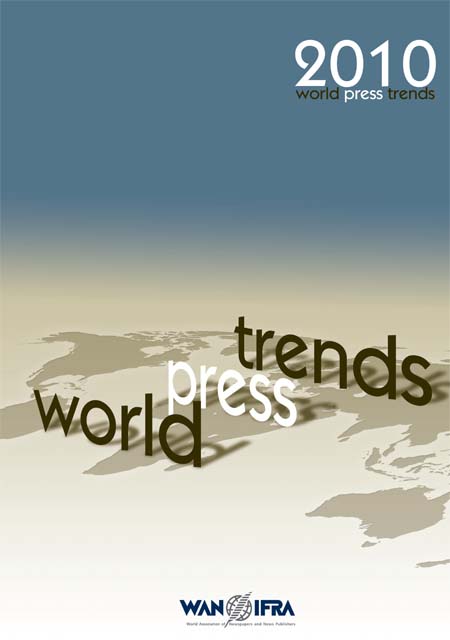 Calling all HuffPost superfans!
Sign up for membership to become a founding member and help shape HuffPost's next chapter