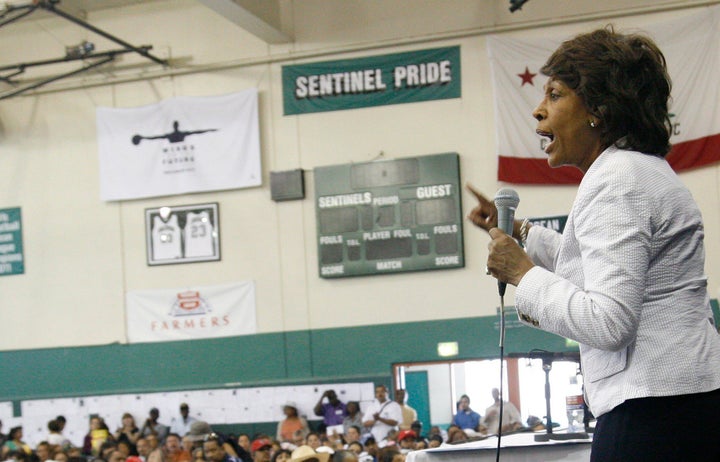 The leaders of the Tea Party Patriots group are out with a response to contentious remarks made by Rep. Maxine Waters (D-Calif.) over the weekend regarding the coalition of conservative activists.
"We've had Democrats calling American citizens 'terrorists' and 'hostage takers,' and now an elected Democratic representative says that we can 'go straight to hell,'" Mark Meckler and Jenny Beth Martin said in a statement. "The president and all leaders of the Democratic Party, who have called for civility in the past, are neglecting to censure their own. Is civility only required from their opponents? Perhaps it's time for a new-NEW era of civility."
They added, "The president's silence on these latest violations of civility has been deafening, but not surprising."
With California's jobless rate now 12 percent, the second-highest rate of unemployment in the nation after Nevada, talk about jobs, the economy and the partisan squabbling in Congress dominated the "Kitchen Table Summit."

"I'm not afraid of anybody," Waters told the crowd. "This is a tough game. You can't be intimidated. You can't be frightened. And as far as I'm concerned, the Tea Party can go straight to hell."
Below, video of what Waters had to say.
Last week, Waters made headlines with critical remarks she made about the route taken by President Barack Obama on his Midwest bus tour.
"We don't know why on this trip that he's in the United States now, he's not in any black community," she said. "We want to give him every opportunity, but our people are hurting. The unemployment is unconscionable."
During an appearance on CNN on Sunday, Rep. Elijah Cummings (D-Md.) explained, "We are totally frustrated, and people need to know that the president feels their pain." He added, "Almost every African American person I spoke to said he needs to fight, and fight harder."
Popular in the Community