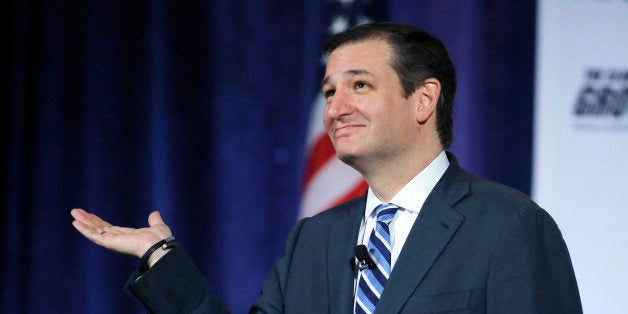 WASHINGTON -- Income inequality was a prominent theme among the many potential presidential candidates who addressed the International Association of Fire Fighters presidential forum on Tuesday. But no one else had a line quite like that from Sen. Ted Cruz (R-Texas).
"We've seen over the past number of years two Americas emerge. At the very top, top 1 percent today, with the largest federal government we've ever had, the top 1 percent earn a higher share of our income [than they have] since 1928," said the Texas Republican.
Veterans of recent presidential campaigns probably did a spit take. "Two Americas" is a theme best associated with John Edwards, the former Democratic senator who rode the concept of have and have-nots to a vice presidential bid in 2004 and several third-place primary finishes in 2008. Edwards has, of course, been sullied by personal missteps and embarrassments since then. And it seemed that his signature campaign phrase would be buried along with his political career.
But lately, Sen. Elizabeth Warren (D-Mass.) has made it fashionable for lawmakers to talk bluntly about class divisions and income disparities. Clearly, Republicans are trying to get in on that act. Cruz's office said he had used the "two Americas" line before but not often.
"For the rich and powerful, big government has been a good deal, but working men and women across this country are hurting," the Texas senator said Tuesday. "What we've seen in the last six years is big business does great. Big business always does great with big government. They get in bed with big government. Big business has armies of lawyers and lobbyists. In Washington, big business is right at home. But small businesses ... they are the ones hurting."
Roaming the forum as Cruz spoke was someone who had worked closely with Edwards when he was crafting that "two Americas" candidacy. David "Mudcat" Saunders was a senior adviser to Edwards in 2008. He is reprising that role with former Sen. Jim Webb (D-Va.), who also appeared at the gathering and also spent a good chunk of his time lamenting how "working people" bailed out Wall Street and ended up on the poorer side of that effort. The Huffington Post asked about Cruz's embrace of Edwards' phraseology.
"From listening to Ted Cruz talk, from listening to his conversation over the years, I don't think he believe in any two Americas," said Saunders. "I think he believes in one America, Ted Cruz's America."
Want more updates from Sam? Sign up for his newsletter, Spam Stein.
Calling all HuffPost superfans!
Sign up for membership to become a founding member and help shape HuffPost's next chapter
BEFORE YOU GO
PHOTO GALLERY
Sen. Ted Cruz