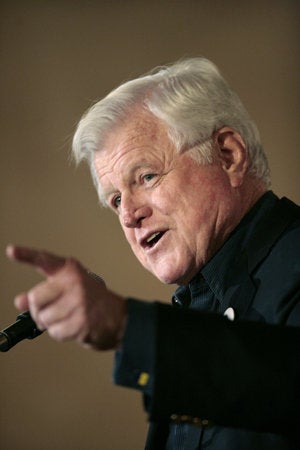 Legendary Senator Ted Kennedy has died at age 77, losing his battle to brain cancer.
In May 2008 doctors diagnosed Kennedy, one of the most influential and longest-serving senators in U.S. history, with a malignant brain tumor.
Here is the statement from the Kennedy family:
"Edward M. Kennedy - the husband, father, grandfather, brother and uncle we loved so deeply - died late Tuesday night at home in Hyannis Port," the statement said. "We've lost the irreplaceable center of our family and joyous light in our lives, but the inspiration of his faith, optimism, and perseverance will live on in our hearts forever. We thank everyone who gave him care and support over this last year, and everyone who stood with him for so many years in his tireless march for progress toward justice, fairness and opportunity for all. He loved this country and devoted his life to serving it. He always believed that our best days were still ahead, but it's hard to imagine any of them without him."
In a sprawling, epic obituary, John M. Broder writes in the New York Times:
Senator Edward M. Kennedy of Massachusetts, a son of one of the most storied families in American politics, a man who knew triumph and tragedy in near-equal measure and who will be remembered as one of the most effective lawmakers in the history of the Senate, died late Tuesday night...

Senator Kennedy was at or near the center of much of American history in the latter part of the 20th century and the early years of the 21st. For much of his adult life, he veered from victory to catastrophe, winning every Senate election he entered but failing in his only try for the presidency; living through the sudden deaths of his brothers and three of his nephews; being responsible for the drowning death on Chappaquiddick Island of a young woman, Mary Jo Kopechne, a former aide to his brother Robert. One of the nephews, John F. Kennedy Jr., who the family hoped would one day seek political office and keep the Kennedy tradition alive, died in a plane crash in 1999 at age 38.

Mr. Kennedy himself was almost killed, in 1964, in a plane crash, which left him with permanent back and neck problems.

He was a Rabelaisian figure in the Senate and in life, instantly recognizable by his shock of white hair, his florid, oversize face, his booming Boston brogue, his powerful but pained stride. He was a celebrity, sometimes a self-parody, a hearty friend, an implacable foe, a man of large faith and large flaws, a melancholy character who persevered, drank deeply and sang loudly. He was a Kennedy.

Overcoming a history of family tragedy, including the assassinations of a brother who was president and another who sought the presidency, Senator Kennedy seized the role of being a "Senate man.'' He became a Democratic titan of Washington who fought for the less fortunate, who crafted unlikely deals with conservative Republicans, and who ceaselessly sought support for universal health coverage.

"Teddy,'' as he was known to intimates, constituents, and even his fiercest enemies, was an unwavering symbol to the left and the right - the former for his unapologetic embrace of liberalism, and latter for his value as a political target. But with his fiery rhetoric, his distinctive Massachusetts accent, and his role as representative of one of the nation's best-known political families, he was widely recognized as an American original....

"He died the way he lived,'' said a longtime Kennedy staffer, who did not want to be named because of the sensitivity of the moment, breaking up with emotion during the interview. "Fully in the moment, with incredible courage. He knew exactly what was going on. He wasn't afraid. And given everything that he had been through his entire life, was always optimistic and knew that this country's best days always [were] ahead.''
Bill by bill, provision by provision, he expanded government health support to millions of children and the elderly, helped millions more go to college, opened the immigration doors to millions of new Americans from continents other than Europe, and protected the civil rights bulwark of the '60s through a long period of conservative domination.

And by the time his life ended yesterday, surrounded by loved ones in a gentle scene that contrasted sharply with the violent deaths of his brothers, Ted Kennedy had built a nuts-and-bolts legacy to stand beside that of his presidential brother as a figure of hope and his senatorial brother as a figure of compassion.
When people were getting tired of hearing about racism or the poor or the decay of American cities, he kept talking. When liberalism was flickering, there was Kennedy, holding the torch, insisting that "we can light those beacon fires again."
Kennedy's Senate Web page today is emblazoned with his quote from his address to the Democratic National Convention in 1980, after his presidential campaign came to an end:
For all those whose cares have been our concern, the work goes on, the cause endures, the hope still lives, and the dream shall never die.
President Obama issued the following statement:
Michelle and I were heartbroken to learn this morning of the death of our dear friend, Senator Ted Kennedy.

For five decades, virtually every major piece of legislation to advance the civil rights, health and economic well being of the American people bore his name and resulted from his efforts.

I valued his wise counsel in the Senate, where, regardless of the swirl of events, he always had time for a new colleague. I cherished his confidence and momentous support in my race for the Presidency. And even as he waged a valiant struggle with a mortal illness, I've profited as President from his encouragement and wisdom.

An important chapter in our history has come to an end. Our country has lost a great leader, who picked up the torch of his fallen brothers and became the greatest United States Senator of our time.

And the Kennedy family has lost their patriarch, a tower of strength and support through good times and bad.

Our hearts and prayers go out to them today--to his wonderful wife, Vicki, his children Ted Jr., Patrick and Kara, his grandchildren and his extended family.
Read more reactions here.
Just last month, Kennedy penned a piece for Newsweek titled "The Cause Of My Life," to describe his dedication to universal health care:
This is the cause of my life. It is a key reason that I defied my illness last summer to speak at the Democratic convention in Denver--to support Barack Obama, but also to make sure, as I said, "that we will break the old gridlock and guarantee that every American...will have decent, quality health care as a fundamental right and not just a privilege." For four decades I have carried this cause--from the floor of the United States Senate to every part of this country. It has never been merely a question of policy; it goes to the heart of my belief in a just society. Now the issue has more meaning for me--and more urgency--than ever before. But it's always been deeply personal, because the importance of health care has been a recurrent lesson throughout most of my 77 years.
Kennedy recently finished his memoir, which should be published in a few weeks, providing an unprecedented insight into the man and his family.
Watch this excerpt from Kennedy's legendary "The Dream Shall Never Die" speech at the 1980 Democratic convention:
Here is Kennedy's dramatic speech at the 2008 convention, where he was introduced by niece Caroline Kennedy:
Here is the 8-minute tribute video to Kennedy that was shown at the 2008 convention:
Popular in the Community