AUSTIN, Texas ― Hundreds of people flooded the halls of the Texas Capitol on Thursday, pressing legislators to abandon a Republican-led effort to crack down on so-called sanctuary jurisdictions that shield some immigrants from detention.
As more Democratic-led cities and counties rebel by enacting sanctuary policies to limit cooperation with ICE, deportation policy under Trump will likely fall far more heavily on red states that encourage police to hold undocumented immigrants in jail on the federal government's behalf. Texas has the second-largest undocumented population of any U.S. state, after California.
SB4 would cut off state grant funds to jurisdictions that limit cooperation with Immigration and Customs Enforcement, generally by declining to honor ICE's requests to hold undocumented immigrants who wouldn't be detained for any other reason. The bill was updated days before its first committee hearing Thursday to also punish campus police departments that try to adopt sanctuary policies at universities. 
Supporters view the proposed law as a safety measure intended to make sure the state uniformly complies with federal immigration enforcement. "This bill just says, do what's already in place," Sen. Charles Perry (R-Lubbock), the bill's author, said. "It's not new law. We're just saying don't undermine it."
But hundreds of Texans showed up to offer public comments against the bill, describing it as a draconian crackdown on immigrants.
A crowd in the galley watching from above repeatedly cheered when opponents recommended killing the bill, but Sen. Joan Huffman (R-Houston), chairwoman of the State Affairs committee, pounded her gavel and threatened to throw them out.
Outside, a group of dozens of undocumented students with the advocacy group United We Dream held a rally on the steps of the Capitol. "We don't understand why they're trying to do these attacks against us," Nahiely Garcia said. "We love our country, and we're here to stay, whether they like us or not."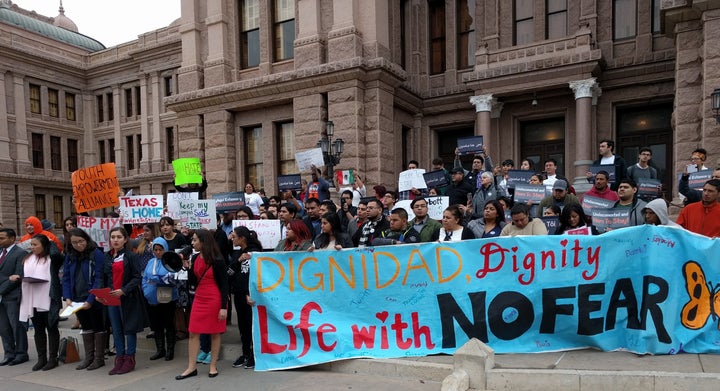 Religious leaders opposed it on humanitarian grounds. Immigration lawyers questioned Republican lawmakers' understanding of immigration law and the liability local jurisdictions could face. Immigrants and Texas-born Americans with immigrant parents offered personal stories about how much they'd achieved here and how increased deportation would destroy their families.
Michelle Mejia, 28, registered against the bill in the morning, hoping to testify before having to return to work, but testimony stretched into the evening. A U.S. citizen herself, she worried about how the bill could affect undocumented family members and her husband, who is in the process of changing his immigration status. The bill cast a shadow over her recent pregnancy with the couple's second child.
"This just makes it a lot more stressful," Mejia said. "I feel uncertain bringing this child into the world if our nuclear family is not supported."
El Paso County Judge Veronica Escobar said that if the bill became law, it would force the county to choose whether to violate a decade-old federal settlement that prohibits local police from enforcing federal immigration law or to break a new state law that would punish them with sanctions.
Escobar noted that El Paso has for years been one of the safest cities in the country and contended that pushing local police to devote time to enforcing immigration rules would undermine public safety.
"When we become less safe because of the decisions made here in Austin, who will [voters] throw out of office?" Escobar asked the committee. "They cannot throw you out of office for having made us less safe."
Law enforcement offered contradictory views about the bill.
Jackson County Sheriff A.J. Louderback, representing the Sheriff's Association of Texas, said he and his organization backed the bill. "Law in this state demands and requires consistency," he told the committee. Louderback said he knew of only one jurisdiction that currently limited its cooperation with ICE, a reference to Travis County, which includes the city of Austin.
But the police chiefs of Austin and San Antonio both testified that time spent enforcing federal immigration regulations would detract from their efforts to fight crime. And Javier Salazar, the sheriff of Bexar County, which includes San Antonio and has not adopted a sanctuary policy, sent a deputy to read a letter to the committee opposing the bill. "With a strained workforce and limited man power, we do not have the capacity to house undocumented immigrants who do not have outstanding warrants," the letter said.  
Texas receives more ICE detainer requests than any other state and honors more than 99 percent of them, according to state Sen. Sylvia Garcia (D-Houston).
"So what's the intent here? Who are we going after?" Rodriguez said, later adding: "For many reasons, personal, moral and religious, I don't like this bill."
CORRECTION: An earlier version of this article mistakenly referred to state Sen. Sylvia Garcia as Sylvia Rodriguez.
Calling all HuffPost superfans!
Sign up for membership to become a founding member and help shape HuffPost's next chapter
BEFORE YOU GO
PHOTO GALLERY
How Donald Trump Talks About Undocumented Immigrants