 The best way I can describe programming for NYILFF is that I get to make a mixtape every summer for New York City. A Latino film mixtape. And when the festival rolls around you get the same feeling of when you made one for someone special - of anticipation, 'wondering what she'll think of the next joint, "are you feeling it?"
We've never played by any rules. We represent Nueva York and it's amazing bursts of color, sounds and culture and our programming embodies that. We've never been scared to program LGBT films, close with a documentary or screen horror films every night at midnight. And we're feisty! We seek out films rather than let them come to us. We attack films that are still in post in hopes of a premiere and we've been very lucky so far with filmmakers entrusting us. But I think the greatest joy is the relationships forged with myself and the filmmakers and also the filmmakers with each other.
Two filmmakers named Michael and Youssef met several years ago at our festival, went back to LA and planted a seed called 'Filly Brown'. I myself read a wonderful screenplay called 'Elliot Loves' way back in the day. I befriended the writer who was editing our catalogs and we would embark on a crazy ride to make that damn film when everyone was letting us down. Upon that crazy ride, one of my NYILFF programmers, Lyndon McCray jumped in to edit as we scrambled to find the last bit of money. That's when Liz Gardner, NYILFF co-exec director worked her ass off to help get us to the finish line. So the film was truly born from NYILFF. And that's how I feel about NYILFF. There's a camaraderie. All unified in the beautiful struggle. And It's giving a home to those little gems.
My fave story is of a film called The Accidental Death of Joey by Sue, a film made by a kick ass female team shot in ten days for under $15,000. I asked them if they had gotten into any of the other Latino festivals and they informed me that NYILFF was the only one. They left NYILFF with the most glowing review in Variety and now have a distribution deal. I can only imagine what the future holds for them. That's what I look for. So forget about the parties for one second and realize that Latino artists are doing beautiful things and deserve our support. You wont feel short changed with this years eclectic mix. Domestic films show us that the indie spirit is alive and well. Documentaries are world class and super compelling. International films are the strongest they have ever been and the Shorts are always so much fun to program - a mash up of dopeness! I always believe when you create art you make the world just a little bit better. So, I thank the filmmakers this year for making the world just a little bit better.

Now press play!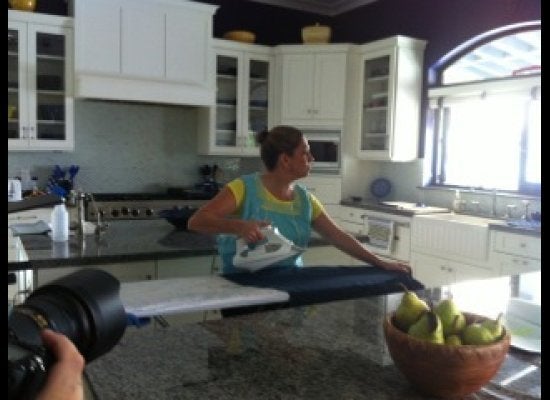 Photos From Award Winning Film "On the set of The Acting Lesson"
Popular in the Community