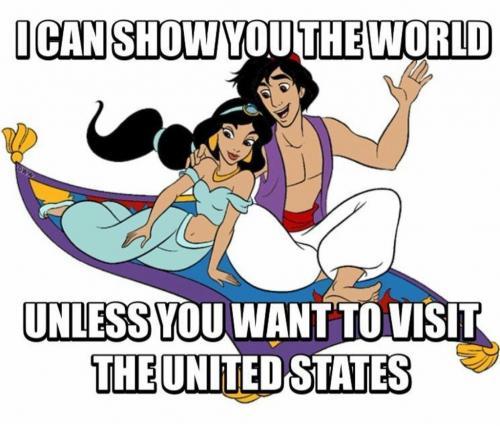 Two weeks ago, the Playbill announced that Broadway veteran Telly Leung would take over the title role in Broadway's Aladdin after Adam Jacobs, who originated the role, left at the end of January.* Just a few weeks later, Whoopi Goldberg made a brief star turn as the genie alongside Tony-winner James Monroe Iglehart before he left the show, amid speculation about who could possibly handle the virtuosic role in the forthcoming live-action version directed by Guy Ritchie.
What makes this casting more than business as usual, is that none of these actors are Middle Eastern. While hashtags like #OscarsSoWhite and press over Tilda Swinton and Scarlett Johansson playing Asian in Dr. Strange and Ghost in the Shell have provoked outrage, no similar indignation has mobilized around issues of invisibility and exclusion for Middle Eastern performers.
The fact that these announcements coincide with the crisis of the "Muslim ban" makes them egregious since the show's twinned failings of Orientalism and exclusion normalize the idea that Middle Eastern people and "Agrabah," an obvious proxy for Baghdad, are un-American.
Aladdin has always haunted me. Growing up in South Florida in the '80s, Aladdin was a watershed moment in my racial awakening ― or at least awareness of being different. Beyond the shame I absorbed from blockbusters like Indiana Jones, True Lies or The Siege, which presented Middle Eastern peoples as little more than terrorists and fanatics to be slaughtered, I never had any illusions as to being decidedly Armenian. Aladdin taught me that I came from a part of the world where "they cut off your ear if they don't like your face," and that I looked more like Jafar ― the villain ― than our hero.
When I heard Aladdin was coming to Broadway, my heart sank. Granted, by that point, my life had largely segued from that of a performer to an academic, the ubiquitous "So what are you" and "Where are you from" having overwhelmed even the fantasyland of acting. Moreover, with NSEERS (National Security Entry-Exit Registration System) surveilling cousins and the wars in Iraq, Afghanistan and Gaza ravaging the Middle East, the prospect of being anything but who I clearly ― and visibly ― was, became unpalatable and for me, impossible.
While in general, Disney Theatrical has been a boon for actors of color ― The Lion King, Aida, even some Newsies ― Aladdin came to Broadway without a single actor of Middle Eastern, North African or South Asian descent.
As the Asian American Performers Action Coalition notes, New York theater remained resolutely 78 percent white last season ― in spite of the backlash of #OscarsSoWhite, yet unfortunately highlighting the "whitelash" that elected Donald Trump.
Ironically, while Aladdin bucked the trend of the general whitewashing of Broadway/Hollywood Aladdin, director Casey Nicholaw boasted, "We have an extraordinarily diverse and quite beautiful company of actors and dancers and singers who also happen to be blessed with vaudeville chops" before continuing, "I think that will surprise people who expect they're just going to see the film onstage."
Here's why this "surprise" matters: The invisibility of Middle Eastern Americans alongside the terrorist trope means that when we hear "Arab" or "Muslim," we conjure up only Jafar. By refusing to showcase Middle Eastern talent, the show denies us the ability to conjure up anything else, to put a face to the specter of "Muslim."
The arts are never simply entertainment, business as usual, or an escape from the real world. The arts teach us the terms, frames and narratives that help us make sense of the world. While I obviously don't blame Aladdin for the Muslim ban, by including Middle Eastern performers, the show could make clear to the millions of people who see Broadway shows every year that it is the Muslim ban that is un-American, and that its victims are Aladdin, Aylan Kurdi, and any of the hundreds of thousands who might be detained today.
Moreover, this is not just an issue for people of Middle Eastern, North African or South Asian descent. Tokenization is not enough ― nor is parading a conspicuously polychromatic cast in the name of a multiculturalism that excludes. Even in the face of the staggering whiteness of Broadway and Hollywood, we must insist that our stories matter, that we are entitled to the same inner life, banal idiosyncrasies, failures and triumphs of putatively "American" stars. We must also insist on attention to authenticity, acknowledging that while the goal of the theater is to provide space for "make-believe," condoning blackface, yellow-face, red-face, white-washing, or the exclusion of LGBT actors and those with impairments matters.
During the press junket for the smash hit The Lion King, Julie Taymor proclaimed that the theater should "represent America," enshrining the necessary space for black and African actors in its cast. In these unprecedented, dire times, I push even further.
Bertolt Brecht said, "Art is not a mirror held up to reality, but a hammer with which to shape it."
We must seize this moment of awareness to educate, to embrace even uncomfortable conversations and to rally solidarity. This isn't to exclude others or lambast an absence many didn't realize was there.
By insisting on diversity and authenticity onstage, in front of and behind the camera, in the stories that are told and how we tell them, we make art not only profitable but also better.
Since it is clear the government will not do what is right without a fight, now is the time to produce art, in both its corporate and independent forms, in favor of a more expansive humanism, to forge a whole new world ― shining, shimmering, splendid ― our dreams tell us it can and should be. We can't go back to where we used to be ― and we have no time to spare.
*Update: Since publication, Jacobs' understudy Joshua Dela Cruz has instead taken over tole. The lack of appropriate casting, however, remains unaddressed.
**Second Update: Telly Leung will in fact be taking over the role on June 13th, 2017, despite Disney's initial protestations to the contrary. To add insult to injury, Disney has also recently promoted an "Arabian Nights" themed tablescape to promote the show. Because...why not!
Support HuffPost
The Stakes Have Never Been Higher
Popular in the Community