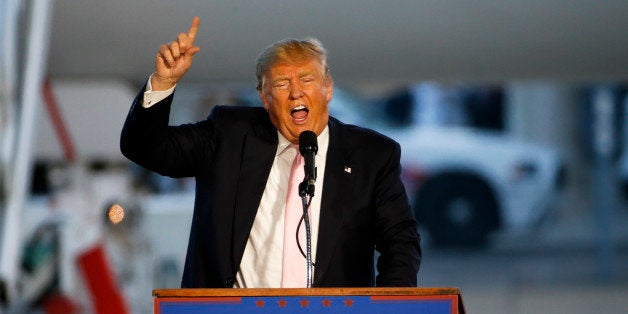 Donald Trump is going to be the next president of the United States, and he will have the Democratic National Committee to thank for it. Much has been made of the "math" of the Democratic nomination, and how it favors Hillary Clinton -- in large part due to her huge lead in unpledged "superdelegates."
But for a moment, let's set aside the math of the Democratic primary, and look at the big picture: What matters for the general election is who can win swing states and ensure high voter turnout and enthusiasm in solidly blue states. In this regard, Bernie Sanders is clearly the more electable candidate.
Swing States, Blue States
The 10 closest races in 2012 were in Nevada, Colorado, Minnesota, Iowa, Pennsylvania, New Hampshire, Florida, Ohio, Virginia and North Carolina. Six of these have voted so far in primary contests. Of these, Sanders won three by a landslide (New Hampshire, Colorado, Minnesota) and virtually tied in two others (narrowly losing Nevada and Iowa). The only swing-state that Hillary Clinton decisively won so far is Virginia, which actually broke from Mitt Romney in 2012. In short, Bernie Sanders has a decisive edge in swing states.
As for solidly-blue states, only four have voted so far, but the outcome is clear: Bernie Sanders decisively won Vermont and Maine, pulled a huge upset in Michigan, and virtually tied Hillary Clinton in Massachusetts. Clinton has not decisively won even one single solidly-blue state. Instead, virtually all of her pledged delegate lead comes from handily winning in solidly red states which she (or any Democrat) would be highly-unlikely to win in a general election. But even this lead would likely be erased as the contest heads to bluer states.
Hillary Clinton's main advantage with regards to winning the nomination is not public sentiment, but instead, due to unelected superdelegates whose purpose, according to DNC Chairwoman Debbie Wasserman Schultz, is to suppress grassroots candidates in favor of the establishment choice. And it looks like they will have their way: As a result of the superdelegates voting almost unanimously for Hillary Clinton, often in clear defiance of the popular will of their states, the math does indeed look bleak for Bernie Sanders to win the Democratic nomination. Barring a major grassroots revolt, Hillary Clinton will seize the nomination. And she will lose to Donald Trump.
First, polling more than six months prior to a race is not terribly predictive in general.
Second, Trump has consistently confounded polls and projections that predicted he could never win (ditto for Sanders, for that matter). Ceteris paribus, there is no reason to believe these dynamics would fundamentally change in the general election: Trump has been antifragile -- rising ever-higher despite (in many respects because of) scandals and gaffes that would have ruined most campaigns. The ridiculous amounts of money being spent on negative ads against him in critical states seem to be totally wasted.
Third, there are currently six candidates in the race, and the hope that another candidate may ultimately win the nomination affects how people perceive theoretical head-to-head matchups. When the only possible candidates are Trump v. Clinton, the public is going to break towards Trump.
Delegate Map, Clinton v. Trump
Again, what matters in a general election is who wins swing states and who turns out their base. So let's see how things look in a head-to-head between Clinton and Trump:
Remember the five out of six swing states that Hillary either decisively lost or tied in? Four of these have voted on the Republican side, and Trump handily won half of them (New Hampshire, Nevada). Remember the only swing state that Clinton decisively won (Virginia)? Trump carried that one was well -- and again, it broke for Romney in 2012. Remember how Hillary has won primarily in solidly-red states in the south during the Democratic primary? Guess who carried all of these rather decisively on the Republican side, and often with record turnout? That's right, Donald Trump.
That is, Trump is likely to decisively beat Clinton in virtually all of the states that she has performed strongly in so far, and seems poised to win many of the states she lost as well. This leaves her relying heavily on the solidly blue states, which overwhelmingly voted against her in the primaries, suggesting that enthusiasm will not be high with her base. Forget national polling. When one takes a sober look at the electoral map -- at who can turn out their base in solidly partisan states and appeal in swing states, based on how the primaries have turned out thus far, the edge is cleanly with Donald Trump over Hillary Clinton.
Trump has a large and passionate base. And while many Republicans are not comfortable with Trump, they passionately hate Hillary Clinton -- and faced with such a stark choice, most would vote for Trump if only to deny Clinton the White House. Reports of Republican elites who say they'd vote for Hillary over Trump are more-or-less meaningless in terms of indicating how most voters will perform: the entire Trump phenomena is a testament to how far out of touch these party elites are with their voting base. Make no mistake: Republicans will rally around Trump (or against Clinton), and they will turn out in large numbers to do so.
The same cannot be said on the other side:
A large number of Democrats cannot bring themselves to vote for Hillary Clinton under any circumstances -- and while many of these are unlikely to vote for Trump, they may well stay home on Election Day. This scenario would itself be damning for Clinton's candidacy: Democrats rely heavily on uncharacteristically-large left-leaning turnout in presidential election years to win national races. Absent this, they stand no chance--particularly in light of the advantage Trump already seems to have in swing states and with his base.
But the reality of the matter is that many Sanders supporters will not only abstain, they will actually vote for Trump if Hillary wins the nomination. For some, it would be a vote to punish the DNC for its anti-Democratic coronation of Clinton (via the superdelegates). For others, it'd be a nihilistic act: an attempt to burn down the establishment, or to give America "the candidate it deserves."
But from exit polling we know that many others, particularly in swing states with open primaries, were legitimately torn between Sanders and Trump as the best candidate to direct their anti-establishment sentiment. And if Sanders loses the Democratic nomination, those who voted for him for this reason would not turn around and vote for someone like Hillary Clinton in a general election -- they would vote for Trump. And to top it all off, there are a number of other Democrats who staunchly support the Donald over all the other candidates regardless--in fact, they are an important component of his support base.
All of this bodes ill for Hillary Clinton in a general election.
Sanders is dominating the blue states and swing states. Trump is dominating the red states and swing states. The takeaway should be clear: The American people in general, and particularly the states that will decide this election, do not want an establishment candidate. A Trump v. Clinton race could play out much like Ronald Reagan v. Bush Sr., Carter and Mondale: races where people with the "right"
resumes failed to connect with the public -- losing handily to a contender who seemed far less qualified or competent, and perhaps even dangerous, but who really "gets" the times we're living in and what people are looking for in this moment.
Bernie Sanders can beat Donald Trump, possibly taking the House and Senate with him. Hillary Clinton can do none of these things. Polls be damned: if Hillary Clinton wins the Democratic nomination, Donald Trump will win the presidency. Count on it.