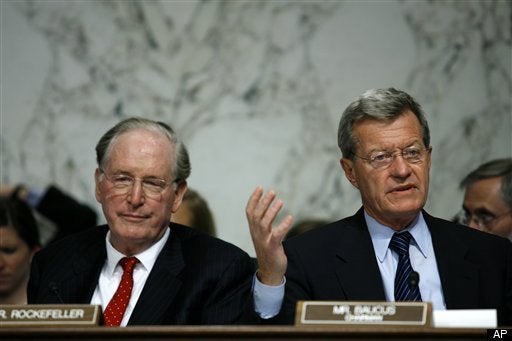 The Senate Finance Committee voted down an amendment by Sen. Jay Rockefeller (D-W. VA) today that would have included a public option in health care reform. The final vote of 15-8 came as five Democrats did not support the bill. A second amendment introduced by Sen. Charles Schumer (D-NY) was also defeated by a vote of 13-10, though it was considered more moderate than the Rockefeller bill.
Though the possibility of a public option "trigger" still remains, it seems like hope is gone for a bill that supports a public option being passed this year.
So, which Democrats on the committee voted down the amendments and why? We answer that question below. Feel like praising or scolding any of these five? E-mail or call them and let them know how you feel.
Finance Committee Chairman Max Baucus (D-MT):
Voted NO on both amendments.
Argued the bills would not garner the 60 Senate votes necessary to avoid a filibuster.
511 Hart Senate Office Building,
District of Columbia 20510-2602
Phone: (202) 224-2651
E-mail Senator Baucus
Senator Bill Nelson (D-FL)
Voted NO on the Rockefeller amendment, YES on the Schumer amendment
Believes Republican support can best be achieved by dropping a public plan.
716 Senate Hart Office Building
Washington, DC 20510
Phone: 202-224-5274
E-mail Senator Nelson
Senator Tom Carper (D-DE)
Voted NO on the Rockefeller amendment, YES on the Schumer amendment
Is open to multiple policy options
513 Hart Building
Washington, DC 20510
Phone: (202) 224-2441
E-mail Senator Carper
It's up to you, now. Do you agree or disagree with the way Senate Democrats voted? Leave us a comment below or e-mail impact@huffingtonpost.com with your thoughts on the future of the public option.
Popular in the Community