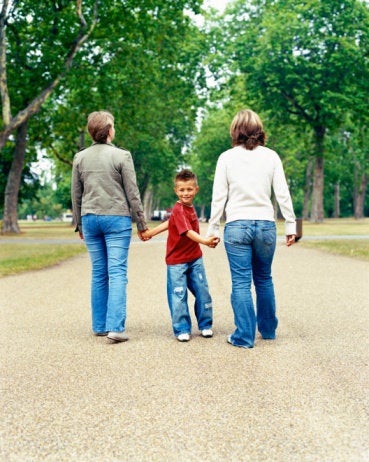 Last year, when Lisa Chodolenko's The Kids Are All Right was released nationwide, a great deal was written about same-sex couples and their parenting techniques. What was not given much attention was the fact that the two women portrayed by Annette Bening and Julianne Moore had wanted children. Each gave birth to a child with genetic material donated from the same anonymous sperm donor.
While several films deal with the challenges faced by same-sex couples who actively pursue parenthood (particularly documentaries about LGBT couples who are eager to adopt a child), there is a distinct subset of same-sex couples who are forced to take over the care of a child due to unexpected and often most unfortunate circumstances.
When gay couples start planning to adopt a child, one partner may be far more enthusiastic about parenting than the other. For some gay men, raising a child means an end to their freedom and the onset of a huge number of unwanted responsibilities.
In Ella Lemhagen's beautiful and extremely poignant feature film, Patrik, Age 1.5, two gay men have been approved by Sweden's social services to adopt a child. Although Goran and Sven have bought a crib, installed a babycam, and laid plans to furnish a nursery for their infant's impending arrival, foreign nations will not allow an orphan to be sent to a same-sex household. At the moment there seem to be no Swedish children available for the Skooghs to adopt.
Just when the couple has given up hope, they receive word that a young boy named Patrik will soon light up their lives. There's just one problem, and it's probably one of the worst typographical errors in the history of cinema. Instead of listing Patrik's age as 15, a careless government clerk has accidentally typed a decimal point instead of a comma so that, according to the official documentation, Patrik should be a sweet little infant of 1.5 years.
There is absolutely nothing sweet about Patrik. He's a sullen, homophobic juvenile delinquent, a teenaged thug with a criminal past who watched his mother die, spent years in group foster homes, and whose last remaining relative wants absolutely nothing to do with him. When Patrik shows up on Goran and Sven's doorstep, they have no idea who he is or why he is at their house. Prone to violence and less than thrilled at having to spend the weekend with two middle-aged queers, Patrik's brooding presence instantly triggers the angry and paranoid Sven's old drinking habits.
What follows is a gay melodrama/comedy of errors in which the more paternal Goran (who is, after all, a physician) quietly assesses Patrik's assets and risk factors and tries to make the best of the situation -- even if it means kicking Sven out of their new home in an idyllic suburban community. While Patrik may be a hostile little bastard, he soon demonstrates some remarkable gardening skills which have the neighbors eager to pay Patrik for his landscaping services. As the teenager starts to earn respect from Goran, his neighbors, and the local kids (to whom he has taught some skateboarding tricks), he starts to form a precarious bond with Goran.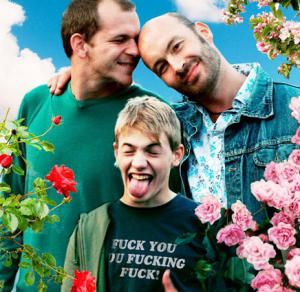 Sven's ex-wife, Eva, is quick to commiserate with Goran over Sven's boorish behavior. To everyone's surprise, her punked-out daughter Isabell seems to hit it off with Patrik (who might just offer a new way of getting back at her father). Meanwhile, the streetwise Patrik senses that Goran and Sven will soon make up and he will once more be without a home.
When the adoption agency finds another family for him, Patrik heads off with a potential new father, hoping for a stable roof over his head. Alas, his new family can't meet one of Patrik's wishes (he has always wanted a pet dog). And so, after much thought, Patrik decides that living with two upper middle class queers might not be so bad after all. Lemhagen's movie is filled with humor, pathos, and real challenges for gay families and their neighbors. Here's the trailer:
For some LGBT people, the last thing they wanted to do was take care of a child. While nieces and nephews can be fun to visit, some of them can be rude and obnoxious brats who are a never-ending source of grief. Andy (an especially rebellious and unmanageable young girl) has no qualms about terrorizing her parents. When her mother desperately reaches out to her brother and his lover for help, the two gay men arrive at Andy's house only to be confronted by a hostile brat relentlessly demanding to know the meaning of the word "fellatio."
In Babysitting Andy, writer/director Pat Mills mines unexpected comic gold from the confrontation between two wheelchair-bound gay men and the tomboy from hell. The hilarious ending brought down the house when I saw this film on one of Frameline's "Fun in Boys Shorts" programs at the Castro Theatre. You can watch it in its entirety here:
Laurie Lynd's Breakfast With Scot is the kind of gay film that could only come from Canada. Basically, It shows what happens when two "straight-acting, straight-appearing" gay men (think Log Cabin Republicans) have their macho routine shattered by the unexpected arrival of a precious 11-year-old boy who is far more interested in glitter than hockey.
With Thomas Cavanagh as a former professional hockey player turned sportscaster and Ben Shenkman as his attorney boyfriend, Lynd's film has the odd, sterilized feel of a Lifetime movie. No skin is shown, personal displays of affection are nowhere to be seen, and a kiss between the two men is saved for the end of the film. It's all so neat and tidy that you'd think Martha Stewart had starched and ironed these two gay men into respectability with a 500-thread count.
As a young flamboyant boy whose mother has died from a drug overdose, Scot is delivered by Child Services as the gay couple awaits news of the arrival of the dead mother's former boyfriend (who, although named as the child's guardian, is an irresponsible asshole busily chasing women down in Rio). The film does a good job of showing how totally lacking in parenting skills -- as well as the ability to demonstrate any kind of tenderness -- the sportscaster is. Shenkman's character tries to make sure the boy's needs are met with a clinical attention to detail rather than emotions.
Young Noah Bernett shines as Scot, who arrives in a perfectly fitted out gay home with a much greater knowledge of how to match ensembles and apply makeup than either of the two adult gay men. What becomes obvious in this film is the ease with which a child can accept an adult's homosexuality -- and even the truth behind a family tragedy -- if only the adult could stop acting like an idiot.
Strong performances come from Colin Cunningham as the worthless guardian Billy, Benz Antoine as a sports media executive, and Kathryn Haggis as one of the gay couple's neighbors. While the laughs played out extremely well, Breakfast with Scot is strangely lacking in warmth, depth, or soul.
By contrast, Daniel Ribiero's You, Me and Him tugs at a viewer's heartstrings most effectively. The film starts off as a gay couple living in Sao Paolo, Brazil, discusses their plans for the future. Danilo and Marcos are eagerly anticipating a vacation to celebrate their anniversary and have finally made the decision to move in together.
No sooner have their carefully laid plans been articulated than they are shattered by the horrible news that Danilo's brother and sister-in-law have been killed in an accident. Left behind is Danilo's sensitive, newly-orphaned young nephew, Lucas.
With all three lives in chaos, the various pleas for attention from Lucas (who not only wants to sleep with his uncle, but keep his shoes on while in bed) and Marcos (who doesn't want to lose his lover) tug at Danilo's heart and soul. Written and directed with a remarkable sensitivity to the process of healing deep emotional wounds, Ribiero's film is a little gem that could easily have been overwhelmed by another director.
Ribiero shows how the physical tenderness between the two men must make way to embrace Lucas and allow him to become a part of their newly-redefined family. As the child's needs take precedence over those of the adult gay men, the three souls struggle for cohesion, acceptance, and unity in their new and unexpected family unit. The two clips posted on YouTube show the film in its entirety. Although they lack English subtitles, you won't need to understand Portuguese to be able to follow the story:
Calling all HuffPost superfans!
Sign up for membership to become a founding member and help shape HuffPost's next chapter