It's May and I'm reminded of the time my husband Lauren and I visited Paris. We were supposed to spend three nights there before taking off on a rented car to visit Normandy and Belgium, but the "accident" changed our plans.
Three years ago, Paris had an unusual cold spell, the coldest May in a hundred years the news said. Unprepared, we had to layer our clothing as best as we could. I remembered shivering in the early morning as we walked to the metro station to start our Paris adventure.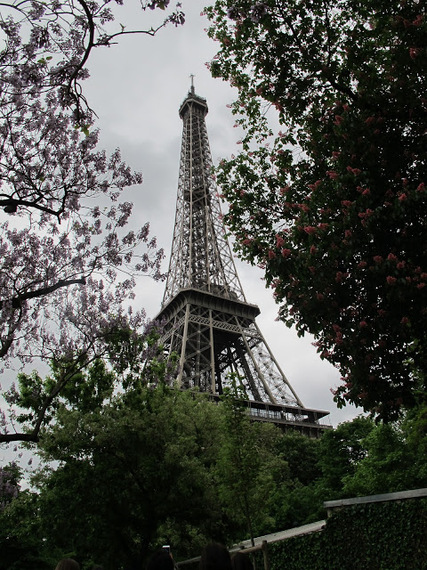 Despite the chill, the City of Lights was glorious, with flowers blooming, and gray winter days giving way to optimistic sunshine. I remember the flamboyant boughs of purple flowers hanging from the jacaranda trees near the Eiffel Tower, so irresistible, I couldn't stop taking pictures. The view from the second floor of the Eiffel Tower was even more stunning. There Paris was, spiraling outward like a lovely shell, with the oldest section at the very center. We located the various landmarks --Louvre, Tuileries Garden, Champs-Elysees, Arc de Triomphe, Sacre-Couer --and we marveled at the beauty of Paris.
From the Eiffel Tower, we walked to the Marais District and on to the Notre Dame. After touring the Gothic church, we made our way to the less-known small royal chapel, Sainte-Chappelle. There was a long queue, and I stood in line, while my husband went to the front to make sure we were in the right place.
Lauren turned, his foot caught on a metal barrier, and he fell. There he was on the ground. Still flashing my holiday smile, I left my place to help him. To my horror, he couldn't get up. Lauren stands 6'5" and weighs around 240 lbs. Two other people had to assist him to a bench. An English-speaking woman offered her help, but at this point I didn't realize the gravity of our situation. Still smiling, I told her he'd be all right, he just needed to catch his breath. Well, he didn't bounce back to his feet. When he did try to get up, he crumpled back down. He tried several times, unsuccessfully. Finally I approached the guard of Sainte-Chapelle, pointed at Lauren and said, "Emergency.... hopital?"
The guard glanced at him and quickly motioned for me to wait. An ambulance soon arrived, and three young paramedics checked Lauren. They decided he had to go to a hospital, and off we went, in the ambulance that blared that sing-song siren, just like in the movies.
They brought us to Hopital Cochin where after two long hours, the doctors declared Lauren's X-ray didn't show any break in his bones. They assumed he had a sprain and gave him stronger pain killers. They indicated that as soon as he felt better, we could leave.
But his pain didn't subside and neither could he support his weight, not even with crutches. In the meantime, the hospital staff seemed anxious to get us out of there. Someone suggested sending Lauren back to our hotel in an ambulance, an idea which I vetoed. Fortunately, a smart doctor ordered a scan because Lauren was experiencing too much pain. And then, there it was - a fracture in the femur where it fit into the pelvis.
Once Lauren and I had this information, we knew we had to scrap our travel plans. The car trip to Belgium and Normandy, the reservations with the car agency and hotels, all had to be cancelled. Since our documents were at the hotel, we called one of our sons in California and asked him to cancel what he could.
The doctors returned to say that Lauren needed surgery as soon as possible. This was a surprise; I thought the French doctors could stabilize him and he could return to California for medical treatment. The doctors insisted that the fracture had to be dealt with before the bones separated.
Because they didn't have room at the Hopital Cochin, Lauren had to be transferred to the Clinique Blomet. It was nighttime by then, and we had to take another ambulance ride that brought us to the back entrance of a dimly lit old building that frankly looked scary. The men struggled to move Lauren's gurney from the ambulance into a narrow elevator, and finally to his hospital room. When he was settled, the nurse in charge, a man, had to run up and down some streets to find a taxi to take me back to the hotel.
It was 1 a.m., my husband was in the hospital with a broken leg, but my day was not over. I had to make arrangements with the hotel to extend our stay until we knew what was going on. The woman at the desk accommodated me, and in fact was so touched by our predicament, she was teary eyed. I had to report to our three sons about their father's condition. They were extremely worried, and I realized I couldn't fall apart either. With the firmest voice I could muster, I told them their Dad would be fine, and I'd make sure of it.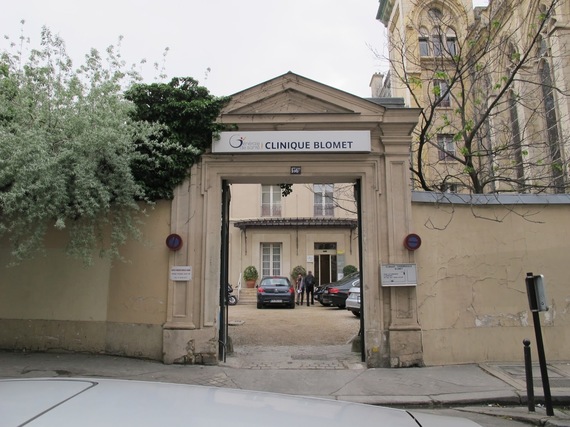 In fact, I wasn't sure of anything. While it was decided that Lauren needed surgery, I was worried that the French doctors would not be as good as the American doctors. The Clinique Blomet looked like a small clinic, not a big hospital, and while the building had an old world charm, what sort of equipment did it have, I asked myself. And what about the doctor? Would he be competent? And after the surgery, how would I get a big man like my husband into an airplane and back home? How much time did Lauren need to heal to be able to travel? Did he have to stay in Paris while he was healing? If so, I would have to find an apartment in Paris .... on and on my mind went. I did not sleep that night.
When morning came and I was downstairs for a quick breakfast, most hotel staff had heard about what had happened and offered kind words. "Madam, we are very sorry," they said with tragic expressions. The same kind woman at the desk taught me how to take the metro to the Clinique Blomet. I gathered some things for Lauren in a bag and set off. At the hospital, Lauren informed me he'd have surgery later that morning. I was stunned at how quickly things were moving. To add to the commotion, our French friend, Max, showed up and acted as our interpreter. Soon Lauren was wheeled to the operating room, and I was tactfully told to visit him later.
The Clinique Blomet, which I discovered specializes in trauma and fractures, had been a nunnery and near the entrance stood a small chapel, Neo-Gothic in style, with huge stained glass windows. Max invited me to lunch, but I begged off and spent an hour in that chapel praying.

It's one thing to have accidents such as this one happen in your own turf, and another when it occurs in a foreign country where you don't even speak the language, and where you are virtually alone. To be honest I was scared and found myself weeping helplessly in that chapel. What if ... the surgery went bad? What if the leg did not heal properly? What if ...? I felt at a loss, but I knew I had to keep it together, that I was the only one Lauren had in Paris. Dear God, I added, give me the strength and the clarity of mind now.
I returned to the hotel, emailed my report to my children and friends, and returned to the hospital in the afternoon. There Lauren was, in bed, with two stainless steel pins in his leg to hold the bones together. "I got screwed by the French," he said, smiling.
His doctor appeared to inform us that the surgery went well. He was funny and ebullient and he lightened the weight of the tragedy we found ourselves in. At some point Lauren told him, "We're supposed to be in Brugge today, Doctor."
"Oh, pooh, Brugge is always cloudy anyway," he said, dismissingly, even while the Paris sky outside was heavy with clouds.
But even though the surgery went well, the immediate future remained uncertain. Lauren was not mobile. He had to pull himself up with some overhead contraption to get upright. He was weak and needed time to heal.
It was during this time of desperation when I realized the kindness of the French. The people I dealt with were very sympathetic. Our French friends did their best to make sure Lauren was fine, and they invited us to their home in Lyon so Lauren could rest after surgery. Lauren could have been discharged sooner, but his doctor kept him longer knowing he would get better care at the hospital than in a hotel.
Lauren was in the hospital for a just few days, but it seemed longer. The experience seemed intense. All my senses were alert; all my cells awake. My mind was ticking constantly. I felt as if I were on survival mode. There was the period of concern over his surgery, and his ability to move. There was the uncertainty of what to do after his discharge. What helped me were the moments of prayer at the chapel at the Clinique Blomet. One afternoon, I was able to visit the Chapel of Our Lady of the Miraculous Medal at the Rue du Bac, and there I also prayed.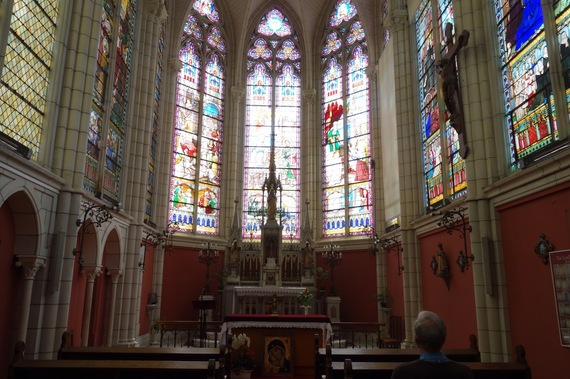 As the days passed, things became clear: the hospital would discharge him on Monday. Our friend Max would pick us up on Tuesday, drive us four hours to the City of Lyon, where we would visit him and his wife Christine. This would give Lauren time to rest and heal. After a few days, Max would drive us back to Paris, and we could fly back home. Our airlines would provide wheelchair service and assign us seats with legroom to accommodate Lauren.
Things pretty much happened that way.
On May 26, almost two weeks after we arrived Paris, we were back home in California and Lauren was in his own bed.
Lauren's had to do physical therapy and he needed another procedure, arthroscopy, but he's fine.
Now and then I think of what had happened in Paris that spring. It was an unexpected event that upended our lives. It made me reflect about how tenuous the plans we make are. We pretend we're in control, but we're really not.
The incident also made me realize that I have more strength than I think I possess; it was good to know that I have that reserve after all.

But most of all, I appreciated the generosity that the French extended to us, total strangers in Paris that May, and I remain grateful to them.