As a fever ate away at my remaining brain cells last week, I was bombarded with questions about the Tony nominations. I answer two main questions below.
Do I think the Finding Neverland omission was about Harvey Weinstein?
I honestly think the Finding Neverland omission was about it being a show that rubbed a lot of people, including me, the wrong way. I am a fan of family-friendly fare, but after Act I, I considered leaving (which I would never actually do). I did like the performers, who I believe overall were more effective during Act II. And I might have nominated Matthew Morrison, who I found charming in a somewhat tricky role. But that was a tough category. I also liked Rob McClure, who got left out. Buried in all of this "Harvey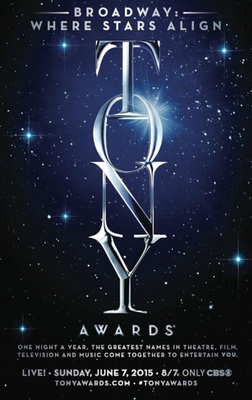 snub" drama is the fact that a lot of shows got the shaft, including Honeymoon in Vegas, which was a pretty acclaimed show with a score by a beloved theater composer and starring theater folks. As for Finding Neverland, while I liked the other performers, I just don't think I would have nominated them in their respective categories. Harvey Weinstein's participation is irrelevant to that analysis.
I do think the post-nomination coverage has been because of Harvey. The amount of coverage about the "snub," all mentioning the show's producer, was remarkable. For example, Michael Riedel wrote that whole column last Friday about Tony voter tickets being yanked (even though they were reinstated). Absent in the telling was that it's not so rare to do such a thing. As Riedel pointed out, Fish in the Dark is doing it this season also. But, aside from that, the process has a long history. Recent examples include I'll Eat You Last and the one-man Macbeth. Even producers of the 2012 revival of Streetcar Named Desire rescinded voter tickets -- and it was nominated for one award! The chance of winning a costume design Tony just wasn't worth the free tickets to them. The thing that makes Finding Neverland different is it is a big musical that wants to tour. Usually the shows involved are limited engagement, star vehicles that will be seen in maybe one or two cities outside of NY. As a political move, withdrawing these invites is dicey. By rescinding voter invitations, the people who are left out are often road presenters, who come in during May and see everything still available to see. Weinstein and co. wants those folks to see Finding Neverland, which likely is the cause of the reversal. But was it really necessary? The Graduate rescinded voter invites, and it embarked on a large tour. It was nice that Harvey and company changed course. (For the record, the official explanation that Weinstein gave to Reidel was that he was never informed about the rescission and, as soon as he was, he asked the voters be re-invited.) Probably the right political move. But if another producer had done it would it have garnered a Riedel column? Maybe, but probably less fulsome of one. If the show was produced by Daryl Roth, would she have been mentioned in every single story about its failure to get nominations? Unlikely.
What surprised me most about the nominations?
I didn't think there were any real shockers in the categories. Maybe The Curious Incident of the Dog in the Night-Time for choreography. Plays are eligible for the award, but I think the last one to get a nod was Dancing at Lughnasa in 1992. I love Curious Incident, and the orchestrated movements are amazingly timed, but I'm not sure I would have nominated it here. I would have nominated Joshua Bergasse a second time, this time for his work in Gigi.
I also would have predicted Best Performance by a Featured Actress in a Musical incorrectly, and there were some others I would have missed along the way. But there was no person missing I thought: "That person would have won if..."
I was surprised the "tie" rule didn't have more of an impact. We were led to believe that the rule was enacted because of frequent ties. This year in the performance categories there only seems to have been one tie -- in Best Performance by An Actor in a Featured Role in a Play. I was also a little sad that Scott Pask -- eligible for five nods -- was completely overlooked. He didn't make Harvey Weinstein size headlines, but his was perhaps the most egregious sub.
But more than all of this, I was surprised at one thing that happened before the nominations and one thing that happened after the nominations.
I thought that Heidi Thomas' Gigi book had a good shot at eligibility, but the Administration Committee ruled it ineligible. These things are up to the Administration Committee to decide. With score, there are some parameters. As a matter of fact, early in my career, they ruled Jason Robert Brown and others were ineligible for the score for Urban Cowboy, which was a mix of old and new songs. I immediately called the show spokesperson and the Tony folks because I knew that over 50% of the songs in that show were written for the stage -- those songwriters should have been eligible. They reversed their ruling. But that was a case where they were looking at a precise guideline: over 50%. What makes a new book is much more discretionary. Here, they just didn't think Gigi's libretto was new enough to warrant eligibility. Arguing would be superfluous. (And she likely wouldn't have received a nomination anyway, so this exercise is merely academic.)
In terms of after the nominations, I was surprised at how overtly a conflict reared its ugly head. Prior to the nominations, I had written about new Tony rules which defined when a nominator had to recuse him/herself. I questioned whether Rick Elice or Jenny Gersten had conflicts but were still being allowed to nominate under these new rules. I noted then that I was using Elice and Gersten as examples, not an exhaustive list of everyone with a conflict. One other such person who I could have pointed out as having a possible conflict was nominator Philip Himberg, Artistic Director of the Sundance Institute Theatre Program. Fun Home was developed at Sundance. Well, shortly after the nominations, Himberg retweeted a Sundance Institute tweet which read: "Congrats to #SundanceTheatre-supported @funhomemusical on 12 #TonyAward noms!" What screams conflict more than that? Now, before the new rule was enacted, Elice recused himself in the face of the exact same conflict he faced this season. Himberg didn't recuse himself last season either, despite another Sundance project, A Gentleman's Guide to Love and Murder, being eligible. Last season he also tweeted his congrats to "Sundance alum musical Gentleman's Guide." One cannot blame this new rule for his staying on as a nominator. But was his participation in either year fair? He clearly takes pride in Sundance's shows being nominated, and he's one of the few doing the nominating.
REAL LIFE. REAL NEWS. REAL VOICES.
Help us tell more of the stories that matter from voices that too often remain unheard.