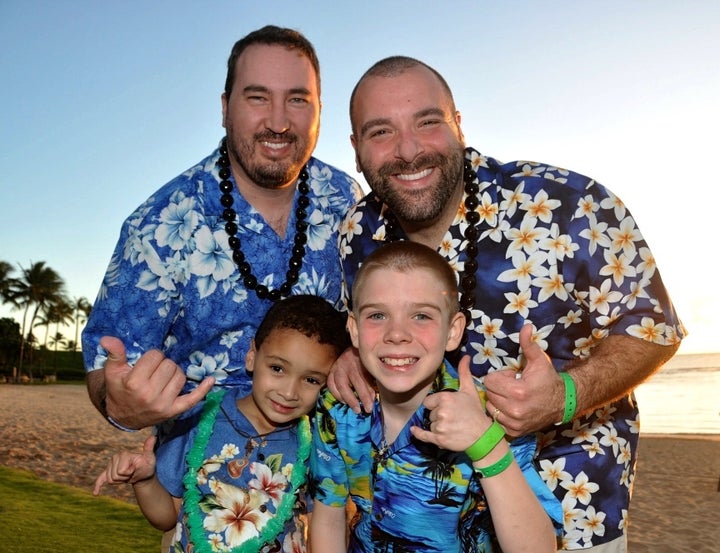 A.J. and Daniel Edge were so determined to raise children that they moved numerous times to find states with laws friendly to their family. In this RaiseAChild Huffington Post Queer Voices "Let Love Define Family®" series installment, contributing writer, Eric Criswell shares their amazing story.
In the backyard, Jackson is putting the finishing touches on his army fort made of sticks and leaves while his brother, Peyton, sits nearby flipping through his new favorite book. Dad keeps an eye on his kids through the kitchen window as he is preparing dinner. A typical evening in a suburban New Jersey town.
In 2017, each family is unique in its structure and its beginning, and for the Edge household, it all started on a spring day in Iowa in 2002. Daniel was in veterinary medical school in Ames and had just met a guy online, gone on a few dates, and soon he and A.J. began dreaming of their future together.
"During our first year of dating, a lot of our early conversations were about kids," Daniel revealed. "We both had a desire to be Dads, and A.J. was pretty adamant about only wanting one child. But life often has other plans, and it is a pretty great story on how we became the parents of our two boys."
That story really starts in 2005, when in anticipation for starting their family, A.J. legally changed his name and took Daniels' last name, Edge. According to A.J., "It was four years before we could legally marry in Iowa, and we reasoned that when we adopted a child it would be easier if we all had the same name. That was the first step in our journey to become a family." The two would eventually marry in 2009.
Back in 2003, Daniel graduated and was offered a position in his home state of North Carolina and as soon as they were settled in their new home they began researching surrogacy and international adoption options. Along the way they met a gay couple in Charlotte that had recently adopted through the foster care system. So, A.J. and Daniel reached out to their county office in the Winston-Salem area and were pleasantly surprised to find out that being a gay couple wasn't an issue as long as they could provide a good home for a child in need.
Two months after they were licensed, the phone rang and an infant was available. The baby boy, King, came into their lives and for six months the Edge family was complete, or so they thought. Kings' biological father was never aware that he had a son, and when he was notified, decided he wanted custody. This devastated the couple and left them not wanting to pursue any more children. A.J. points out, "It was heart-wrenching, and I packed up the nursery and really wanted the pain to go away."
What looked like the end of the story, really became a catalyst that changed the lives of so many people. King's father had seen the love that these two had given to his son, so he made it a point to stay in touch to let them know how King was doing; he sent them pictures and invited them to visit. The couple would often make the four-hour drive to visit King and were so appreciative of the fathers' generosity. On the way home from one of their visits, they got a call from the father who asked them to be King's godfathers…they gladly accepted.
"It was such a great experience." A.J. said, "We were two white gay men in an African-American church becoming godparents. It moved us and reinvigorated our desire to have a family and motivated us to reactivate our license and try again."
Shortly after making that decision, they met a blond hair, blue eyed four-year old filled with energy and life. "We immediately fell in love with Jackson," A.J. exclaimed. "We knew we wanted him and would do whatever it takes to build our family."
Due to the laws of North Carolina, only one of them could legally adopt. They made the decision for Daniel to adopt and to then return to Iowa where marriage equality had passed and with their marriage, A.J. could then also adopt Jackson.
However, during the time when they were getting ready for the move, Daniel got a Facebook message from a former work colleague who knew they had been wanting a baby. Her daughter was pregnant and planning on placing her child for adoption. Daniel said, "Even though we had Jackson, something about this just felt right. We made the decision to meet with her."
"We had dinner with Daniel's co-worker and her daughter," explained A.J., "and it was more like an interview! It was kinda cute. She pulled out a notebook with tons of questions about how we would raise a child, day care, health needs, and all of that. Later, Daniel and I were glad to get her call. She wanted us to be the parents of her son."
During her pregnancy, the young woman did not want to refer to her baby as "it", so each month she would give her son a different name to use when talking about her pregnancy. Daniel points out, "When we first met her she was six months pregnant and was using the name Peyton, we liked it, so that is how our second son got his name."
The Edge family arrived in Iowa with a five-year old, a new born baby, and the joy of being new Dads.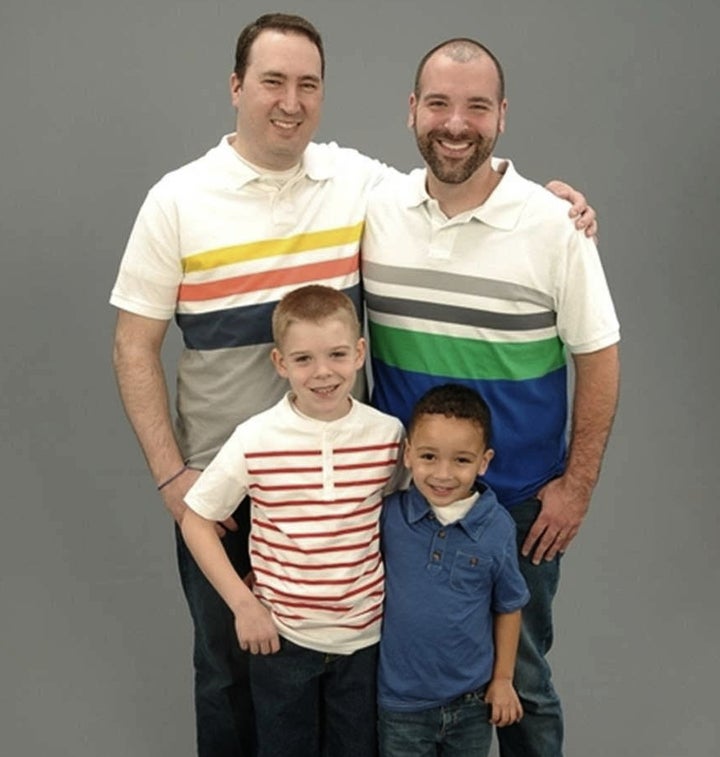 Following their move, A.J. legally adopted both Jackson and Peyton, and due to reciprocation laws, North Carolina was forced to reissue a birth certificate with both of their names.
"This is a big deal for us," explained A.J., "because no matter where we live now, no one can argue with a birth certificate. However, at the time North Carolina only had two lines on their birth certificates, so Daniel is listed as the Father and I'm listed as the Mother. It's obviously silly. But we hope now that there has been a national referendum on marriage equality, so we can follow up and get a revision."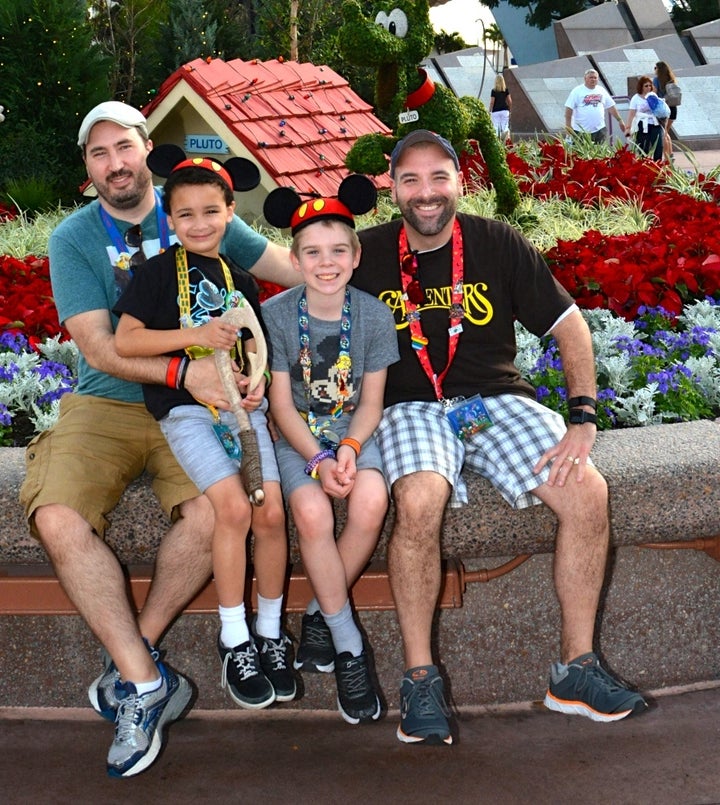 Jackson and Peyton are typical brothers in every sense. Jackson, now eleven years old, is the bossy older brother. He is a builder and uses his imagination to create almost anything from his Legos, K'Nex, or sticks and stones. Six-year old Peyton complains about, and idolizes, his big brother. Peyton loves to read and devours books beyond his grade level. Both boys love soccer, super heroes, and sword fights.
After two years in Iowa, Daniel's job promotion led the family to move to Illinois, yet maintained connections with the biological grandparents of both boys in NC to ensure they remained involved with their lives.
"We believe it is very important for our sons to know where they came from and that they have always been loved," Daniel explained. "Our sons come from different situations, Peyton we have had since day one, and for Jackson we created a Life Book to fill with pictures of when he was a baby given to us from his grandparents. We always want to be honest and open with them about who they are as individuals and who we are as a family."
Daniel works for a pharmaceutical company which moved them to Illinois and recently to New Jersey, where they have settled into their life of Friday night pizza, UNO games, and movies. When asked what has surprised them the most, A.J. answered, "Looking back it seems like we had a long road because we had to move around to do what is right for our family, but it wasn't as difficult as it sounds. It felt very natural. We were able to build great relationships with the agencies we worked with and the biological connections we've maintained with our kids' families."
Daniel offers advice for other LGBT people starting the journey of foster-adoption, "We found it is important to find an ally. Whether it is someone working directly with you, or is just an ally in the system you can turn to for support and help. It makes a huge difference."
Have you thought about building a family through fostering or adoption? RaiseAChild is the nationwide leader in the recruitment and support of LGBT and all prospective parents interested in building families through fostering and adoption to meet the needs of the 425,000 children in the foster care system of the United States. RaiseAChild recruits, educates and nurtures supportive relationships equally with all prospective foster and adoptive parents while partnering with agencies to improve the process of advancing foster children to safe, loving, and permanent homes. Take the Next Step to Parenthood at www.RaiseAChild.org or call us at (323) 417-1440.
Popular in the Community