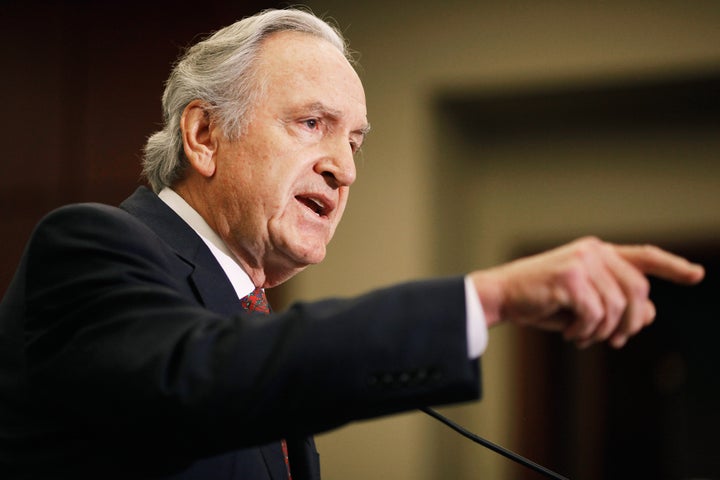 WASHINGTON -- Senate Democrats will make a dramatic effort to reform the rules of the chamber when the next Congress begins, one of the body's primary filibuster-reform advocates said Wednesday morning.
Sen. Tom Harkin (D-Iowa), who has championed a weakening of the procedural mechanism that allows the minority party to hold up legislation, predicted "fireworks" on Jan. 5, 2011 -- the day on which the Senate can, he argued, revamp its rules by a simple majority vote.
"There could be some fireworks. There could be some fireworks on January fifth," Harkin said at a pro-reform event sponsored by several like-minded organizations. "I'm going to be there. I'm armed. I'm armed with a lot of history, and I know the rules, and I know the procedures too, so we will see what happens on the fifth."
"[Former Sen.] Robert Byrd in 1975, the last time that we changed the rules and [brought the filibuster threshold] from 67 [votes] down to 60, actually stated on the floor that a majority, 51 senators, could change the rules. And that's what we intend to do and that is what we are working on right now. We are coming on the fifth to basically send a motion to the vice president ... that will change the rules and there is a procedure to provide 51 votes to do that. Robert Byrd said that in 1975 and that's what we are going to try to do."
Essentially, that path to reform requires Vice President Joe Biden -- who supports weakening the filibuster -- to rule on the first day of the next session that the Senate has the authority to write its own rules. Republicans, presumably, would immediately move to object, but Democrats could then move to table the objection, setting up a key up-or-down vote. If 50 Democrats voted to table the objection, the Senate would then move to a vote on a new set of rules, which could be approved by a simple majority.
Harkin's explicit planning may be the most detailed public statement on reform strategy to date. Sen. Tom Udall (D-N.M.) has long been advocating changing the Senate rules on the first day of the next session, so as to skirt a supermajority threshold, but his proposal was considered just one of several being pushed by pro-reform advocates.
Robert Creamer, an influential Democratic operative, recently wrote a piece for The Huffington Post arguing that "the first day of the next Congress, January 5, 2011, could be the most important legislative day of the entire session." Sen. Sherrod Brown (D-Ohio) was even more bullish Tuesday night, telling MSNBC that he expected "attempts to" reform the filibuster to happen before Congress adjourned.
The shape of the final product that Democrats attempt to push remains unclear. Proposals range from a gradual reduction in the vote threshold needed to break a filibuster to a simpler requirement that the minority party keep all 40 members on the floor to sustain it.
Harkin hinted that the GOP is looking to cut a deal with Democrats in an effort to ensure that anything they pushed was not too far-reaching. "Right now there are talks going on with Republicans and Democrats for some changes so we don't get to that point," he said.
But, at least before an audience of reform advocates, Harkin seemed uninterested in incremental changes. And while there may not even be 51 votes to change the rules, let alone any Republicans willing to compromise, Harkin insisted he wouldn't settle for reforms that still allowed the minority party to bring the legislative process to a halt.
"I want my legacy to be that I did everything possible to try to end minority rule in the Senate. And I believe this is the way to do it," he said. "What I'm fearful of is that, knowing how this place works, that we might come down to some minor little fixes that still will not prevent the minority from stopping everything. The minority can still stop it, but we'll make it a little bit more efficient, maybe, but the minority -- to me, that's the essential question. Are you still going to give the minority the power to absolutely block and stop everything? It's a fundamental question."

Support HuffPost
The Stakes Have Never Been Higher
Popular in the Community