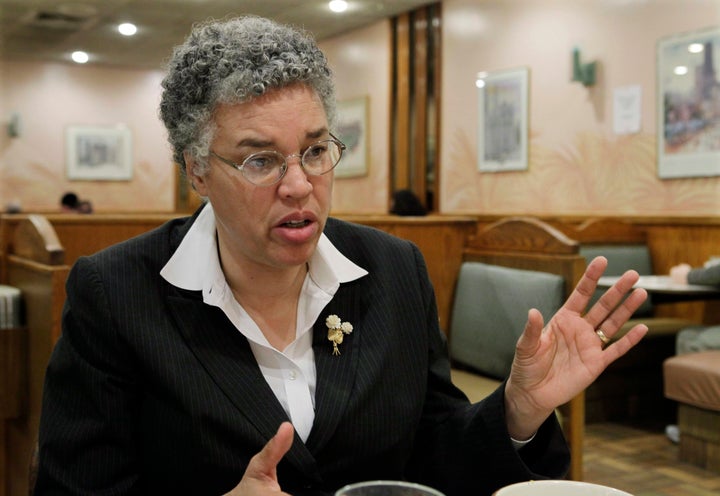 When Cook County Board President Toni Preckwinkle took office, she inherited a serious budget shortfall, and called on nearly all county departments to slash spending. On Thursday, she announced a 5 percent spending cut, and has made it clear that if she needs to lay people off to fix the county's estimated $315 million budget shortfall--she will.
One way Preckwinkle said the county could save money is by halting arrests for low-level drug possession offenses. She reportedly discussed the idea with Chicago Police Supt. Garry McCarthy this week.
"It's pretty well known within the criminal justice system that the judges will dismiss those charges [involving] very modest amounts of illicit drugs," Preckwinkle said, according to the Chicago Sun-Times. "I suggested to [McCarthy] that although the law is pretty clear that such possession is a violation of the law, that since the judges routinely and almost universally dismiss such low-level drug charges that the police might stop arresting people for this since it clogs up our jail and these people their cases will be dismissed out anyway."
"The cost is too great to continue fighting this war on drugs with so little success," she said.
Preckwinkle often brought up the issue during her campaign, explaining that Chicago and its suburbs needed less incarceration and more treatment. Her goal is to reduce the inmate population in Cook County, and she mentioned that some people found with small amounts of marijuana are doing time--which costs about $150 per inmate, per day.
McCarthy has publicly made similar comments about drug enforcement in the past. In an interview with WBBM-AM 780, he said "narcotics use is a criminalized social issue" which causes crime.
"It's been so twisted up that law enforcement looks at narcotics as the crime, when it's not," he said. "It's the cause of the crime. So, we've had this wrong for a long time in law enforcement."
A spokeswoman for the Chicago Police Department told the Sun-Times that the department is looking into the matter:
Police spokeswoman Maureen Biggane confirmed McCarthy is taking Preckwinkle's suggestion to heart. "At this time, the Chicago Police Department is reviewing the possibility of enforcement action other than physical arrest for certain cannabis offenses," Biggane said in a written statement.

Last month, a White House report showed that arrestees in Chicago have the highest rate of drug use in the country. Around 83 percent of those arrested in the city test positive for drugs, a figure that's been roughly that high since the Office of National Drug Control Policy began issuing such reports in the year 2000.
Arrests involving hard drugs, however, were down sharply: only 29 percent of arrestees tested positive for cocaine and 14 percent for heroin, compared with 50 percent and 36 percent ten years ago, respectively.
Former Mayor Richard M. Daley reportedly considered issuing tickets instead of arrests for minor marijuana possession in 2004, but the plan was never implemented.
Support HuffPost
The Stakes Have Never Been Higher
Related
Popular in the Community