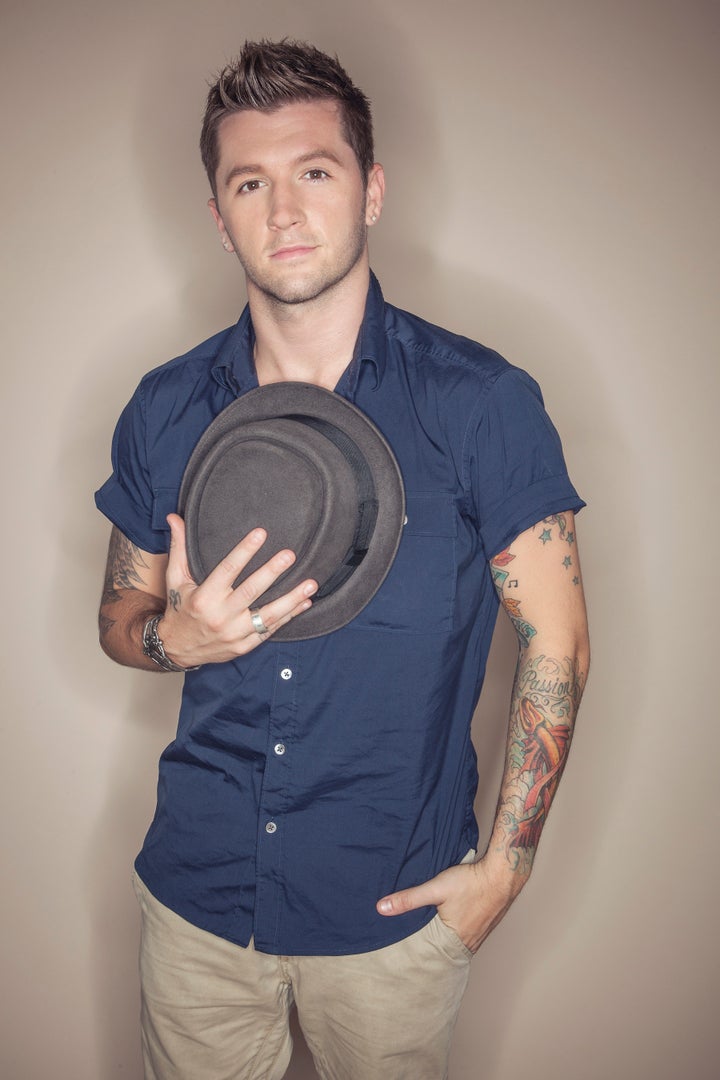 Travis went from being a contestant to a choreographer on "SYTYCD" before starting his own dance company, Shaping Sound -- which is the subject of "All the Right Moves" -- with fellow "SYTYCD" alum (and Season 1 winner) Nick Lazzarini, as well as Teddy Forance and Kyle Robinson. The four friends and roommates "work together, have their lives taped ... and start getting real" on the new series, which premiered on July 31.
"All the Right Moves" returns this week (Tues., Aug. 21, 10 p.m. ET on Oxygen) with its second episode, which will continue to follow Travis, Nick, Teddy, Kyle and the rest of the dancers in the fledgling Shaping Sound company (including "SYTYCD" alums like Season 8 winner Melanie Moore, Season 6's Channing Cooke, Season 9's Alexa Anderson and Season 2's Allison Holker) as they try to make a name for themselves.
But that's hardly all Travis has going on -- he's working on a number for Justin Bieber's tour, creating a floor exercise for an Olympic gymnast and he could be winning an Emmy just in time for his 25th birthday. Keep reading to find out what Travis had to say about a friendship seriously affected by "All the Right Moves," the two dancers who recently recreated the legendary "bench" dance, his ultimate gig, same-sex dancing and much more.
"So You Think You Can Dance" is a reality TV show, but not like "All the Right Moves" where we see everything that goes on behind-the-scenes. Were you nervous at all about putting yourself out there like that?
I was slightly nervous just as far as what was going to happen between three of my friends and I when the cameras turned on. I think I was more nervous about that. I felt comfortable with myself and I felt like I was ready for it, but I didn't know how everybody else would react to the cameras. I just made sure that I left it all out on the table and I didn't try to put any filter on myself because I felt it would come across on camera as me not being myself.
You and your three friends -- Nick, Teddy and Kyle -- are living together and working together. Did you guys get along better in your house or at the studio?
I'm always with these guys. We live together, we work together -- it's kind of hard to escape everybody. We always get along. The only time there's ever drama between us is when something happens where we're not all being involved, if someone feels left out or someone is getting too much attention.
Your relationship with Taja, a dancer you grew up with who's the female lead in the company, seems a little toxic at times. Did you ever think it'd be better for her not to be a part of the company?
She's such an amazing dancer and it's just ... when the cameras turned on, it was like, "Whoa!" I guess she had some other things happen in the past that she was holding onto and I don't know what happened. But when my friends and my mom watched the season, they were all like, "Whoa. Where did that come from?" I said, "I know, right?" You definitely see us go through a lot of things on the show and it does become a problem.
Did your relationship survive the filming of the show?
I don't really know. It's definitely changed. I don't know if I can trust her yet. We have so much history and she'll always hold a dear place in my heart. It's just, I don't know right now, at this point in time, if I can trust her.
In the premiere, we saw that Nick has a little crush on Kyle and, based on the previews, it looks like Teddy has some sort of relationship with someone in the company. Dancing is so intimate, so do things like that often get in the way of the professional experience?
Those kinds of things ruin the professional experience only if you make it ruin the professional experience, you know? Dancers are with each other all the time and it's a very physical art. There's lots of relationships that happen throughout dancers' lives. If you mistreat the situation -- if you make it awkward for the dancer, if you make it awkward for everybody else -- then it does become a problem.
There are a lot of former "SYTYCD" competitors and even some who didn't make the show, like Adrian, in Shaping Sound. Is the dance world really that small or did they come out because you're all alumni from the show?
They're all my friends. I've grown up with these people. Before "So You Think You Can Dance," we all knew each other. We grew up at the same dance competitions and dance conventions. These are the dancers I was dancing next to in the room growing up. The dance world is pretty small, but in our group of friends, we have a big dance family and I stick to it all the time. I like to give my first paychecks as much as I can. [Laughs.]
Will we be seeing your brother Danny Tidwell, who's also a "SYTYCD" alum, this season?
No, you won't. He's been in Norway dancing with the Norwegian Ballet Company. But, he's coming back from that and a cliffhanger for the series is that we possibly might go on tour and that might be a Season 2. But I would love if he would come and perform with us.
Speaking of "SYTYCD," did you watch last week when Witney and Chehon did the beloved Mia Michaels bench routine that you famously performed with Heidi?
I did see it. It's really hard because these are some of the best routines ever done on the show. And it's so hard to have that much pressure and see if you can compare to the greatest on the show. I think they did an amazing job. Chehon's a ballet dancer and I was so much more familiar with [contemporary] movement. Technically, he was perfectly stunning. But, like the judges said, they wanted to see him let go a bit more, especially the part where he slid down the chair. He held himself up too much. But I think he did an amazing job, especially because that piece out of all of them is the number one piece of the entire series. That piece in Season 2 set the benchmark for how pieces should be done here on out. So they had the hardest job to do. And I though Witney absolutely killed.
I'm so excited for this week. I have two routines coming up -- contemporary and jazz. Nick is my all-star for my jazz routine and Jaimie is my all-star for contemporary.
Awesome! I'm so excited. When you started choreographing for the show, were you nervous about the transition from being an alum?
I wasn't nervous just because I was so confident in my choreography. I knew I would do a great job. But I wanted to prove that to them and please them -- the producers and the audience. For so long, I was looking for their approval. Finally, this season, I feel like I have their approval and I'm doing it for myself and my craft, instead of always having to feel like I have to fight for my spot to be treated as a choreographer. But this year, I walked in and I was like, "I got this."
How's your mom doing now?
She's fantastic. My boyfriend and I cooked dinner for her last night and she'll be on "So You Think You Can Dance" this week to see my two routines.
You also choreographed a dance for Kent and Neil [to "How It Ends"] that showed two men dancing together differently than people had seen same-sex dancing before. Do you think that the show and the dance world should include more same-sex dancing in a romantic and emotional way?
I don't think it needs to be in a romantic sense. I think it could tell a story of a relationship, but it doesn't have to be romantic because, half the time on "So You Think You Can Dance," it's about the voting. If that was a romantic duet, no one would have ever voted for Kent. He would have missed out on the finale spot because of me trying to change the world and trying to make a statement. It wouldn't have been fair to the contestant. My job as a choreographer is not to make a statement; it's to make the contestant safe for next week. I definitely feel like it is 2012 and we need to start making steps in the right direction, but it does not have to be romantic. It can still be aggressive and it can still tell a story, but men need to dance masculine. That's the No. 1 rule in the dancing rulebook.
You also are in a long-distance relationship in the first episode of "All the Right Moves" and you mentioned Dom so I'm glad things are still going well. But were you worried about exposing your relationship? Did you ever think about not including Dom in the show?
No. Not at all. Because this is my life. This is a reality show and these are the people I surround myself with so it was never a question. With the reality show, he was on a bunch of episodes, but a lot of what they want is drama and there was no drama between the two of us so after they saw us together, happy, they were like, "What else is next?" He just moved here from Miami and we'll hopefully get our own place when our lease is up in December.
The Olympics just ended and everyone was gymnastics-obsessed. You choreographed a floor routine for 2008 all-around gold medalist Nastia Liukin. What was that like?
It was interesting because I've never done a floor routine before and gymnasts' bodies are completely different from dancers' bodies. But it was so much fun with her and she's so sweet. I'm actually choreographing a new floor routine with her for a September event she's doing for NBC. But I definitely want to choreograph a lot of floor routines. I want to do Gabby Douglas' floor routine. I want to do McKayla Maroney's floor routine. Hire me! Please! Gabby's actually from my home town, Virginia Beach.
You should milk that connection. Tweet at her or something.
[Laughs.] I know!
So you've also choreographed for Adele, the Oscars, the VMAs, a huge movie franchise like "Step Up." Is there anything you haven't done yet that you want to do?
Well, I'm choreographing for Justin Bieber -- I'm doing a number for his tour. I haven't done a lot of commercial artists. In December, I'm choreographing an off-Broadway show and I'm excited to be back in New York so maybe some doors will open up from that. But I love doing movies, I love doing Broadway shows, I love choreographing for artists -- I love doing it all really. My No. 1 thing that I feel like would be the pinnacle of success, like I'd know I made it, would be choreographing for Beyonce or if I hosted "SNL." Either or! [Laughs.]
That'd be awesome! You did some Broadway when you were younger and you were in a Dr. Pepper commercial. Did you ever think you wanted to pursue more of a singing/acting track?
I was singing and acting a lot as a child, and at 14 years old, I ripped a tendon in my hip and I wasn't able to dance for eight months. I lost everything that I had and the minute I got back to physical therapy, I realized how much I wanted to dance. And I knew that's what I was supposed to do.
In the preview for the rest of the season, it looks like you're going to get the opportunity to work with Madonna ...
I did a submission for Madonna for her tour. You just don't call and get a job half the time. A submission is when an artist calls and they ask you to submit something for tour. So you have to put together a video to their music that shows what you would do for them. I didn't get the tour. Halfway through the season, they said they loved my video and they asked me to submit another video to a certain song in a certain style. But it was the week before our company show. There was no time and I had to say I couldn't do it.
Well, on the upside, you guys were nominated for an Emmy for "Dancing with the Stars," which was Shaping Sound's first televised performance. This is your second Emmy nomination. Congratulations! That's so exciting.
Yeah. It's so exciting. Obviously, we don't expect to get anything, but once you get nominated, you kind of won. Just to be recognized is like, "Hallelujah!" That's the coolest part about it all. I went last year, but this year, I'm excited to have my best friends with me. And I get to bring my mom and my boyfriend. It's gonna be a fun day and it's the day before my birthday. So hopefully, we'll walk home with a trophy for my birthday. But if not, I'll still be partying it up.
"All the Right Moves" airs Tuesdays at 10 p.m. ET on Oxygen; "So You Think You Can Dance" airs on Wednesdays at 8 p.m. ET on Fox.
Click through the slideshow below to see all the 2012 Emmy nominees.
PHOTO GALLERY
Emmy Nominees 2012
Calling all HuffPost superfans!
Sign up for membership to become a founding member and help shape HuffPost's next chapter
BEFORE YOU GO