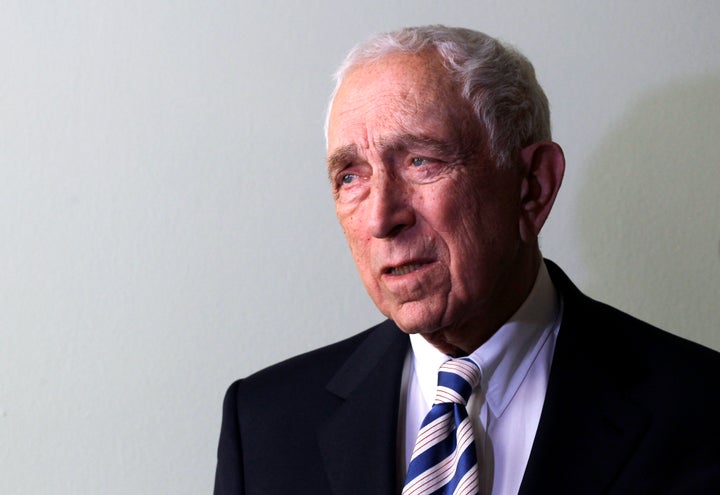 WASHINGTON -- It's been more than a year since Jared Loughner walked up to former Rep. Gabrielle Giffords (D-Ariz.) at a constituent event in Tucson, Ariz., and shot her in the head. He went on to fire his Glock 19 at others in the crowd, killing six and injuring 13 before being restrained by people on the scene.
Three weeks later, Sen. Frank Lautenberg (D-N.J.) introduced legislation to ban the sale of high-capacity gun magazines -- the same kind that allowed Loughner to fire 31 bullets in 15 seconds. Lautenberg put forward two other reform bills, one that denied firearms to people on terrorist watch lists and another that cracked down on background checks at gun shows.
The proposals fit the climate: Democrats and Republicans were coming together in a moment of unity, and President Barack Obama was trying to heal the nation in a televised memorial service in Tucson.
But even then, Lautenberg, a longtime gun control advocate, suspected that his legislation and any momentum on Capitol Hill would be stopped by one force: the National Rifle Association.
"This package of common-sense gun safety bills would sail through Congress if it wasn't for the special interest gun lobby," he said in a statement at the time. "It's time to put aside business as usual in Washington, and start considering the safety of our families over special interests."
His skepticism was well founded. None of his bills went anywhere. In fact, none even picked up a single Republican cosponsor.
"We're persisting," Lautenberg told The Huffington Post months later. He called it "one of the most flagrant disconnects with our society" that the NRA would try to block passage of his bill banning high-capacity gun magazines.
"You hear these things were developed for the law enforcement and military, and these guys are fighting us getting it limited in its availability," he said. "It's outrageous."
Rep. Carolyn McCarthy (D-N.Y.), whose husband was killed and son was seriously wounded by a gunman on the Long Island Railroad in 1993, teamed up with Lautenberg to introduce his bills in the House.
"I know what it's like to have tragedy brought to your life in a split second by a madman with high-capacity ammunition magazines," McCarthy said in a statement at the time. "This nation has come together before to support this simple, commonsense measure, and it is the law in several states right now. It is a small sacrifice that law-abiding gun owners can make once again in order to increase everyone's safety."
But she watched as none of the bills went anywhere either.
"There are some surprising facts people should know," McCarthy said in a statement to HuffPost last week. "I and many others who support reasonable restrictions on guns are not trying to take away anyone's rights. We want to keep the most dangerous weapons out of the hands of the most dangerous people."
Few interest groups are better at affecting the legislative process than the gun lobby. Within months of pushing back against legislative responses to the Giffords' shooting, it was again on the offensive, shepherding legislation that requires states that allow concealed weapons to recognize each other's permits. Its success has been even more pronounced on the state level, and it hasn't been restricted to matters of Second Amendment rights. Over the past few years, the National Rifle Association has affected campaign finance legislation, voter ID laws and immigration reform.
The NRA declined to respond to multiple requests for comment.
Its most effective act of lobbying, however, has been political damage control. Moments that once galvanized the public to demand tougher gun control laws now pass without expectation of legislative fallout.
"They are a very effective lobbying organization that makes very few mistakes and they are very good particularly at running out the clock when a high-profile crime occurs," said Jim Kessler, a former director of policy and research at Americans for Gun Safety. "Time is on their side."
The shooting death of 17-year-old Trayvon Martin in Florida more than a month ago has started that proverbial clock once again. At issue are the so-called Stand Your Ground laws, present in roughly 30 states, that allow people to use deadly force against an attacker if they believe their life is threatened. Martin's killer, a 28-year-old neighborhood watch volunteer named George Zimmerman, has invoked the law in his defense. Gun-rights advocates are moving as swiftly as possible to get those laws and others changed, organizing a major Capitol Hill push this month.
"Make no mistake: This tragic shooting represents the National Rifle Association's vision for America," Brady Campaign President Dan Gross said in a statement. "The NRA wants us to be a nation without any gun laws, a nation where just about anybody can get a gun and take it anywhere....and the result is more tragedies like Trayvon's."
And yet, if the time seems ripe for legislative action, the going bet, even among the sympathetic-minded, is that Gross and allies won't encounter success.
"You see what the [gun rights] side is doing," Lautenberg said, conveying doubt that the Martin case will be powerful enough to sway Congress into taking on the NRA. "They're now telling stories about whether Martin was threatening to hit [Zimmerman] ... When it comes to things like this, I always have a feeling, 'Well, maybe this will wake up the country.' And it falls right back asleep."
Within the confines of the political interest group world, the NRA's power of persuasion is often a source of envy. Not only has it prevented action on scores of gun control bills, but it has managed to get itself exempted from other seemingly unrelated legislation. When Democrats considered the Dislose Act -- requiring organizations that sponsored political ads to reveal the names of their top donors -- the gun lobby threatened to kill the bill unless it was exempted. It got its exemption, but the bill still died.
In order to amass so much power, the organization has utilized a potent brew of political tools, chief among them cash. In 2011 alone, the NRA spent $2.9 million on 29 lobbyists for the purposes of affecting 63 bills, according to data from the Center for Responsive Politics. During the 2010 election cycle, the group spent more than $1.3 million on congressional campaigns, 72 percent of which ended up in Republican accounts.
The group has also built roots locally. As Kesler noted, the NRA's training programs have helped it retain high favorability ratings. From 2003 to the present, meanwhile, the gun lobby donated $2,610,877 to statewide candidates and ballot initiatives, according to the National Institute on Money in State Politics. The group also lobbied in all 50 states. "Let 1,000 flowers bloom," is how one gun control advocate described it.
"The NRA successfully shifted the action to the states because they have been able to claim -- incorrectly -- that there's no public appetite for gun control laws," said David Donnelly, the national campaign director of the Public Campaign Action Fund. "Through hitting members of Congress hard and defeating a series of them with big money expenditures, the NRA shocked Congress into inaction."
Finally, the group has used fear to motivate voters. NRA executive vice president Wayne LaPierre's speeches, in particular, seem to incite paranoia among supporters about what a second-term Obama administration would resemble.
"All that first-term lip service to gun owners is part of a massive Obama conspiracy to deceive voters and hide his true intentions to destroy the Second Amendment -- during his second term!" LaPierre said at this year's Conservative Political Action Conference. "We see the president's strategy crystal clear. Get re-elected and, with no more elections to worry about, get busy dismantling and destroying our firearms freedom."
Other gun rights groups have raised money by fueling that same paranoia. The National Association for Gun Rights sends out routine emails warning that Obama, along with a network of George-Soros-funded liberal groups, is building momentum for a "new anti-gun crusade."
"The battle for the Second Amendment in Washington, D.C. is just the tip of the iceberg. We're facing incredible anti-gun attacks from George Soros and the National League of Cities in State Capitols and City Council Chambers across America," reads the March 13 email from the group's executive vice president, Dudley Brown.
If the president had half the power that gun-rights advocates insist he wields, those on the other side of the debate would be thrilled. But, to date, Obama has largely avoided the issue, dropping campaign promises to impose tougher gun regulations and restore the assault weapons ban, and turning down a request from ATF to expedite gun reporting requirements as violence escalated along the U.S.-Mexico border. In the wake of the Giffords shooting, he handed off responsibility for reform to the Justice Department, which made incremental changes to law enforcement coordination. Gun control advocates, already hardened by years of inaction, now seem comfortable merely to give Obama a pass.
"I think it's fair to say that there are giant problems in front of the president," Lautenberg said. "Maybe they have to focus their attention differently."
Popular in the Community