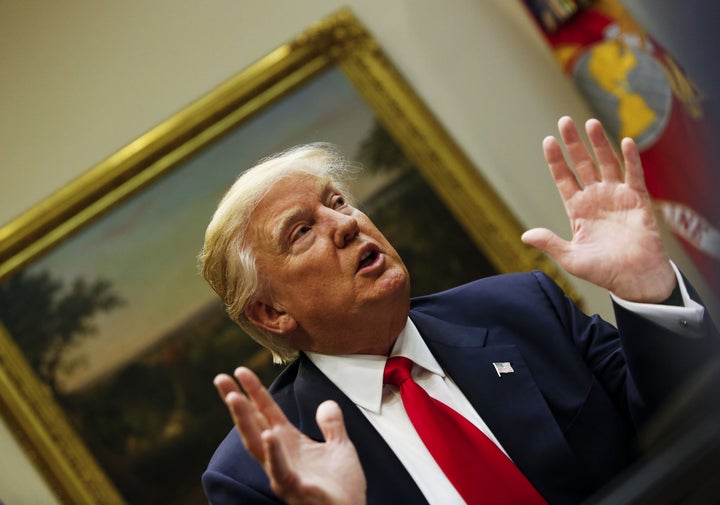 WASHINGTON ― President Donald Trump said recent threats to Jewish institutions could be intended to make "others look bad," Pennsylvania Attorney General Josh Shapiro (D) told reporters Tuesday following the president's meeting with a group of state attorneys general.
Shapiro declined to speculate on what Trump meant. The White House and other attorneys general contacted by The Huffington Post did not respond to requests for comment. But Trump has previously suggested that political opponents who wanted to make him look bad, rather than actual anti-Semites, were behind a recent rise in anti-Semitism.
It's the kind of language that echoes what white nationalists and far-right conspiracy theorists have been saying about the waves of bomb threats directed against Jewish facilities this year.
"Some of the signs you'll see are not put up by the people that love or like Donald Trump," the president said at a press conference earlier this month, when a reporter asked him about "a rise in anti-Semitism around the country, some of it by supporters in your name."
"Some of those signs and some of that anger is caused by the other side," Trump said at the Feb. 16 news conference. "They'll do signs, and they'll do drawings that are inappropriate. It won't be my people. It will be the people on the other side to anger people like you."
At least 13 Jewish community centers and eight day schools received threatening phone calls on Monday, bringing the total number of bomb threats against Jewish institutions since the start of the year to over 90. Some locations have now been targeted as many as three times. HuffPost is tracking the threats here.
Like Trump, white nationalists and neo-Nazis also claim that people other than anti-Semites may be behind the anti-Semitic incidents. They just think it's Jewish people themselves.
"When I see these bomb threats, I just assume it is Jews doing it," Andrew Anglin, founder of the neo-Nazi Daily Stormer website — who has also argued that the Holocaust is a hoax — wrote on his blog last week. Former Ku Klux Klan leader David Duke sent a tweet that implied the same. Richard Spencer, a prominent white nationalist, told HuffPost on Monday that he "seriously" doubts that the person or people behind the threats supports white nationalism, because making those threats only hurts their cause.
Real "hoax" and "false flag" hate crimes are rare. "Hoaxes have become symbols for some who want to promote the idea that most hate crimes are hoaxes," Brian Levin, director of the Center for the Study of Hate and Extremism at California State University, San Bernardino, told Talking Points Memo in December.
But hoaxes constitute only a "tiny fraction" of reported hate crimes, Levin said. "As criminologists, we see hoax fires, hoax domestic violence accusations, hoax car thefts," he added. "And the overwhelming majority of those offenses really are being committed, too."
Trump has a long history of boosting conspiracy theories, including casting doubt on the legitimacy of then-President Barack Obama's birth certificate and more recently blaming Obama for organizing protests against him — without offering any evidence that's true. Trump has also come under fire for his repeated dog-whistles to white nationalists: Among other actions during his presidential campaign, he failed to initially denounce Duke's support for his candidacy, shared a false racist meme, and retweeted the message of a Twitter user called "WhiteGenocideTM" who was listed as living in "Jewmerica."
So far, Trump's administration has remained relatively quiet on the rise in anti-Semitic threats since his election, with some exceptions. "The anti-Semitic threats targeting our Jewish community and community centers are horrible, and are painful, and a very sad reminder of the work that still must be done to root out hate and prejudice and evil," the president finally said during a visit to the National Museum of African American History and Culture earlier this month.
When asked about the president's remarks after the Tuesday gathering, Florida Attorney General Pam Bondi (R), a noted Trump supporter, said in a statement emailed by her spokesperson, "President Trump cares deeply about our Jewish community and is extremely upset by these attacks."
A White House spokeswoman told The Hill on Tuesday that "any act of violence against people of the Jewish faith is condemned by this administration. Full stop." 
But Democrats and advocacy groups aren't buying it.
Insinuating that threats to Jewish community centers are illegitimate is "truly beyond the pale," the Democratic National Committee said in a statement on Tuesday.
If "that's what he said," Trump's statement is "absurd and "just about ... obscene," Senate Minority Leader Chuck Schumer (D-N.Y.) told reporters. When asked whether the president was doing enough in regards to anti-Semitism, he said, "Absolutely not. He has not done enough to speak out strongly and forcefully, repeatedly after each incident." 
The Anti-Defamation League, which fights anti-Semitism and other forms of bigotry, is "astonished by what the President reportedly said," CEO Jonathan Greenblatt declared in a statement.
It's "outrageous and irresponsible" for Trump "to speculate that recent anti-Semitic threats could be 'false flag' efforts meant to make others look bad," said Rabbi Jack Moline, the president of the Interfaith Alliance, an organization that works to challenge extremism. He added in a statement, "It's well past time for President Trump to take responsibility for his rhetoric."
Willa Frej and Laura Barron-Lopez contributed reporting.
Sign up for the HuffPost Must Reads newsletter. Each Sunday, we will bring you the best original reporting, long form writing and breaking news from The Huffington Post and around the web, plus behind-the-scenes looks at how it's all made. Click here to sign up!
REAL LIFE. REAL NEWS. REAL VOICES.
Help us tell more of the stories that matter from voices that too often remain unheard.